Movie Review
Dust Be My Destiny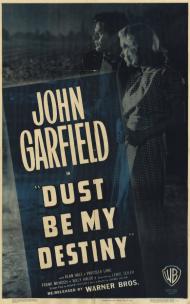 US Release Date: 09-16-1939
Directed by: Lewis Seiler
Starring
▸
▾
John Garfield

,

as

Joe Bell
Priscilla Lane

,

as

Mabel
Alan Hale

,

as

Mike Leonard
Frank McHugh

,

as

Caruthers
Billy Halop

,

as

Hank
Bobby Jordan

,

as

Jimmy
Charley Grapewin

,

as

Pop
Henry Armetta

,

as

Nick
Stanley Ridges

as

Charlie

Reviewed on:
September 19th, 2012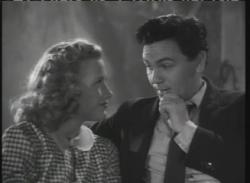 Priscilla Lane and John Garfield in Dust Be My Destiny
Having exploded onto the screen in 1938 with his Oscar nominated film debut in Four Daughters, and the success of his follow up film They Made Me a Criminal (1939), John Garfield became a hot commodity in 1939. However, the reviews for his role in Juarez (1939) were generally horrible. With his lower eastside New York accent, he was hardly the right choice to play a Mexican general. His next film, a sequel to Four Daughters called Daughters Courageous, failed to live up to the first film.
With his box office appeal in question, Warner Bros put him in Dust Be My Destiny. It costarred his leading lady from Four Daughters, Priscilla Lane and the plot stole heavily from They Made Me a Criminal. It also re-teamed him with two of the Dead End Kids. Throw in some social commentary and you have a decent film, if not entirely original.
Joe is a recently released convict who jumps a train with a couple of teenage boys after getting out of prison. They get mixed up with some thieves and get sent to a work camp. There, Joe meets and falls for the supervisor's stepdaughter, Mabel. After a fight with her drunk stepdad, the two run away and end up on the lam as Joe gets accused of killing him. The two get married and try to make a life for themselves while being on the run from the law. With a plot device reminiscent from They Made Me a Criminal, Joe becomes a photographer for a newspaper but worries about his picture being put in the papers.
Of course trouble finds them and Mabel tires of running. They end up in court. Here the movie becomes preachy as Joe makes a speech on the stand about unemployed men and how people view them. Alan Hale, as Joe's boss, does the same only to be told to keep his editorializing in his paper. Throughout the movie, Joe and Mabel get helped by all kinds of people. The film is a direct reflection of the times, with a message about showing compassion for those who have fallen on hard times.
As a John Garfield fan, I very much enjoyed his performance here. Watch him as he sits in court staring at witnesses. He has few lines in this scene but you can see his reaction to each of them. Garfield was noted for playing tough yet sensitive characters and this role is no exception. Joe loves his wife, but is hurt deeply by her betrayal. Her speech to the jury is Lane's best moment.
Dust Be My Destiny is a fine enough drama and at just under 90 minutes, moves by quickly. It breaks very little ground and pigeon holes Garfield as a tough palooka down on his luck. A character he would play again. If your a fan of his, by all means check this one out, it is classic John Garfield.
Photos © Copyright Warner Bros. Pictures (1939)