Movie Review
Duplicity
Outwit. Outspy. Outsmart. Outplay. Then get out.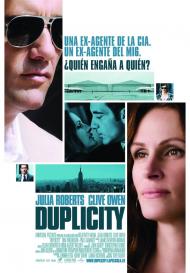 US Release Date: 03-20-2009
Directed by: Tony Gilroy
Starring
▸
▾
Clive Owen

,

as

Ray Koval
Julia Roberts

,

as

Claire Stenwick
Tom Wilkinson

,

as

Howard Tully
Paul Giamatti

,

as

Richard Garsik
Rick Worthy

,

as

Dale Raimes
Wayne Duvall

,

as

Ned Guston
Christopher Denham

as

Ronny Partiz


Reviewed on:
March 26th, 2009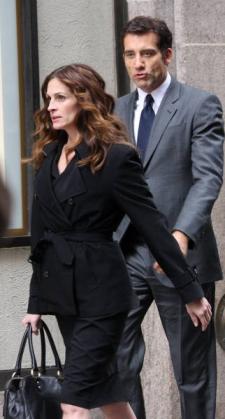 Julia Roberts and Clive Owen.
If ever you wondered what movie star appeal was, look no further that Duplicity. Julia Roberts star power adds much to this mediocre film. Had a less charismatic actress played the role of Claire this movie would have likely already gone to DVD.
The movie opens with Claire, a CIA agent, meeting Ray, an MI6 agent in Dubai. They flirt and end up in bed together. Clair drugs Ray, and makes off with some information. As has been the fad lately in films, the movie does not play out in linear order. There are plenty of flashbacks. Some that clear things up and others that make you go uh?
The pair end up working together in the world of corporate espionage. Like the Ocean movies, there is a huge scam going on, and plenty of lies get thrown around. You never know who is really doing what until the very end.
The best thing about Duplicity is Roberts and Owen. Their scenes together are the best in the movie. Whereas most people need to have trust in their relationship, Ray and Claire use it as an aphrodisiac. Whenever they get together they feel each other out for figuratively and literally.
Roberts is not the most beautiful actress in Hollywood, and has obviously put a few pounds on since pushing out some kids. Still, she has charm to spare. She has that movie star something that draws you to her whenever she is on the screen.
Clive Owen is growing on me as an actor. He holds his own against Roberts star wattage with out being eclipsed. He was in the running to be the new James Bond and I think he would have done a better job that Daniel Craig. How do I know? Because, Owen does not shave his chest like Craig. Owen comes across with a natural, sophisticated charm. Craig seems to be straining to look pretty.
With some twists and turns, Duplicity will keep you watching. The end is a bit ironic, but not completely satisfying. Tony Gilroy, who wrote and directed it, should have spent more time fine tuning the script. Much like last years Michael Clayton, Gilroy is over rated.
Reviewed on:
October 25th, 2009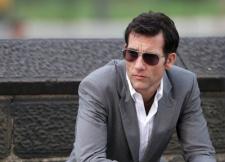 Watch and take notes Daniel Craig. This is how it should be done.
I thought this more than just mediocre Eric. Surprisingly, considering I'm not a Julia Roberts fan, I agree with you that she improves this movie, but I don't think she was the only person in the world who could have played this part. Likewise I was left wondering while watching this just why Clive Owen isn't playing James Bond right now, when he would so obviously make a better one than Daniel Craig.
The thing I kept thinking about Ray and Claire's relationship was how, with all their trust issues and suspicions, could the possibly be together? The answer to that question is obviously, with all their trust issues and suspicions, could the possibly be with anyone else? Roberts and Owen have great chemistry together and I wouldn't mind seeing more of them in another movie. Right up until the final reveal you're never sure which, if either of them, is lying to the other and who is betraying who.
That leads me to the movie's biggest problem. The movie is too long with too many scenes without Claire and Ray. Paul Giamatti and Tom Wilkinson are both great character actors, but they're not the characters I'm interested in watching. All of the deception and plotting takes screentime away from Claire and Ray and ultimately the movie outlasts the story by about 30 minutes.
I agree with you Eric that the ending isn't completely satisfying, but it did leave me wanting to see more. I would have no problem seeing Roberts and Owen reprise these characters again, but hopefully with a little faster pacing and a little tighter editing.
Photos © Copyright Laura Bickford Productions (2009)