Movie Review
Dumb and Dumber To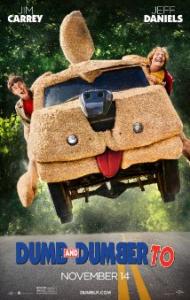 US Release Date: 11-14-2014
Directed by: Bobby Farrelly, Peter Farrelly
Starring
▸
▾
Jim Carrey

,

as

Lloyd Christmas
Jeff Daniels

,

as

Harry Dunne
Kathleen Turner

,

as

Fraida Felcher
Rob Riggle

,

as

Travis / Captain Lippincott
Laurie Holden

,

as

Adele
Rachel Melvin

,

as

Penny
Steve Tom

,

as

Dr. Pinchelow
Don Lake

,

as

Dr. Meldmann
Patricia French

,

as

Ms. Sourpuss
Tembi Locke

,

as

Dr. Walcott
Paul Blackthorne

,

as

Dr. Meldman
Brady Bluhm

,

as

Billy
Bill Murray

as

Ice Pick

Reviewed on:
November 25th, 2014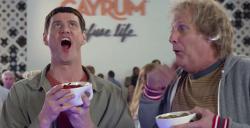 Jim Carrey and Jeff Daniels in Dumb and Dumber To
Twenty years ago, Jim Carrey removed the cap on his front tooth to play Lloyd Christmas and Jeff Daniels put on a disheveled wig to play Harry Dunne, and their careers never looked back, well, at least not until now. Two decades later the pair does it again and is just as stupid as they were before. Although this movie is not as fresh as the first one, the dim witted duo is just as likable and nearly just as funny.
After Lloyd's, twenty years in the making, prank on Harry, the two best friends set out on another road trip. This time it is to find Harry's daughter who was given up for adoption without Harry ever knowing he had even produced an offspring. Harry needs a new kidney and the two idiots just assume the daughter Harry has never met will give him one of hers.
Along the way they get lost, have silly adventures and get mixed up with some criminals who want to kill them. Yeah, the plot is at least twenty years old. Some of the jokes from the original film are reworked here. While watching a show on television featuring Tom Brady and Gisele Bundchen, Harry makes a remark about how hot Giselle is but Lloyd assumes he is talking about Tom. Another joke employed here was hilarious way back in 1981 when Dudley Moore got yelled at by a horrible woman for ringing her doorbell in Arthur. Much of the script seems familiar, only with wrinkles.
Of course there are plenty of new jokes as well and speaking of wrinkles… at one point, the two morons find themselves in a nursing home where Lloyd gets tricked into being intimate with an old woman. "Is that a turkey?" My twenty year old laughed hardest at that scene. Many jokes are, of course, aimed at the young male mentality. Harry trying to remove Lloyd's catheter comes to mind as does the fart game in the hearse.
We get a few blasts from the past. Remember little Billy, the blind kid they sold the dead bird to in the first film? He is back and all grown up. In one of the funniest scenes, his new pet bird delivers the punch line, "The horror, the horror." I won't spoil it for you but the fart punch line really sells the moment. Another reunion is between Kathleen Turner and Jim Carrey. He played a supporting role in Peggy Sue Got Married way back in 1986. The one my youngest son was looking forward to was given away in the movie poster. Unfortunately for him, you can count the seconds the dog van appears on screen with your fingers.
As I mentioned in my Dumb and Dumber review, Harry and Lloyd are basically this generations two stooges. They blissfully go through life destroying things around them, more due to their sheer ignorance than any actual malice. If you enjoy The Three Stooges humor, you will likely laugh at the antics of these two morons. Use this dialogue exchange as your test. "Whoa, Lloyd. Check out the hotties at 12 o'clock." "That's three hours away. Why can't I check 'em out now?" If that didn't crack your puss, you may want to avoid this movie.
Photos © Copyright Universal Pictures (2014)
Related Review