Movie Review
Dumb & Dumber
What the one doesn't have, the other is missing.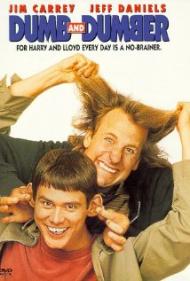 US Release Date: 12-16-1994
Directed by: Peter Farrelly, Bobby Farrelly
Starring
▸
▾
Jim Carrey

,

as

Lloyd Christmas
Jeff Daniels

,

as

Harry Dunne
Lauren Holly

,

as

Mary Swanson
Mike Starr

,

as

Joe Mentalino
Karen Duffy

,

as

J.P. Shay
Charles Rocket

,

as

Nicholas Andre
Hank Brandt

,

as

Karl Swanson
Teri Garr

,

as

Helen Swanson
Cam Neely

,

as

Sea Bass
Rob Moran

,

as

Bartender
Zen Gesner

,

as

FBI agent
Brady Bluhm

,

as

Billy
Connie Sawyer

as

Elderly Lady

Reviewed on:
September 30th, 2014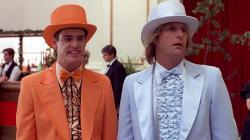 Jim Carrey and Jeff Daniels are Dumb and Dumber
Dumb and Dumber is quite an important film for many involved. It was the first theatrically produced film written and directed by the Farrelly brothers. It was Jim Carrey's third movie to open at number one in the same year, following Ace Ventura: Pet Detective and The Mask. Dumb and Dumber marked his ascension to the "A" list. Carrey's original paycheck was to be $700,000 for this film but after opening two movies at number one, his agent negotiated it up to $7 million. 1994 also put Daniels back on the map, besides this, he had a supporting role in the very successful Speed. Other than a couple of supporting roles in Woody Allen films, he had not been in a great film since Terms of Endearment (1983). Zen Gesner, known as televisions "Sinbad," made his film debut here, perhaps with the help of his girlfriend, Cynthia Farrelly, sister and attorney of Peter and Bobby.
Best friends Harry and Lloyd (an obvious nod to silent film comedian Harold Lloyd) take a cross country trip from Rhode Island to Colorado, to return a briefcase to a beautiful woman, Mary Swanson (perhaps a reference to Mary Pickford and Gloria Swanson), who Lloyd briefly met working as her chauffeur. Harry and Lloyd are hopelessly stupid. Lloyd just assumes Mary is in love with him simply because he is in love with her.
They have no clue a pair of killers are after them to get the briefcase back. In fact, they rarely understand what anyone really means. At one point, a motorcycle cop pulls up alongside them, in their dog van, and tells Harry to, "Pull over." Harry grabs at his sweater and says, "No, it's a cardigan." Just after arriving in Aspen, Harry and Lloyd are passed on the sidewalk by a young couple. Harry remarks lustfully, "Look at the buns on that one." Lloyd responds with, "Yeah, he must work out." Not realizing Harry is talking about the woman.
They eventually meet up with Mary and both Harry and Lloyd begin dating her separately. Mary, somehow, finds Harry likable. Even when he hits her hard in the head with a snowball, she somehow thinks it charming. Of course, what he does in her family's bathroom after Lloyd feeds him laxatives is unforgiveable. The people seeking the briefcase catch up to the hapless pair but they never seem to take their threat very seriously.
The Farrelly brothers are big fans of old movies and particularly The Three Stooges. They struggled for 13 years to get their own Three Stooges movie made in 2012. Dumb and Dumber was, in many ways, their first Three Stooges film. These morons destroy nearly everything they touch but always come out of every situation no worse for it. You could have easily replaced Harry and Lloyd with Moe, Curly and Larry with very few changes to the script. One staple of the Three Stooges was when they mingled with wealthy people. In one scene here, Lloyd and Harry enter a party of swells dressed in loud colored tuxedoes. (see photo) Lloyd says to Harry, "All we need to do is show a little class, a little sophistication, and we're in like a dirty shirt." Harry agrees, "No problem, Lloyd. We can be classy and sophistic... Oh, check out the funbags on that hosehound."
Dumb and Dumber is laugh out loud funny. Sure the humor is mostly immature but so were The Three Stooges and look how long they have remained relevant. The Farrelly brothers, Jim Carrey and Jeff Daniels all benefitted from this movie and have gone on to to further success and a sequel. Zen Gesner never made it big but he did marry Cynthia and they now have three sons, who were not named Larry, Curly or Moe.
Photos © Copyright New Line Cinema (1994)
Related Review