Movie Review
The Duke of West Point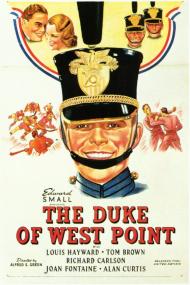 US Release Date: 12-29-1938
Directed by: Alfred E. Green
Starring
▸
▾
Louis Hayward

,

as

Steven Early
Joan Fontaine

,

as

Ann Porter
Tom Brown

,

as

Sonny Drew
Richard Carlson

,

as

Jack West
Alan Curtis

,

as

Cadet Strong
Don 'Red' Barry

,

as

Cadet Grady
Steve Pendleton

,

as

Cadet Rains
Charles D. Brown

,

as

Doc Porter
Jed Prouty

,

as

Mr. Drew
Marjorie Gateson

,

as

Mrs. Drew
Emma Dunn

as

Mrs. West


Reviewed on:
September 15th, 2014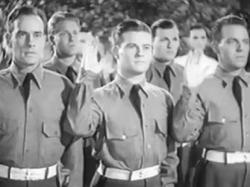 Richard Carlson, Tom Brown and Louis Hayward in The Duke of West Point
Although 1 September 1939, when Germany invaded Poland, is considered the official beginning of World War II, Adolf Hitler's intentions for world domination became obvious on March 12, 1938 when he rode with German troops into Austria. He appointed a Nazi government, claiming that because many German speaking people lived there, he had every right to annex Austria. The United States did not officially enter the war until 1941 but as I watched The Duke of West Point, released in December of 38, I wondered how much of the decision to make it was based on world events.
Louis Hayward plays an annoying upper crust Cambridge student who comes to the U.S. to enroll at West Point, for, as he jokes, "Duty, honor, tradition." Actually his family has a five generation tradition of attending West Point. He arrives with his nose firmly in the air, asking for a porter to carry his luggage. There he befriends his two roommates. One, whose father died in combat, is the serious one. The other is around for comic relief. Hayward also falls for Joan Fontaine, who is dating an upper classman. Much of the film is Hayward romancing Fontaine when not playing football or hockey.
Hayward breaking the rules by sneaking off to see Fontaine or secretly helping his friends makes for a bit of adventure but The Duke of West Point seems more eager to recruit than entertain. When not showing the fun and camaraderie of these officers in training, we have speeches of honor and tradition. Fontaine blasts him for being out after curfew. He faces a school trial for breaking the honor code.
Hayward is playing a man who seems to have little respect for the military. He plays by his own rules, breaking them as he sees fit. Of course, he actually has a heart, helping his friends and putting up with the punishment that generosity earned him. He just needs to learn to play by the rules and be a part of the team.
The movie begins with acknowledgment of the sacrifice of men who abandon their firesides to answer the call of duty. Some early scenes are interspersed with actual scenes of cadets training at West Point. Hayward and his friends grow almost instantly close, calling each other their military wives. They play sports, bond and have a truly fun time. From beginning to end, The Duke of West Point glorifies these men and their way of life. What young man in 1938, would not want to join up after watching this?
Hayward and a young Fontaine make a decent couple but they have little to do. They have eyes for each other but she cannot commit to a man who would so blatantly disregard proper military procedure. He has charm and a sense of whimsy while she is far too serious; acting offended that Hayward's behavior may jeopardize the football team's chance at victory.
The Duke of West Point treats its subject with serious reverence. Do not get me wrong, I have all the respect in the world for men and women in uniform and enjoyed much of this film but it could have used a lighter touch. Then again, a dictator marching into another country, bullying its leader into resigning so the dictator may appoint his own leader is a serious matter.
Reviewed on:
October 18th, 2014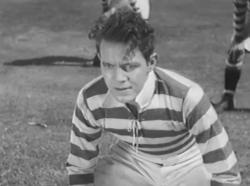 Louis Hayward in The Duke of West Point.
I suppose there are some elements of pro-military propaganda in The Duke of West Point. But you have to be making a point to see them. You can just as easily enjoy the film without paying them any attention. It has also been described as A Yank at Oxford in reverse (although technically Louis Hayward is playing an American). A Yank at Oxford had been a hit earlier in the year for MGM. It starred Robert Taylor as a cocky American who receives a scholarship to that hallowed British university, where he struggles to fit in. Sounds familiar right?
Louis Hayward replaced British figure skater, and close personal friend, Jack Dunn (whom producer Edward Smalls had originally cast in the lead) after Dunn died unexpectedly from Rabbit Fever after handling an infected hare on a hunting trip in Texas. This sudden twist of fate gave quite a boost to Hayward's career as Edward Smalls signed him to a multi-picture deal upon its release. Their next picture together would feature Hayward's most famous performance in the dual roles of King Louis XIV and Philippe of Gascony in the 1939 version of The Man in the Iron Mask.
Steven Early is a great part as well and Hayward doesn't disappoint. Sure he's cocky and arrogant but he's also quite suave with the ladies, is adept at just about any sport he attempts, and has a heart of gold to match his family's bank account. Hayward smirks and charms his way across the screen. He had a marvelous speaking voice and he delivers his lines with a knowing twinkle in his eyes. This was a physically demanding role. He runs, jumps, boxes and plays both football and ice hockey when he isn't busy scheming up ways to romance Joan Fontaine. And speaking of Fontaine, as she would be again the following year in Gunga Din, she is just about the only game in town. Other than a few of the students' mothers I don't think another woman gets even a single line of dialogue.
The Duke of West Point tells the story of Steven Early's Plebe year at West Point. It features the easy camaraderie of young men and the way they create a substitute family away from home. Sure there's some romance and plenty of athletics, but the heart of the story is the relationship between Steven and his roommates, Sonny and Jack. I was genuinely moved by the emotional climax where Steven's reputation and honor are finally restored to him. The Duke of West Point is entertaining enough, as a showcase for its star's talents, however, it is exceptional.
Photos © Copyright United Artists (1938)