Movie Review
The Duchess and the Dirtwater Fox
Once upon a time, If the rustlers didn't get you, the hustlers did.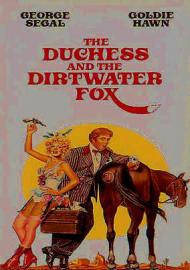 US Release Date: 04-01-1976
Directed by: Melvin Frank
Starring
▸
▾
George Segal

,

as

Charlie 'Dirtwater Fox' Malloy
Goldie Hawn

,

as

Blue Bird / Duchess Swansbury
Conrad Janis

,

as

Gladstone
Thayer David

,

as

Josiah Widdicombe
Jennifer Lee

,

as

Trollop
Sid Gould

,

as

Rabbi
Pat Ast

,

as

Music hall singer
E.J. Andre

,

as

Prospector
Richard Farnsworth

as

Stagecoach driver

Reviewed on:
August 18th, 2012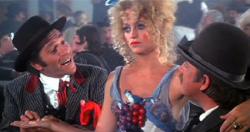 George Segal and Goldie Hawn in The Duchess and the Dirtwater Fox
Having recently watched and been disappointed with Seems Like Old Times, I decided to re-visit one of my favorite Goldie Hawn films, The Duchess and the Dirtwater Fox. I had not seen it in decades and wondered if it too would not live up to my memory of it.
By the 1970s, westerns were going out of fashion. Although Clint Eastwood became the western star of the decade and John Wayne made a few more before his death, western films went comedy. From Blazing Saddles (1974) to The Apple Dumpling Gang (1975) to The Frisco Kid (1979) nearly every year saw a comedy western released. For 1976 it was The Duchess and the Dirtwater Fox.
Goldie Hawn, in a Golden Globe nominated role, plays a saloon singer/prostitute known as Bluebird. George Segal plays The Dirtwater fox, a criminal who betrays his gang by taking the money they stole from a bank. He hooks up with Bluebird for a good time, but all she is interested in is his money. She robs him blind and attempts to get out of town, but he catches up to her on the stage coach.
Bluebird is pretending to be an English Duchess, hired by a Mormon to be a nanny to his many children. The Mormon's assistant is escorting her on the stagecoach that Dirtwater jumps aboard. What follows is the film's cleverest scene. Hawn and Segal pretend to speak French so the assistant will not understand them. They use words from several languages as well as many made up ones. They refer to the assistant as "El Schmucko." It is the film's best moment.
The two team up as they have to go to Salt Lake City to get the money that was sent ahead with her baggage. Meanwhile, Dirtwater's old gang is in hot pursuit, thinking he has the money. The Duchess and the Dirtwater Fox bicker most of the trip, and of course fall in love. At one point, Bluebird tries to help Dirtwater cheat at poker by creating a distraction, slapping an innocent bystander and pretending he touched her. She yells, "I am a lady, and a high priced one too."
The Duchess and the Dirtwater Fox is little bawdy. It features a few songs. One in particular is catchy and will stay with you as it is sung several times. Hawn sings "Please Don't Touch Me Plums" as a naughty little ditty to a group of male onlookers. Later she sings it during her interview with the Mormons, only here she makes it sound like a lullaby. The theme song however, "Lemon drops, Lollipops & Sunbeams" sung by Bobby Vinton seems more appropriate for Willy Wonka and the Chocolate Factory than a western romantic/comedy.
The Duchess and the Dirtwater Fox ends with a shoot out, as all good westerns do. Hawn and Segal make for believable looking characters with Segal sporting razor stubble and Hawn looking extremely unglamorous. By the climactic shootout, they are both sunburnt and filthy. The film's setting helps to give it a much longer shelf life than Seems Like Old Times and I still enjoyed it today as much as I did so many years ago.
Photos © Copyright Twentieth Century Fox Film Corporation (1976)