Movie Review
Drumline
Half time is game time.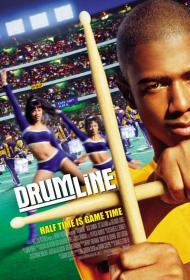 US Release Date: 12-13-2002
Directed by: Charles Stone III
Starring
▸
▾
Nick Cannon

,

as

Devon Miles
Orlando Jones

,

as

Dr. James Lee
Zoe Saldana

,

as

Laila
Leonard Roberts

,

as

Sean Taylor
GQ

,

as

Jayson Flore
Jason Weaver

,

as

Ernest
Earl Poitier

,

as

Charles
Candace Carey

as

Diedre


Reviewed on:
April 30th, 2003
Zoe Saldana and Nick Cannon in Drumline.
Drumline is a feel good movie. It is as retro in music as it is in plot. If the entire cast was white this movie could have been made 30 years ago by Disney.
Devon, a New Yorker, goes to college in Atlanta on a music scholarship. He is a drummer in the marching band. The University has lost The BET classic for the last 4 years. The BET classic is a marching band competition in which the band wins $50,000.
Devon is likable, yet rebellious. He wants to play his music, and does not care for the discipline involved in being a member of the band. I have never played in a marching band and didn't realize that these guys practice like they are in the military. The thing is, is that Devon is such a great player that he thinks he can get away with anything.
Of course some moral lessons are learned about teamwork. It is not always about the individual. It is discovered that Devon does not read music and he gets kicked out of the band. But, this is practically a Disney movie, so you just know it will all end well.
The music is rousing. Marching bands can really get your feet active. However, the direction during the bands performances were not great. The big enjoyment of watching a band is witnessing their synchronicity. How well they move around the field without always bumping into each other. Too often we just get close-ups or shots from the ground where the view is really not impressive.
Orlando Jones (Mad TV) does a good subdued job as the outdated band leader. He only wants to play old 70's funk. It's just too bad he is so subdued. He provides the few glimmers of humor. Perhaps his character could have been even more eccentric and thus milked more laughs.
This is a cheery movie with mediocre comedy. It is also a coming of age story. The very first scene has Devon graduating from high school. He acts just like any obnoxious teenager you might have met. However, the next scene has Devon confront his estranged father, and you realize there is a bit more to him. Later in the movie his absent father would inadvertently help him get back on the drumline.
This is a movie that will put a smile on your face. Too bad the plot is so damn old; Kid and team have a problem, kid and team overcome problem, kid and team win big contest. How many baseball, football, ballroom dancing movies have had that stinking plot?
Reviewed on:
January 4th, 2004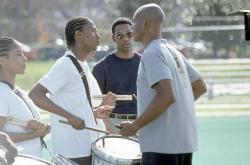 Nick Cannon, Leonard Roberts and Orlando Jones in Drumline.
I really hate it when I agree with one of Eric's reviews. It is so much more fun to slam everything he has written. Unfortunately he is on the money this time. Drumline IS a feel good movie that will put a smile on your face despite its paint by numbers plot.
I do disagree with his statement about Orlando Jones providing the comic relief. On the contrary, his role as the serious-about-music, Earth, Wind & Fire loving bandleader actually grounds the emotion. Any lighthearted moments are courtesy of the students themselves. Especially Nick Cannon (who has been touted as the new Will Smith). He proves to be equally adept at comedy and drama and gives a real star making turn as Devon. In fact it is his performance that elevates the movie above the level of pure cliché.
That said the pacing could have been better and some of the smaller parts are not as developed as they could have been. Still this is one of those movies where what you see is what you get. No tricks, just rousing marching band performances awash in old-fashioned crowd-pleasing sentiment.
Reviewed on:
March 29th, 2005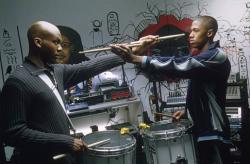 Drumline.
I'd say that Nick Cannon has a long way to go before he should be mentioned in the same sentence with Will Smith. Other than that, I too am forced to add my voice to the chorus of praise for this movie. (Wow, just like the movie. One review, one voice!)
Like Patrick, I am a little baffled by Eric's statement that Orlando Jones was the comic relief. I found him to be much more the emotional center, rather than being there for laughs. Patrick's infatuation of Cannon's performance is also overstated though. He does a decent enough job, but star making? Not really.
Like my brothers, I found the plot to be so extremely predictable that I could have told you the rest of the story about 10 minutes into the movie. I guess that's why certain movie formulas have lasted as long as they have though. When they're done right, as they are here, with the proper amount of heart, they just work.
Photos © Copyright 20th Century Fox (2002)