Movie Review
Dreamgirls
Fame Comes And Goes, Stars Rise And Fall, But Dreams Live Forever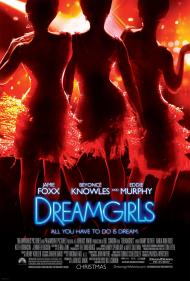 US Release Date: 12-15-2006
Directed by: Bill Condon
Starring
▸
▾
Jamie Foxx

,

as

Curtis Taylor Jr.
Beyonce Knowles

,

as

Deena Jones
Jennifer Hudson

,

as

Effie Melody White
Eddie Murphy

,

as

Jimmy Thunder Earle
Danny Glover

,

as

Marty Madison
Anika Noni Rose

,

as

Lorrell Robinson
Sharon Leal

,

as

Michelle Morris
Hinton Battle

,

as

Wayne
Loretta Devine

as

Jazz Singer

Reviewed on:
January 3rd, 2007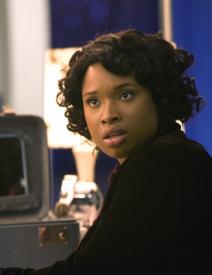 Jennifer Hudson in Dreamgirls.
First and foremost Dreamgirls belongs to former American Idol finalist Jennifer Hudson. Her movie debut ranks as one of the great musical performances in screen history. Audiences all over the country (including the show I attended) are erupting into spontaneous applause at the final notes of "And I Am Telling You I'm Not Going". Hudson's voice has so much power and emotion and her character is so sympathetic that you can't help but get caught up in the moment.
The one negative about this is that the rest of the movie cannot possibly live up to this scene, either musically or dramatically.
The rest of the cast are all good, however, and the score has a few other gems in it like "Family", "One Night Only" and "I Am Changing".
For those unfamiliar, Dreamgirls is a fictionalized account of the rise of the legendary Motown group The Supremes. All the names are changed but the characters' inspirations are clearly identifiable. Beyoncé plays Deena Jones (AKA Diana Ross) with Jamie Foxx being the Berry Gordy like character. Jennifer Hudson plays Effie White. She gets pushed out of her role as lead singer of the Dreams to make way for the prettier and skinnier Deena much like Florence Ballard was edged out by Diana Ross. Eddie Murphy gives an inspired performance as James 'Thunder' Early a combination James Brown/Little Richard type singer.
The movie does a good job of recreating the 60's and early 70's. The story unfolds against the civil rights movement.
Well-paced, beautifully shot and filled with Oscar caliber performances Dreamgirls is a winner. Again my one complaint is that the last half of the movie seems slightly anticlimactic. But that's a small problem indeed when the rest of the movie is this good.
Reviewed on:
January 6th, 2007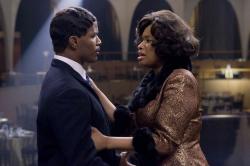 Jamie Foxx and Jennifer Hudson in Dreamgirls.
I feel like Patrick and I saw two different movies. The one he saw sounds a whole lot better than the one I did. The one I saw was just one long music video with a tired story and cliched characters barely fleshing out the plot. Even if I liked the music, I wouldn't want to sit through a video over two hours long, let alone sitting through over two hours of the music featured in this movie, which is just a series of generic tunes belted out with gusto one after the other with barely five minutes going by between songs.
Since absolutely everybody has been raving about Jennifer Hudson's performance, I expected to at least be impressed by her, but frankly I wasn't. She does an okay job considering it's her first movie role, but she's hardly deserving of the many accolades that have been heaped upon her. As for being a sympathetic part, I don't think that I'd go that far, except maybe by comparison to every other character in the movie, none of whom are sympathetic.
The only thing I did enjoy about this movie was Eddie Murphy's performance as Jimmy 'Thunder' Earle. He brings some much needed humor and life to the movie. Here is at least one person who deserves an award, but in my opinion he's the only one.
How this movie ended up getting so many nominations for so many awards is far beyond me.

Reviewed on:
January 26th, 2007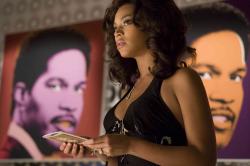 Beyonce Knowles in Dreamgirls.
It would have been a tragedy if hudson did not get some award nominations. Her role is written to steal the show. Anyone who can carry a tune, and show some attitude, would get recognized for playing this part. Hudson does a decent job but it could have been filmed better. Her big showstopping number, "And I Am Telling You I'm Not Going" is filled with many edited shots. It should have been filmed with one camera aimed at the stage while she belts it out in all of it's emotional glory. That way, we could have seen her perform the entire song in one take, demonstrating her talent and not the directors.
Scott's big complaint was the music. I only knew a couple of the songs going into the theater. Actually, I didn't even know that I knew them until someone sang "I am Changing". I think I heard it on American Idol. Anyway, the songs are okay. They are all big, loud and showy. Perfect for Broadway. I am a big fan of 1960s Motown music and have an old double length cassette tape, (yes I still have a cassette player) of The Supremes greatest hits that I occasionally listen to while I am in my work room building something. Beyonce sounds a bit like Diana Ross on a couple of songs, but most of the music has already left me. None are as catchy as those classic Motown hits.
When I left the theater, I had no desire to go buy the soundtrack CD. (I still have a CD player as well) The only thing that stayed with me was a desire to know how much of this was true to life. I did a yahoo search on Florence Ballard only to discover that Effie has many similarities to her, except that Ballard married, had three kids and died at 32.
Photos © Copyright DreamWorks (2006)