Movie Review
Dragon Wars
They've made our world their battleground.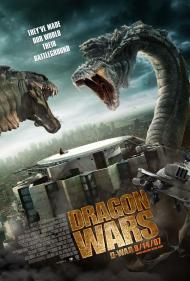 US Release Date: 09-14-2007
Directed by: Hyung-rae Shim
Starring
▸
▾
Jason Behr

,

as

Ethan
Amanda Brooks

,

as

Sarah
Robert Forster

,

as

Jack
Aimee Garcia

,

as

Brandy
Craig Robinson

,

as

Bruce
Chris Mulkey

,

as

Agent Frank Pinsky
John Ales

,

as

Agent Judah Campbell
Elizabeth Pena

,

as

Agent Linda Perez
Billy Gardell

as

Zoo Guard

Reviewed on:
September 22nd, 2007
Dragon Wars.
My thirteen year old talked me into seeing Dragon Wars. I knew nothing about it and thought, just maybe it will be good. Other than some computer graphic filled scenes I could not have been more wrong.
The movie starts with a reporter having a flashback about a flashback. Both of the flashbacks are nearly pointless as well as needlessly confusing. Is there really any reason why giant serpents, 3 blocks long, attack people that is going to make any sense? The flashback is about a love story where a warrior must protect a girl with a dragon mark on her shoulder. Every 500 years a girl with such a mark is born and two giant serpents battle to eat her essence. In 1507 the warrior and the marked girl fell in love and ended up killing themselves before either snake could eat her. 500 years later another girl is born, in Los Angeles, with the mark and a chosen warrior is selected to protect her.
Anytime any actor is on the screen for any amount of time whatsoever, this movie resembles a low grade Godzilla flick. A snake the size of the World Trade center is roaming the city and neighborhoods and no one sees it. The one and only saving grace is when the computer animation is dominating a scene. Although the sight of the giant serpent chasing a car becomes repetitive, it is some of the best moments to be found. The final scene in the movie is nearly entirely animated and very imaginative. It is as if the director wanted very much to do an animated film but felt compelled to throw some live action in. However, this guy makes George Lucas look like Alfred Hitchcock.
Calling this movie cheesy is just to easy. This movie is Saturday morning cartoon overkill. This movie makes The Power Rangers look like Shakespeare. Did a thirteen year old make this movie?
Photos © Copyright Freestyle Releasing (2007)