Movie Review
Draft Day
The greatest victories don't always happen on the field.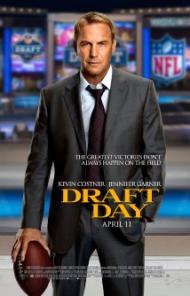 US Release Date: 04-11-2014
Directed by: Ivan Reitman
Starring
▸
▾
Kevin Costner

,

as

Sonny Weaver Jr.
Jennifer Garner

,

as

Ali
Chadwick Boseman

,

as

Vontae Mack
Terry Crews

,

as

Earl Jennings
Arian Foster

,

as

Ray Jennings
Frank Langella

,

as

Anthony Molina
Denis Leary

,

as

Coach Penn
Griffin Newman

,

as

Rick the Intern
Sean Combs

,

as

Chris Crawford
Josh Pence

,

as

Bo Callahan
Ellen Burstyn

,

as

Barb Weaver
Tom Welling

,

as

Brian Drew
Sam Elliott

,

as

Coach Moore
Dave Donaldson

,

as

Danny
Patrick St. Esprit

,

as

Tom Michaels
Chi McBride

,

as

Walt Gordon
Timothy Simons

,

as

Marx
David Ramsey

,

as

Thompson
Kevin Dunn

,

as

Marvin
Rosanna Arquette

,

as

Angie
Deion Sanders

,

as

Himself
Mike Mayock

,

as

Himself
Anthony Rizzo

,

as

Himself
Aaron Goldhammer

,

as

Himself
Chris Berman

,

as

Himself
Mel Kiper

,

as

Himself
Jon Gruden

,

as

Himself
Jim Brown

as

Himself


Reviewed on:
April 16th, 2014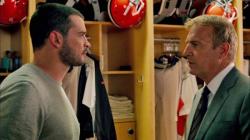 Tom Welling and Kevin Costner in Draft Day
Draft Day takes place on that one day a year when a bunch of college prima donnas find out if the rest of their lives will be just as cushy as their high school and college lives have been. Sure, players work extremely hard to get to draft day and having your employment, or lack thereof, announced to the public is a bit stressful, the pageantry to this event is grander than the Academy Awards. Yeah, liking this film will be greatly affected by how great a football fan you truly are.
Kevin Costner plays Sonny Weaver, the general manager of the Cleveland Browns. This movie follows him from morning to night as he makes phone calls and deals that may or may not make his team better. As this film even points out, there are no guarantees with any pick. Some first round picks have tanked while some NFL superstars have come out of nowhere. With that in mind, the tension supposedly created by all of the wheeling and dealing drops.
This is easily the most important day in the entire year for Sonny, professionally speaking. The decisions he makes on this one day could make or break his team, his own professional future as well as those of the men he picks. Apparently the writers did not think that was enough drama so they forced some other issues.
Jennifer Garner plays Ali, who also works for the Cleveland Browns in finance and contracts. She works closely with Sonny as the decisions he makes affects her department. She often states how important football is to her and how much she loves her job. Even though she knows from experience just how important this one day is for Sonny, and how stressful it will be for him, she still decides to break the news to him that she is pregnant with his baby just before draft day.
As a back story, we discover that Sonny's father used to work for the Cleveland Browns. Sonny and his father worked briefly together. Sonny's mom has been around football most of her life, so of course she decides to show up in the middle of Sonny's busy day with an issue about his father that could have easily waited until the next day.
At best, this is a mildly interesting look behind the scenes of how deals may get made on draft day. We are intended to marvel at how Sonny worked people even when we thought he was getting screwed. Sonny makes decisions based on gut instincts and personal feelings. I am not sure if that is the best way of going about making such choices but this film implies that it is. So remember all of you young men hoping for NFL contracts, it is not just about how hard you work and play or how much talent you have, you must also be a nice guy. Draft Day suggests that just because people have treated you like you're special your whole football playing life, does not mean you have the right to act as if you are.
Reviewed on:
June 25th, 2015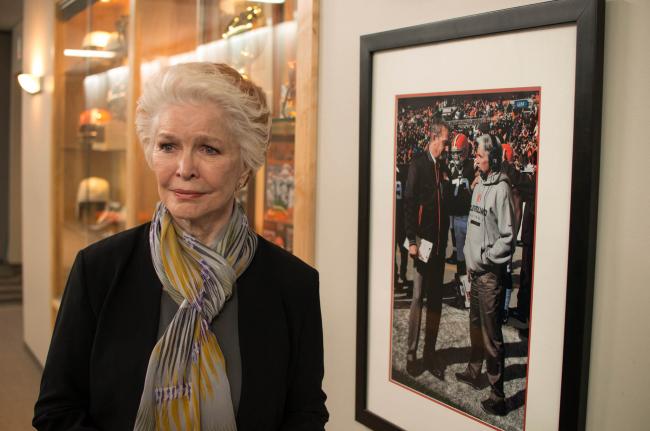 Ellen Burstyn in Draft Day.
Yeah, your enthusiasm for football will certainly play a role in how much you enjoy this movie. Kevin Costner plays his stock character of the unassuming everyman who always somehow comes out on top even though he is portrayed as the underdog throughout most of the movie. Even if it is a role he could play in his sleep, he brings his usual charm and integrity to it. Like Jimmy Stewart before him, Kevin Costner possesses an innately likable yet ineffable quality that radiates from the screen.
Draft Day is an old fashioned sports melodrama with a patented feel good ending. The plot attempts a few twists but anyone surprised by Sonny's picks hasn't seen many movies. The way he outsmarts his competition is fun to watch but the script makes it very clear which players we are supposed to root for. After playing Jackie Robinson in 42 and running back Vontae Mack here, Chadwick Boseman is the current go to guy to play noble athletes. He's a talented enough actor that I hope he's given the chance to expand his repertoire.
I agree with Eric that there is too much fabricated melodrama. The behind the scenes wheeling and dealing is the meat and potatoes of the story; by comparison Sonny's personal problems seem mundane and add little to the proceedings. The subplot dealing with the romantic relationship between Costner and Jennifer Garner isn't needed and they don't exactly set off fireworks as a couple.
Neither is the argument over his father's ashes. Although I love any movie that includes the incredibly talented, and still beautiful (see photo), Ellen Burstyn. Even when stuck playing a superfluous character like she is here, she brings class and gravitas to any role. Which is more than can be said of Sean Combs. His range is severely tested even in a tiny throw-away part as a sports agent.
There are a few attempts at humor mostly provided by Rick the nervous intern. "I told him you were busy, and he told me to, uh, have intercourse with my mother... which, you know, she passed away, so... I - I didn't tell him that..." While he's mildly amusing, other jokes fall flat like this line by Garner, "How is it that the ultimate prize in the most macho sport ever invented is a piece of jewelry?"
Ivan Reitman is much more well known for his comedies than his dramas. He directed such classics as Meatballs (1979), Stripes (1981) and Ghostbusters (1984). Unfortunately he's also responsible for Evolution (2001) and No Strings Attached (2011). Draft Day, while sure to please fans of Kevin Costner, is stuck somewhere in the middle of the huddle.
Photos © Copyright Summit Entertainment (2014)