Movie Review
Dr. No
NOW meet the most extraordinary gentleman spy in all fiction!...JAMES BOND, Agent 007!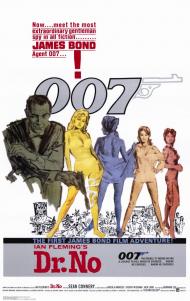 US Release Date: 10-05-1962
Directed by: Terence Young
Starring
▸
▾
Sean Connery

,

as

James Bond
Ursula Andress

,

as

Honey Ryder
Joseph Wiseman

,

as

Dr. No
Jack Lord

,

as

Felix Leiter
Bernard Lee

,

as

M.
Anthony Dawson

,

as

Professor R. J. Dent
Zena Marshall

,

as

Miss Taro
John Kitzmiller

,

as

Quarrel
Eunice Gayson

,

as

Sylvia Trench
Lois Maxwell

,

as

Miss Moneypenny
Peter Burton

as

Maj. Boothroyd

Reviewed on:
December 30th, 2008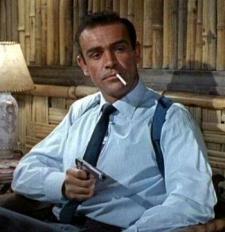 The one, the only true James Bond: Sean Connery.
Dr. No is, of course, the very first James Bond movie. It launched the longest running and most successful franchise in movie history. It also holds up remarkably well despite a few dated moments.
The plot, like a great many James Bond plots, contains science-fiction elements. This was 1962 and the space race was going full-blast, so this isn't surprising. Bond is sent to Jamaica to investigate the "toppling" of American rockets by an unknown source suspected of being in the area. The villain turns out to be the enigmatic Dr. No who lives in an island fortress and who works for the mysterious S.P.E.C.T.R.E. organization.
Many of the Bond traditions were set right here in the first outing. The Bond Villain, the Villain's henchman, Bond's ally, and of course the Bond Girl are all present from the very first movie. And, I don't want to give away the ending, but it does involve a fairly large explosion, which also became something of a tradition.
This is Sean Connery at his best. He was young and suave and amazingly thin. In his older years Connery would develop a bit of a gut, but here he is in great shape and spends a quite a bit of time running around without his shirt. He proves why he is the best Bond ever. He's tough like Daniel Craig but still charming and debonair like Roger Moore or Pierce Brosnan. He can kick ass and seduce the ladies with equal aplomb and he always has a witty line to throw out afterwards.
Andress as Honey is the classic Bond Girl. She's smoking hot and her character has more of a back-story then most of the later girls. She adds to the story and is more than just eye candy, although she is fantastic eye candy anyway.
This movie also contains some memorable lines. Honey asks Bond, "Are you looking for shells too?" to which he replies, as he boldly looks her up and down, "No, I'm just looking." And of course one of the most classic introduction scenes of any character is capped by the immortal, "Bond, James Bond" line.
One tradition that didn't start with Dr. No is the long running-time. This is one of the few Bond films to clock in under 2-hours. Later Bond editors should have learned from the editors of this one that more isn't always better. The shorter running-time keeps the story moving faster and keeps things tense. It probably helps that this story takes place almost entirely in one location rather than across the globe.
In many ways this is the best Bond film of them all. Certainly it's one of the best. This was before the gadgets and self-satire took over, when Bond still felt dangerous and sexy.
Sure Dr. No's evil lair looks ludicrously outdated and was spoofed to perfection in Austin Powers. That doesn't detract from the overall enjoyment this movie provides. An enjoyment, I hasten to add which is much greater than the most recent Daniel Craig contribution to the series.

Reviewed on:
January 7th, 2009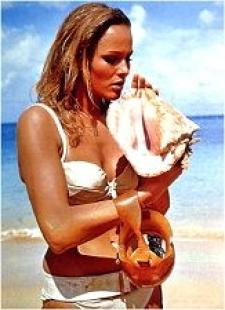 Ursula Andress and her shells.
It is easy to see why, in 1962, Dr. No started a phenomenon. It starts as a murder mystery. James is sent to Jamaica to find out what happened to a British agent and his secretary. Mysterious people seem to be all around him. Often, James finds himself in a fight with them. His investigation takes him to a beautiful island where he finds a beautiful woman. The plot then expands far beyond a mere missing persons story. As Scott wrote, it almost ends on a science fiction note. Dr. No was like no movie before it.
Ursula Andress has always been one of my favorite Bond girls. Her first scene of walking out of the ocean surf is almost as classic in Bond history as Bonds first scene in the casino. Bikinis had just become popular in The United States. Some five years earlier, Grace Kelly had to wear a one piece bathing suit in To Catch a Thief so as to not offend American audiences. The bikini Ursula wears was even made by her, then husband, John Derek. 1961 saw Marilyn Monroe in her last film, The Misifts and Ursula ushered in a new look of longer haired sex symbols. A few years later Raquel Welch would have long dyed blonde hair for her star making role in One Million Years BC.
Of course the real memorable character of Dr. No is James Bond. As far as film history goes, he came to light at the right time. Here was an action hero to take us into the future. Hollywood had given us such action heros as the street wise James Cagney and the cowboy/war hero John Wayne. Bond was a worldly, sophisticated man of action. He knew what wine to order with what fish, as well as what handgun to kill with. Here was a guy that traveled to exotic locales, carried and used a gun and had sex with beautiful women. James Bond was the epitome of the heterosexual male fantasy.
It is not surprising that this movie started a spy craze in Hollywood. From the Matt Helm movies to Jethro Bodines double naught spy, Hollywood fell over itself trying to capitalize on it. Not until 2002s Bourne Identity, would Hollywood produce a better spy movie. By then, James Bond had become a mere shadow of his former vodka swilling, misogynist self.
Reviewed on:
April 18th, 2009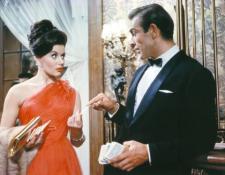 Bond with a beautiful woman in a casino makes his movie entrance.
As dated as this movie may seem today, it was definitely groundbreaking at the time, as both Scott and Eric mentioned. And it is amazing how many of the Bond trademarks were already in use in this very first installment in this most venerable of movie franchises. Even the theme music and the humorous ending with Bond and the babe.
Connery was very young here. In fact, with the exception of one time Bond George Lazenby (29 when he made On Her Majesty's Secret Service), Connery, at 31, was the youngest actor to play the suave super spy to date. There is no question that he will always be THE James Bond. His Bond is heroic without being superhuman.
Dr. No is a classic movie in every sense of the word. It began the cinema world's love affair with one of the most iconic characters in the history of movies. It set the template for a formula that has stood the test of time and continues to inspire imitations. Watch this movie for yourself and see how it all started.
Photos © Copyright United Artists (1962)