Movie Review
Down to Earth
She Sings And Dances like an Angel!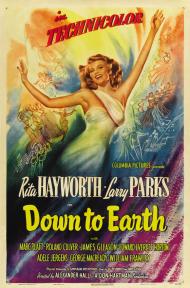 US Release Date: 08-21-1947
Directed by: Alexander Hall
Starring
▸
▾
Rita Hayworth

,

as

Terpsichore / Kitty Pendleton
Larry Parks

,

as

Danny Miller
Marc Platt

,

as

Eddie
Roland Culver

,

as

Mr. Jordan
James Gleason

,

as

Max Corkle
Edward Everett Horton

,

as

Messenger 7013
Adele Jergens

,

as

Georgia Evans
William Frawley

as

Police Lieutenant


Reviewed on:
December 9th, 2009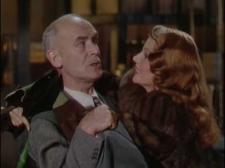 James Gleason and Rita Hayworth.
Down to Earth was made at the height of Rita Hayworth's career. She had just come off the success of her most famous role, Gilda, the previous year. It is a sequel, of sorts, to Columbia's 1941 hit Here Comes Mr. Jordan. Which would be remade as Heaven Can Wait in 1978. All three movies feature an airplane in the clouds scene. Down to Earth likewise was the inspiration for Xanadu, in 1980.
Rita Hayworth plays the muse, Terpsichore, who becomes offended when a Broadway play is being put together that does not portray her correctly. The play has inaccuracies, that offend her precious ego. The swing songs have offensive lines like, "She put the ants in the dancers pants." and "There's a law against men beating their wives, which inhibits about a million guy's lives."
With the help of a messenger and Mr Jordan, she comes down to Earth. She gets Max, who was Joe Pendleton's boxing manager, to be her agent. He gives her the alias of Kitty Pendleton. One of the funniest lines is when the messenger asks Mr Jordan when Max will come to heaven, and Mr Jordan responds that agents never go to heaven. She pushes her way onto the stage during rehearsal. The director/writer, Danny, takes one look at the lovely Rita and gives her the lead role. Firing the girl already hired for the part.
Kitty goes about flirting and convincing Danny to make changes to the show that fit her sensibility. The show becomes a bore and ticket sales decline. Mr Jordan shows up to inform Kitty that Danny is in trouble, and that a hit show may literally save his life. Being that Kitty and Danny have fallen in love, she changes her attitude.
Although her acting is not always convincing here, Rita Hayworth was just plain gorgeous. She is the best thing about the movie, but it is hardly enough. For a musical, there are no memorable songs. The only one that sticks with me is the one where she sings to two different men in uniform. She sings that she wants to marry them both, and they both agree. Were the 1940's really so innocent that no one at the time imagined the sexual scenario the song suggests? The final line of the song is that both men will be sleeping at the "Y", but still?
Reviewed on:
August 13th, 2014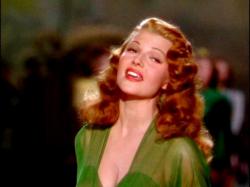 Rita Hayworth comes Down to Earth.
As Eric mentioned this is a followup to Here Comes Mr. Jordan. It was directed by the same man, Alexander Hall, with both James Gleason and Edward Everett Horton reprising their roles from that earlier picture. Claude Rains declined to return however and was replaced by Roland Culver as Mr. Jordan. This movie is pretty to look at but doesn't offer much in the way of plot or laughs.
As for the music, the choreography by Jack Cole is the most memorable element of it. As usual Rita Hayworth looks stunningly gorgeous, she looks as if she might be a goddess descended to earth, and she moves with grace and vitality. She wasn't a classically trained dancer but she sure as hell knew how to move her body to music.
Down to Earth is a rare example of a movie musical where most of the singing was dubbed by others. Rita Hayworth's vocals were by Anita Ellis and Larry Parks' (fresh off the success of The Jolson Story, in which his singing had been dubbed by the famous star himself) by Hal Derwin. Even Adele Jergens' vocals were dubbed, by Kay Starr.
In one scene Kitty Pendleton (Terpsichore's stage name that borrows the surname of the boxer in Here Comes Mr. Jordan) and Danny Miller argue over the accuracy of the dialogue in the show. An exasperated Kitty throws a snow globe at a mirror. In real life Hayworth was married to Orson Welles at the time and the snow globe she throws is the same one Charles Foster Kane drops as he whispers his dying words in Citizen Kane.
Down to Earth also features a subtle nod to Cover Girl, the 1944 musical costarring Hayworth and Gene Kelly. In one of several newspaper montages an item appears that reads, "Save up your gas money and go over to Danny McGuire's place in Brooklyn. You'll see the current Vanity cover in the flesh." Kelly played Danny McGuire and "the current Vanity cover" is a reference to Rusty Parker, Hayworth's character in that movie.
When the most interesting things about a movie are its references to other motion pictures you know you're in trouble. This piece of musical fluff is for Rita Hayworth fans only.
Photos © Copyright Columbia Pictures Corporation (1947)