Movie Review
Down and Out in Beverly Hills
See what happens when a dirty bum meets the filthy rich.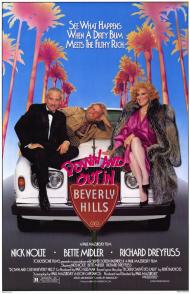 US Release Date: 01-31-1986
Directed by: Paul Mazursky
Starring
▸
▾
Nick Nolte

,

as

Jerry Baskin
Bette Midler

,

as

Barbara Whiteman
Richard Dreyfuss

,

as

Dave Whiteman
Little Richard

,

as

Orvis Goodnight
Tracy Nelson

,

as

Jenny Whiteman
Elizabeth Pena

,

as

Carmen
Evan Richards

,

as

Max Whiteman
Donald F. Muhich

,

as

Dr. Von Zimmer
Paul Mazursky

,

as

Sidney Waxman
Valerie Curtin

,

as

Pearl Waxman
Jack Bruskoff

,

as

Mel Whiteman
Geraldine Dreyfuss

as

Sadie Whiteman
Reviewed on:
June 19th, 2014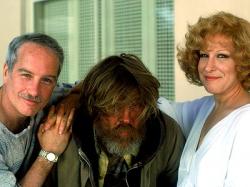 Richard Dreyfuss, Nick Nolte, and Bette Midler in Down and Out in Beverly Hills.
Down and Out in Beverly Hills is Paul Mazursky's update of Jean Renoir's 1932 French comedy Boudu Saved from Drowning. This comedy of manners tells the tale of a wealthy but dysfunctional Beverly Hills family who take in a homeless man after he attempts to drown himself in their backyard swimming pool. It stars Nick Nolte in the role originated by Michel Simon, with Bette Midler and Richard Dreyfuss as the couple who take him in. Little Richard plays their -what else?- flamboyant, always-complaining neighbor and even sings on the soundtrack.
This movie was a big hit for Walt Disney Studios. It grossed 92 million domestic on a budget of 14. Down and Out in Beverly Hills holds the distinction of being the very first movie from the famously family friendly studio to earn an R rating. It also spawned a short-lived sitcom on the fledgling Fox network. After just 13 episodes it made history by becoming the first series to be canceled by the upstart network, in the fall of 1987.
Jerry Baskin is an eccentric who touches the lives of each member of the Whiteman family. He twice cuckolds patriarch Dave Whiteman by not only sleeping with Dave's sexually frustrated wife but also by having sex with the Whiteman's sexy Hispanic maid (Elizabeth Pena), whom Dave is also having an affair with. Jerry also sleeps with Dave's anorexic, college age daughter (Tracy Nelson) and encourages Dave's androgynous son to be himself. Even the family dog falls for the Whiteman's new houseguest. All of the shenanigans culminate at a backyard pool party where the guests all wind up in the swimming pool.
Nick Nolte really committed to the part of Jerry. He not only spent five weeks living as a homeless person in L.A. he also famously ate dog food on camera - twice. Once on the Whiteman's kitchen floor where he eats from the same dog food bowl as the family pet. He plays the erstwhile actor Jerry with a wry sense of humor and begins the movie looking like an outdated hippie with long unkempt hair and a scraggly beard (see photo). Richard Dreyfuss proves his considerable comic chops as the husband who takes in Jerry against the objections of his New Age wife. Bette Midler is fine as the wife but she isn't given all that much to do. Although she's second billed she's really the third most important character.
Down and Out in Beverly Hills is a nice time capsule of the 1980s. It remains a funny look at class and family dynamics even if it has begun to show its age a bit. For example, the Whiteman son is gay and Jerry helps him come out – but the word gay is never spoken. The subject is tiptoed around in a manner that seems hopelessly old fashioned today. But I still give Mazursky credit for including the topic in a mainstream Walt Disney film in 1986.
While I prefer Boudu Saved from Drowning, Down and Out in Beverly Hills is far superior to 90% of the remakes that Hollywood churns out. It offers a heaping portion of broad situational laughs, with a side dish of social commentary, and a rousing song by Little Richard for dessert.
Photos © Copyright Touchstone PicturesSilver Screen Partners II (1986)
Related Review