Movie Review
Double Indemnity
From The Moment They Met It Was Murder!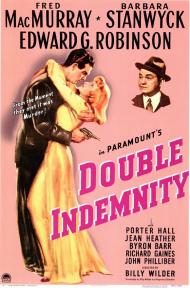 US Release Date: 09-06-1944
Directed by: Billy Wilder
Starring
▸
▾
Fred MacMurray

,

as

Walter Neff
Barbara Stanwyck

,

as

Phyllis Dietrichson
Edward G. Robinson

,

as

Barton Keyes
Porter Hall

,

as

Mr. Jackson
Jean Heather

,

as

Lola Dietrichson
Tom Powers

,

as

Mr. Dietrichson
Byron Barr

,

as

Nino Zachetti
Richard Gaines

as

Edward S. Norton

Reviewed on:
September 6th, 2001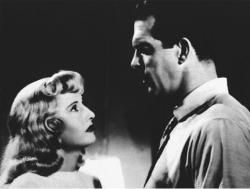 Barbara Stanwyck and Fred MacMurray in Double Indemnity.
If classic forties film noir gets any better than this I've yet to see it. The setting, the sublime direction by Billy Wilder, the smoldering chemistry between the great Barbara Stanwyck and the sincere Fred MacMurray, the crisp dialogue, Edward G. Robinson and last but not least a plot to die for. Like Dinner At Eight this is a must see for any aspiring movie buff. Recently I had the pleasure of viewing it at the summer film festival held Monday nights in mid-town Manhattan's Bryant Park along with 10,000 or so other New Yorkers.
MacMurray is insurance rep Walter Neff who gets hopelessly consumed by the powerful charms of femme fatale Stanwyck's Phyllis Dietrichson. Together they plot to kill her rich husband and by making it look like a train accident the premium would be doubled, hence the title. Neff narrates the story, a device Mr. Wilder would use again successfully a few years later in Sunset Boulevard. The one flaw in their plot is the uncanny ability of Neff's boss, Barton Keyes, portrayed brilliantly by Edward G. Robinson, to smell a rat.
Barbara Stanwyck steals the show as the completely rotten Mrs. Dietrichson. This character has been credited with inspiring Sharon Stone's role in Basic Instinct. They are, after all, both beautiful blondes with a penchant for murder, an obsession with money and the ability to manipulate men. Only things were a bit subtler in those days. Whereas Stone is reduced to a cheap beaver shot, Stanwyck creates sparks with only her ankle bracelet.
Double Indemnity is highly entertaining melodrama best summed up by the studio's original tag line... From the Moment they met it was Murder!
Reviewed on:
September 6th, 2002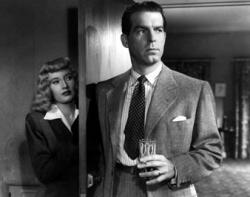 Barbara Stanwyck and Fred MacMurray in Double Indemnity.
If classic forties film noir gets any better than this, someone please show it to me. Please!!!!!!
I didn't enjoy this movie nearly as much as Patrick did. What little enjoyment I did receive, was from a since of nostalgia, really. I was amused by the attitudes and habits of the times. The fact that everyone smokes everywhere, for instance, even in the grocery store.
I also enjoyed the over the top dialogue, filled with sexual innuendo. When Walter talks about the red hot poker in his pocket and how he had to rush home to take care of it, I burst out laughing. And just how many times, does he call her baby?
I suppose this is classic forties film noir, and if you're a fan of the genre, you will enjoy this movie, I'm just not a fan.

Reviewed on:
February 28th, 2007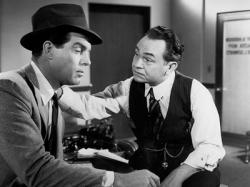 Fred MacMurray and Edward G. Robinson in Double Indemnity.
Walter Neff is probably the horniest character who ever appeared on screen. His pipes are so backed up that he gets turned on by an ankle bracelet and the smell of a woman's shampoo. That and her come hither smile are enough to convince him to create a bogus accident insurance policy and commit murder. And after all that, Neff even confesses, "I killed him for money and for a woman. I didn't get the money, and I didn't get the woman."
He may or may not have gotten the girl. Double Indemnity is a precursor to Body Heat. And like Body Heat, Double Indemnity is based on the premise that a femme fatale gets some ignoramus so hot and horny that he is willing to commit murder for her. In Body Heat it is clear that they engage in all kinds of sex. In Double Indemnity there is one scene where Phyllis goes to Neff's apartment. They get cosy on the couch and then the scene changes. When it comes back, Neff is laying at one side of the couch, looking mighty relaxed, smoking a cigarette (always a telling sign) while Phyllis is sitting on the other end of the couch applying lipstick. They are both fully clothed, so you make the call. Did they do the deed or not? Either Phyllis gave Neff the kind awesome sex that he would kill to have again or she made the promise of said sex after he committed the murder. Either way, I return to my first line. Neff is one horny, and dumb, bastard.
Scott, were you in a bad mood when you watched this movie? Were you even paying attention? Neff does not say anything about having a red hot poker in his pocket that he has to take care of. He says, "I knew I had a hold of a red hot poker and the time to drop it was before it burned my hand off." He is referring to Phyllis's murderous insinuations, not his erection. I think you should watch this movie again. And if you do, go ahead and count how many times Neff calls her baby. I am curious to know, but not so curious that I want to watch it over again right away.
Photos © Copyright Paramount Pictures (1944)