Movie Review
Donovan's Reef
Wild, Wayne and Wonderful!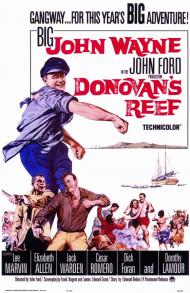 US Release Date: 06-12-1963
Directed by: John Ford
Starring
▸
▾
John Wayne

,

as

Michael Patrick Donovan
Lee Marvin

,

as

Thomas Aloysius Gilhooley
Elizabeth Allen

,

as

Ameilia Sarah Dedham
Jack Warden

,

as

Dr. William Dedham
Cesar Romero

,

as

Marquis Andre de Lage
Dick Foran

,

as

Australian Navy Officer
Dorothy Lamour

,

as

Miss Lafleur
Marcel Dalio

,

as

Father Cluzeot
Mike Mazurki

as

Sergeant Monk Menkowicz

Reviewed on:
January 17th, 2008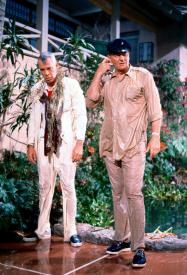 Lee Marvin and John Wayne in Donovan's Reef.
In 1963 when Donovan's Reef was released, John Wayne was the 2nd most popular box office star in America according to the annual Quigley poll (Doris Day was number one). The only other male star from his generation to make the list that year was Cary Grant at number five. They would be the last male stars from the early 30's to still be box office attractions. Grant last made the list in 1966 and Wayne in 1974.
Reef is one of Wayne's best comedies. It also marks the final collaboration between the star and director John Ford. Wayne, Lee Marvin and Jack Warden play World War II Navy buddies. They have retreated from the postwar world to live on a beautiful French Polynesian island. Wayne and Marvin get into a fist fight every year on their birthday, which they share. They have been doing this for fifteen years. Warden plays a doctor, he's the responsible one. Wayne is Donovan, the owner of the eponymous saloon where much of the action takes place.
The gist of the plot concerns Warden's wealthy Boston daughter (whom he has never met) arriving on the island in order to disinherit him and take control of the family shipping business. The fact that Warden had a native wife and three children by her must be kept a secret from the daughter. They pass his kids off as Donovan's. Of course the daughter falls for Donovan and everyone lives happily ever after.
The tropical scenery in the movie is absolutely gorgeous. The movie was shot in Hawaii. Also on hand are stars Cesar Romero and Dorothy Lamour. He plays the Governor of the island and she is Marvin's Saloon singer girlfriend. Movie buffs may also recognize character actor Dick Foran as an Australian Navy Officer.
This one is a lighthearted, Technicolor, widescreen treat. It makes a great companion movie to Cary Grant's Father Goose which was released the following year. They don't make stars or movies like these anymore.
Reviewed on:
October 3rd, 2012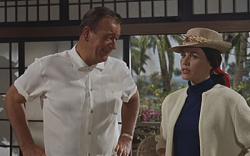 John Wayne and Elizabeth Allen in Donovan's Reef.
Wayne and Grant may have been popular holdovers from an earlier era, but this movie has nothing on Father Goose. That movie had charm and humor while with this one I only knew it was a comedy because you mentioned it Patrick. There's very little actually funny. This isn't Ford or Wayne at their best.
The plot is trying to make some kind of point about racism, but is actually quite racist itself. Donovan's insistence that the children be hidden from the Doctor's Boston daughter because she wouldn't approve is tantamount to him saying there's something wrong with them. And the fact that the doctor doesn't immediately tell his Boston daughter that the other children are his, is just shameful. The irony of the situation is that his daughter behaves in no way prejudiced, taking to the children right away. She uses the phrase "half-caste" in reference to them at one point, which is far less rude than the way the Oriental men in Donovan's bar are depicted or the way Donovan refers to them.
One other thing this movie has in common with Father Goose is that both movies feature a romantic angle between the much older male lead and his female co-star. It is definitely this movie's weakest plot point, although, honestly there's not much plot in the whole movie. The chemistry between Wayne and Allen is non-existent and the final scene where he spanks her, telling her that "from now on I wear the pants." is the most dated scene in the entire movie. Of course, maybe he spanked her because he assumed she was his daughter or granddaughter based on the age difference.
Apart from being there to fight Wayne on a couple of occasions, Lee Marvin is completely underused. He only gets a few lines of dialogue. Likewise, an aging Lamour brings little beyond a sense of novelty to the story. I kept waiting (or maybe hoping is a better word) that Bing Crosby and Bob Hope would show up and take her and us on the road somewhere.
I do agree that the island is shown off to good advantage. The scenery is quite beautiful.
Hollywood would be hard pressed today to come up with stars of either Wayne or Grant's caliber, it's true, but the fact that they don't make movies like this one anymore is one for which I can only express gratitude.

Reviewed on:
October 15th, 2012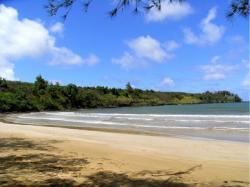 Hanamaulu Beach, where Lee Marvin came ashore in Donovan's Reef
Scott, although you may not have laughed at Donovan's Reef, it is very much a comedy. The children are too precocious to be taken seriously. The entire proceedings are played light and breezy. We first meet Wayne giving fish he caught to some nuns, "Would you accept some nice fish from a sinner?" When Wayne first talks to Marvin, he jokes about how many wives Marvin has. They then fight and afterwards try to explain to Warden how their annual fight started.
We then meet the proper prudish Ameilia at a will reading, where she is told that, "If the heir is not of good moral character, according to Boston standards, may be deprived of his inheritance." Ameilia then goes to the island to prove just that. This is the cause for the lies and masquerade over the paternity of the three children.
Granted, the jokes are well telegraphed ahead of time. You just know Ameilia will end up in the drink when debarking from the ship. Having a "proper" lady spending time with a hard drinking, harsh talking Wayne is too obvious a set up to create any surprises. The problem is that it is not played up nearly as well as it could have been.
The film is not overly long but it could have been edited. As Scott wrote, there is very little plot. Dorothy Lamour embarrasses herself, doing a horrible little performance at the bar. Marvin disappears for a great amount of screen time and Jack Warden does little more than a cameo.
As Patrick wrote, the tropical scenery in the movie is absolutely gorgeous. It was what I remembered the most from watching this years ago as a kid. With South Pacific (1958), Blue Hawaii (1961) and Donovan's Reef, the 50th state was finally displayed in color and no doubt affected its tourism. If only the script was as brilliant as the setting.
Photos © Copyright Paramount Pictures (1963)