Movie Review
Dodsworth
Here is a picture that was marked for greatness before it was ever screened!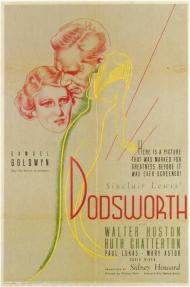 US Release Date: 09-23-1936
Directed by: William Wyler
Starring
▸
▾
Walter Huston

,

as

Sam Dodsworth
Ruth Chatterton

,

as

Fran Dodsworth
Paul Lukas

,

as

Arnold Iselin
Mary Astor

,

as

Mrs. Edith Cortright
Kathryn Marlowe

,

as

Emily Dodsworth McKee
David Niven

,

as

Capt. Clyde Lockert
Gregory Gaye

,

as

Baron Kurt Von Obersdorf
Maria Ouspenskaya

,

as

Baroness Von Obersdorf
Odette Myrtil

,

as

Renee De Penable
John Payne

,

as

Harry McKee
Spring Byington

,

as

Matey Pearson
Harlan Briggs

as

Tubby Pearson
Reviewed on:
April 7th, 2011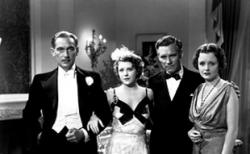 Paul Lukas, Ruth Chatterton, Walter Huston and Mary Astor in Dodsworth.
Dodsworth was based on the famous novel by Sinclair Lewis. Sidney Howard adapted the screenplay for this movie version. With a superb cast led by Walter Huston and wonderful direction by the great William Wyler this is one of the best black & white dramas made during Hollywood's Golden Age.
As the movie opens mid-western automotive tycoon Sam Dodsworth (Huston) has just sold his company with plans to spend his retirement traveling abroad with his slightly younger wife (Chatterton). In modern parlance she is high-maintenance and vain about her looks. Whereas Sam wants to do some low key sightseeing before returning home she wants to party and has no desire to return to the states.
On the voyage across the Atlantic Fran begins what she assumes is an innocent flirtation with a man played by a young David Niven. In one scene he calls her a tease and lets her know that she shouldn't begin things she isn't prepared to finish. In Paris (having apparently learned her lesson) she begins a more serious relationship as she and her husband drift farther apart.
Finally she tells him, "Remember, I did make a home for you once, and I'll do it again, only you've got to let me have my fling now! Because you're simply rushing at old age, Sam, and I'm not ready for that yet."
Her patient husband tells her, "You'll have to stop getting younger someday." Before heading sadly home without his wife.
Eventually she asks for a divorce to remarry. Meanwhile Dodsworth (having returned to Europe to finalize the divorce) begins a relationship with a warm-hearted divorcee played by the reliable Mary Astor. She is everything his wife isn't and imbues Sam with a newfound enthusiasm for life.
Anyway, to make a long story short, Fran's new man dumps her and she goes running back to her husband. The question now becomes will Dodsworth take her back or choose the new woman in his life?
Nominated for six Oscars, including Picture, Director and Best Actor, Dodsworth took home the gold for Art Direction. It is a wonderful adult movie with a bittersweet tale of heartbreak and the rediscovery of love. Walter Huston is sympathetic as the over-indulgent husband while Ruth Chatterton is perfect as the selfish wife. Mary Astor called this her favorite role in her long distinguished career.
Even those who don't normally enjoy 1930s melodramas will like Dodsworth. It runs just 101 minutes and the story moves quickly. The dialogue is clever and the cast flawless. In short, Dodsworth is highly recommended.

Photos © Copyright United Artists (1936)