Movie Review
Dodgeball: A True Underdog Story
Grab life by the ball.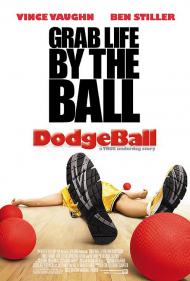 US Release Date: 06-18-2004
Directed by: Rawson Marshall Thurber
Starring
▸
▾
Vince Vaughn

,

as

Peter La Fleur
Christine Taylor

,

as

Kate Veatch
Ben Stiller

,

as

White Goodman
Justin Long

,

as

Justin
Stephen Root

,

as

Gordon
Chris Williams

,

as

Dwight
Alan Tudyk

,

as

Steve the Pirate
Missi Pyle

,

as

Fran
Jason Bateman

,

as

Pepper Brooks
William Shatner

as

Dodgeball Chancellor

Reviewed on:
June 16th, 2004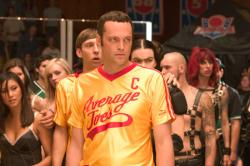 Vince Vaughn in Dodgeball: A True Underdog Story.
Dodgeball: A True Underdog Story is, without a doubt, one of the stupidest, but also quite funny, movies ever made. Along the lines of a demented Bad News Bears meets Zoolander, it will have you laughing even if you're ashamed of yourself for doing it.
When a rundown gymnasium, owned by deadbeat Peter La Fleur (Vaughn) is threatened with foreclosure, its oddball members decide to participate in the World Dodgeball Championship with the hope of winning the prize money and paying off the mortgage. Opposing them is White Goodman (Stiller), who wishes to demolish the gym and put in a parking lot. White puts together his own team of uber-athletic Dodgeballers and it's the geeks vs. the goliaths in a winner takes all death match.
If this movie had been made fifteen years ago, surely Bill Murray would have played the part of Peter. The slacker leader of a group of misfits is reminiscent of Murray's character in Stripes. As it is, we are stuck with Vaughn's rather wooden performance, made even duller by the colorful characters that surround him. Given that this movie shares a similar sense of humor and several of the actors from Stiller's Zoolander, it's a pity that the charismatic Owen Wilson couldn't also have returned to spice up this part.
Many of the jokes here are of the physical variety. The movie never grows tired of going for the dodgeball to the head or groin joke. (Is there anything more evocative of a school gym class than the sound of one of those red balls bouncing off skin?) And yet, it also throws in some surreal verbal humor as well. Jason Bateman has a small but scene stealing role as one of the Dodgeball commentators. "Average Joes is forfeiting the match," he says at one point. "A dangerous strategy for winning the game, let's see how that works out for them." Rip Torn is another scene-stealer as the wheelchair bound dodgeball legend, Patches O'Houlihan, who agrees to coach the fledgling team. Not all the jokes work, the Steve the Pirate character never really takes off or goes anywhere.
Stiller, who also produced the film, plays the villain with some success. White Goodman is sort of an evil cousin to Derek Zoolander. In other words, he's just as vain and stupid as Derek, but without any of the loveable traits. His best scenes are played against Stiller's real life wife, Christine Taylor (Marcia in the two Brady Bunch movies), who in this film is repulsed by him.
The most remarkable aspect of this movie is that despite the extreme level of stupidity, it is actually able to make you care about the outcome of the Dodgeball tournament. It's not on the same level as the Bad News Bears, but it does manage to evoke an emotional response at the movie's end. Given the subject matter, and the low level of humor, that's pretty remarkable.

Reviewed on:
June 25th, 2004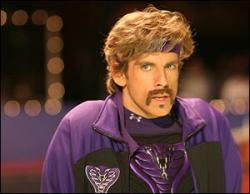 Ben Stiller in Dodgeball: A True Underdog Story.
As Scott wrote, some jokes work, like the sign hanging above the dodgeball court that reads "Go Balls Deep." Some jokes just fall flat, like the "I am not a lesbian, I'm bisexual" line.
I like Vince Vaughn. I think he has great delivery and screen attitude. However, he really plays everything low key in this movie. Not exactly flat, but he is definitely playing the straight man. He has done better work.
Other than Stiller and Vaughn, Justin Long is the only cast member that stands out. Otherwise known for his role in Jeepers Creepers, Long proves that he has a real knack for physical comedy. He gets pummeled by balls, hit with wrenches and squashed by a fat cheerleader.
The set up is the oldest in Hollywood history, an underdog team going against the sure winners. The big exception here is that dodgeball brings to mind a memory to everyone. Whether you loved the sport or saw it as a form of organized torture. You can relate to this movie. Every hit brought a memory back for me.
Reviewed on:
March 7th, 2005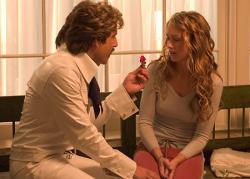 Ben Stiller and Christine Taylor in Dodgeball: A True Underdog Story.
This no-brainer comedy is definitely worth checking out. It is funny. Ben Stiller as White Goodman captures the essence of a late night infomercial. Rip Torn also cracked me up, "If you can dodge traffic you can dodge a ball!" And I agree that Justin Long was good. Wasn't he in Galaxy Quest?
Scott's comparison with Bad News Bears was apt. While not as classic it does engage the audience and make us root for the Average Joes to succeed.
Missi Pyle gives another underappreciated performance as Fran. From this to Bringing Down the House to Soul Plane she makes any movie funnier with her mere presence. She is a modern day Teri Garr or Cloris Leachman.
I think this movie works best for those of us who grew up playing dodge ball in the gymnasium or schoolyard. For my generation at least, with the possible exception of kickball, it was the most popular recess sport. Everyone has memories of humiliation or triumph. This movie will bring them to mind while making you laugh at the same time.
Photos © Copyright 20th Century Fox (2004)