Movie Review
Do the Right Thing
It's the hottest day of the summer. You can do nothing, you can do something, or you can...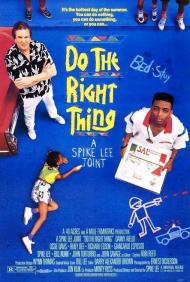 US Release Date: 06-30-1989
Directed by: Spike Lee
Starring
▸
▾
Danny Aiello

,

as

Salvatore 'Sal' Fragione
Ossie Davis

,

as

Da Mayor
Ruby Dee

,

as

Mother Sister
Richard Edson

,

as

Vito
Giancarlo Esposito

,

as

Buggin Out
Spike Lee

,

as

Mookie
Bill Nunn

,

as

Radio Raheem
John Turturro

,

as

Pino
Paul Benjamin

,

as

ML
Frankie Faison

,

as

Coconut Sid
Robin Harris

,

as

Sweet Dick Willie
Joie Lee

,

as

Jade
Miguel Sandoval

,

as

Officer Ponte
Rick Aiello

,

as

Officer Long
John Savage

,

as

Clifton
Samuel L. Jackson

,

as

Mister Senor Love Daddy
Rosie Perez

,

as

Tina
Roger Guenveur Smith

,

as

Smiley
Martin Lawrence

as

Cee
Reviewed on:
February 22nd, 2011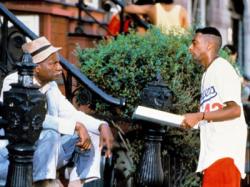 Ossie Davis and Spike Lee in Do the Right Thing.
Do the Right Thing was the third feature for writer/director/actor Spike Lee following She's Gotta Have It and School Daze. It was his first movie to garner national attention outside of the black community. It garnered 2 Oscar nominations, for Supporting Actor (Danny Aiello) and for Lee's Original Screenplay. It also caused a bit of controversy upon its release in the summer of 1989 dealing as it does with the always hot-button topic of race relations in America.
Set in the Bedford-Stuyvesant (Bed-Stuy to the locals) neighborhood of Brooklyn, it tells about the events of the hottest day of the summer and how racial tension on a predominantly black street simmers all day long before finally boiling over into a riot at night.
Spike Lee shot the streets of his beloved Brooklyn much as Woody Allen did his beloved Manhattan. He captures it with a golden and russet sentimentalism that belies the gritty nature of the story he is telling.
The best thing about this movie is the cast of interesting characters that populate Lee's Brooklyn. He stars as Mookie, a ne'er do well young man working as a pizza delivery boy for Sal's Famous Pizzeria. He treats his baby mama (Perez "Mookie!") and infant son casually, not handling his adult responsibilities well. Lee wisely makes Mookie an average fuck up but he also has a brain. He is therefore easy to relate to and represents the focal point of the story.
Sal (Aiello) is the last hold-out of the neighborhood's Italian days. He has owned his pizzeria for 25 years and takes pride in the fact that many of the local kids have grown up on his food. He also has a quick temper which his older son Pino (Turturro) has inherited. Pino hates the pizzeria and is a blatant racist. He is bitter and unhappy with his lot in life but lifts no finger to change it. He picks on his younger, more easygoing brother Vito (Edson). Vito is friends with Mookie and wants to be accepted by the blacks and Hispanics in the neighborhood.
Da Mayor (Davis) is the colorful local wino. He gets drunk all day long and gives fatherly advice to the kids on the block. He has a crush on Mother Sister (Dee). She is the wise old woman that forever sits in her window over the stoop watching the street and its passersby. Samuel L. Jackson plays Mister Señor Love Daddy a local radio DJ. He acts as a narrator of sorts setting the scene and adding commentary.
Smiley (Smith) is deaf and/or retarded. He walks around incessantly talking about Martin Luther King and Malcolm X and generally being a nuisance. ML (Benjamin), Coconut Sid (Faison) and Sweet Dick Willie (the hilarious but not long for this world Robin Harris) are three unemployed men that sit in chairs on the corner all day long discussing everything and nothing.
Last but certainly not least are Buggin Out (Esposito) and Radio Raheem (Nun). Buggin Out is the catalyst for the riot. He tries to organize a boycott of Sal's Famous because Sal has only photos of Italian Americans on the wall of his pizzeria and Buggin Out wants to see "some brothers" on the wall. Radio Raheem walks around with a huge boom box constantly blasting Public Enemy. Lee copies Night of the Hunter by having Radio Raheem wear LOVE and HATE knuckle rings and repeating Robert Mitchum's speech almost word for word. He has a hilarious scene where he buys batteries at the Korean owned bodega and plays a crucial role in the day's events.
The movie mixes humor and drama well and features Lee's trademark camera angles and close-ups with his characters looking directly into the lens. In one well-scripted scene Lee has a character of each race rattle off derogatory stereotypes about another race and in so doing brilliantly demonstrates how similarly human we all are.
Do the Right Thing isn't a perfect movie. I wished for a better final resolution. Still its "day in the life of a Brooklyn neighborhood" story holds up well (except for the opening credits which positively scream 1989!) and the script remains fresh today. Look for a young Martin Lawrence in a small part and a cameo by John Savage.

Photos © Copyright Universal Pictures (1989)