Movie Review
Dirty Wars
A secret army. A war without end. A journalist determined to uncover the truth.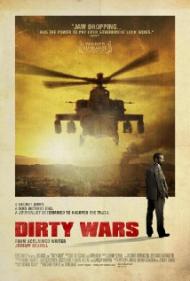 US Release Date: 10-18-2013
Directed by: Rick Rowley
Starring
▸
▾
Jeremy Scahill

,

as

Himself
Nasser Al Aulaqi

,

as

Himself - Interviewee
Saleha Al Aulaqi

,

as

Herself - Interviewee
Muqbal Al Kazemi

,

as

Himself - Interviewee
Abdul Rahman Barman

,

as

Himself - Interviewee
Saleh Bin Fareed

,

as

Himself - Interviewee
Andrew Exum

,

as

Himself - Interviewee
Abdul Ghafoor

,

as

Himself - Interviewee
Philip Giraldi

,

as

Himself - Interviewee
Matthew Hoh

,

as

Himself - Interviewee
Patrick Lang

,

as

Himself - Interviewee
John McCain

,

as

Himself
William McRaven

,

as

Himself
Emile Nakhleh

,

as

Himself - Interviewee
Malcolm Nance

,

as

Himself - Interviewee
Barack Obama

as

Himself
Reviewed on:
January 29th, 2014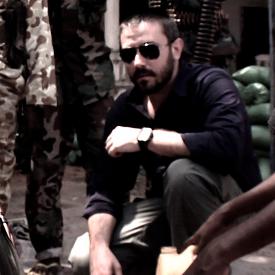 Jeremy Scahill in Dirty Wars.
Dirty Wars is another 2013 Oscar nominated documentary. It stars investigative war correspondent (The Nation) Jeremy Scahill and is based on his book Dirty Wars: The World Is a Battlefield. The point of the film is to denounce covert U.S. military operations against terrorism. It begins in Afghanistan where Scahill investigates the alleged murders of several civilians (including two pregnant women) by U.S. forces. It is the same old story of collateral damage that has been resounding since the dawn of warfare.
Jeremy Scahill was hot on the trail of what he calls our government's most secret, secret military group. They are known as the Joint Special Operations Command (or JSOC) and they report directly to the President. In 2010 this covert group came out of the shadows after they led the raid that successfully assassinated Osama bin Laden. Whereas Scahill was trying to paint them as villains, the vast majority of the American people saw them as heroes.
Scahill's reporting takes him from Capitol Hill to Yemen and Somalia. He is certainly dedicated, not to mention intrepid, as he willingly travels to some of the most dangerous places on the globe in pursuit of his cause. He paints a particularly negative portrait of President Obama. He alleges that abuses of military power have actually increased during the current President's administration. This accusation is backed-up by a man who was in the JSOC. This is a rare example of a liberal journalist attacking President Obama. I'm sure conservatives would have a field day making a big deal of this if it weren't for the fact that it makes Obama look very pro-military.
Scahill claims that the United States is creating more terrorists by their raids in countries that we are not technically at war with and by the deaths of civilians that sometimes occur as a result. He seems particularly bothered by the assassination of Anwar al-Awlaki, an American citizen who later denounced America and called for young Muslims to take up arms against his former country. What Scahill doesn't offer is an alternate solution. We didn't start the war that began on September 11, 2001. And the fact that there hasn't been another successful terrorist attack on U.S soil in the 12 1/2 years since that awful day seems to suggest that our tactics are working.
Of course the deaths of innocent civilians, particularly women and children, are unspeakable tragedies. Unfortunately we live in a world where it isn't always clear just who is and who is not the enemy. Until the day comes when humanity finds a way to live in peace wars will be fought. And as long as terrorists plot to murder masses of innocent people, then covert operations like the ones carried out by the JSOC will be necessary. I commend Jeremy Scahill's courage in reporting the deaths of innocent civilians. I may not agree with all of his conclusions but Dirty Wars is definitely worth checking out whatever views you hold concerning the War on Terror.
Photos © Copyright Big Noise FilmsCivic Bakery (2013)