Movie Review
Dirty Dancing
First dance. First love. The time of your life.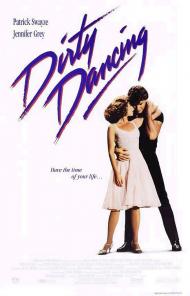 US Release Date: 08-21-1987
Directed by: Emile Ardolino
Starring
▸
▾
Jennifer Grey

,

as

Frances Houseman
Patrick Swayze

,

as

Johnny Castle
Jerry Orbach

,

as

Dr. Jake Houseman
Cynthia Rhodes

,

as

Penny Johnson
Jack Weston

,

as

Max Kellerman
Jane Brucker

,

as

Lisa Houseman
Kelly Bishop

,

as

Marjorie Houseman
Lonny Price

,

as

Neil Kellerman
Max Cantor

,

as

Robbie Gould
Wayne Knight

as

Stan

Reviewed on:
October 1st, 2008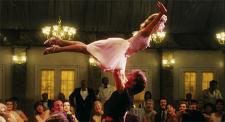 Jennifer Grey, having the time of her life, as Patrick Swayze tries not to drop her.
With nothing to watch, I scoured my DVD shelf to see what movies I had yet to review and came across my wife's favorite movie, Dirty Dancing. I have discovered that it is many women's favorite film. It is a love story and has several scenes featuring a man, often Swayze, without a shirt on.
The movie opens with Grey narrating, "That was the summer of 1963 - when everybody called me Baby, and it didn't occur to me to mind. That was before President Kennedy was shot, before the Beatles came, when I couldn't wait to join the Peace Corps, and I thought I'd never find a guy as great as my dad. That was the summer we went to Kellerman's."
Baby is between her senior year at highschool and her freshman year in college. She is full of ideals but is very naive. Her family vacation at the summer resort in the Catskill mountains, starts slow until she lays eyes on a dancer/gigolo, who works at the resort to keep the bored middle aged wives happy. At first he is suspicious of her as she is the daughter of a doctor and he is an employee. She takes the place of his friend, who had an abortion, in a dance contest. They fall in love while rehearsing.
The movie contains the steadfast Hollywood cliche of the rich girl and the poor boy falling in love. It succeeds in that this a coming of age movie for a girl. Most coming of age films seem to be about boys. Over this summer, Baby loses her virginity, stands up for herself and the man she loves, all at the expense of disappointing the man who used to be the most important person in her life, her father.
This is Grey's career defining film. She had just came off the success of the comedy Ferris Bueller's Day Off. Here she proved that she could do drama as well. Her best moment comes when she tells Johnny she loves him, "I'm scared of everything. I'm scared of what I saw, I'm scared of what I did, of who I am, and most of all I'm scared of walking out of this room and never feeling the rest of my whole life the way I feel when I'm with you." Unfortunately, Grey would have a nose job shortly after this film came out and was no longer even recognizable as Baby.
Dirty Dancing started a craze when it first came out in theaters. Not since Saturday Night Fever, had songs and dancing from a movie made such an impact. The soundtrack was a huge hit and even inspired a CD sequel. Their were Dirty Dancing live stage tours. When was the last time a movie's climactic scene was a dance move? I recall my Aunt once mentioned that she loves the final moment of the movie when Baby trusts Johnny enough to run to him and do the lift. The choreography was done by Kenny Ortega, who any 14 year old knows, is the guy who choreographed and directed the High School Musical movies.
Dirty Dancing is a bit sentimental and it's love story comes no where near reality. Like the economically diverse couple in Titanic, Johnny and Baby have a very tiny shot at a long term relationship. He is going to join a house painters union and she is going off to college. But I guess the idea of the nice girl ending up with the muscular, shirtless bad boy is what helps make this such a popular chick flick.
Photos © Copyright Vestron Pictures (1987)