Movie Review
Dinner at Eight
The consumate movie buff's movie.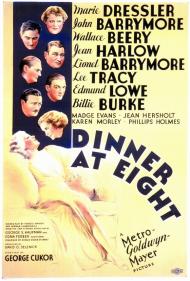 US Release Date: 08-29-1933
Directed by: George Cukor
Starring
▸
▾
John Barrymore

,

as

Larry Renault
Wallace Beery

,

as

Dan Packard
Jean Harlow

,

as

Kitty Packard
Lionel Barrymore

,

as

Oliver Jordan
Billie Burke

,

as

Millicent Jordan
Lee Tracy

,

as

Max Kane
Edmund Lowe

,

as

Dr. Wayne Talbot
Madge Evans

,

as

Paula Jordan
Marie Dressler

,

as

Carlotta Vance
Jean Hersholt

as

Jo Stengel

Reviewed on:
August 29th, 2001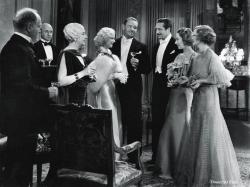 The all-star cast of Dinner at Eight.
The Internet Movie Database calls Dinner At Eight one of the consummate movie buffs movies and I quite agree. They go on to say that it has romance, glamour, wit, charm, intrigue, interesting characters and a great story. Again, all true. To this list I would add history, seediness, tragic lovers and great comic timing. This Wonderful George Cukor directed, David O' Selznick produced film from 1933 is a groundbreaking story of early twentieth century urban adult situation comedy as seen through the lives of the nuveau riche. It is taken from the Broadway play by one of the darlings of the Roaring Twenties, Edna Ferber.
The cast includes Jean Harlow, Marie Dressler, Wallace Beery, John and Lionel Barrymore, and Billie Burke who is most famous for her role as Glinda The Good Witch in The Wizard of Oz. Jean Harlow plays ex-showgirl Kitty Packard wife of thug turned businessman Dan Packard (Beery). In this movie Harlow created the image of the funny talking ("That's our trouble, you're an extrovert and I'm an introvert"), dumb blonde, gangster's moll. This performance has influenced everyone from Judy Holiday in Born Yesterday (for which she won the Oscar) to Lesley Anne Warren in Victor Victoria, not to mention many others.
The story concerns the events leading up to a New York socialite's party to take place next Friday evening, dinner at eight. Millicent Jordan (Burke), wife of shipping magnate Oliver Jordan III (Lionel Barrymore), has her sights set on entertaining The Lord and Lady Ferncliff upon their arrival from England. Also invited are Carlotta Vance, an aging theatrical Grand Dame who was the Belle of New York during the naughty nineties, vividly portrayed by the great Marie Dressler, her male counterpart for the occasion, the great yet fading movie star Larry Renault, played with a knowing sense of tragedy by the great profile himself, John Barrymore, and Mr. and Mrs. Dan Packard, these last very much against Millicent's wishes but since he is, after all, doing business with Oliver she must invite them. In addition to these guests the Jordan's daughter and her fiancé will also attend.
We soon find out that daughter Paula is having a torrid affair with the gloriously seedy Mr. Renault, and that the ditzy Kitty is carrying on with the dashing Dr. Talbot. She spends most of her time in bed thinking up ways to get the Doctor to come up and see her. Jean Harlow steals every scene she is in, she makes Kitty both completely real and movie star magical at the same time. As the week passes and the dinner party draws near we watch as these characters lives are interwoven with both hilarious and tragic results.
That this movie was made nearly seventy years ago, and that most of its stars were born well before 1890, I find fascinating. Not only is this great art, but it has become history as well. Romanticized and theatrical, to be sure, but history nonetheless.
For those not familiar with this movie, perhaps you have seen the final scene. The guests have all been called in to dinner and as they head for the dining room Carlotta and Kitty make small talk. Kitty says "I was reading a book the other day", to which Carlotta does a double take of amazement. "Yeah" Kitty continues, " It said that some day machines are gonna take the place of every human profession." Carlotta raises her eyebrow and replies knowingly, "My dear, that is something you'll never have to worry about."
Reviewed on:
August 29th, 2002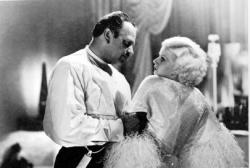 Wallace Beery and Jean Harlow in Dinner at Eight.
Robert Altman was only 8 years old when Dinner at Eight was released, but I have to bet he saw it and loved it. It's the most Robert Altman of any non-Robert Altman movie. Like many of Altman's movies, Dinner at Eight is about a whole bunch of different people who are only loosely connected to each other. And like Altman's movies, only some of the characters are interesting. In this movie for instance, I couldn't have cared less about the doctor and his wife, while I absolutely loved John Barrymore's past his prime actor and Jean Harlow's social climbing whor...wife.
So early in the history of talkies, this movie takes too much directly from the play it is based upon without changing anything to take advantage of being a movie. It is just a series of static sets with no cutting from one location to another, but instead just complete scenes played out as they must have been in the play.
And some of the acting is a little dated. The aging actress Carlotta's wide eyed stare near the end of the movie as she talks about death is a little groan inducing.
The one thing this movie can't be faulted on is its star power, which it has in excess. Not being the huge fan of anything old, like Patrick, this was the first time I had seen some of these legendary actors actually perform. Jean Harlow, John Barrymore, and Bille Burke (the only thing I've seen her do except Glinda), are the standouts.
A decent movie, that with a little more editing and adaptation for the screen, could have been as great as Patrick says it is.

Reviewed on:
September 9th, 2009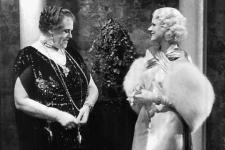 Marie Dressler and Jean Harlow.
As Margaret Mitchell wrote of her famous heroine, "Scarlett O'Hara was not beautiful, but men seldom realized it when caught by her charm." So can the same be said of Harlow. She was not conventionally attractive. She had an odd face, made even more peculiar by her painted on eye brows. She was often dressed to the nines, yet came across as common. Harlow played outspoken characters and carried herself with sexual confidence. In Dinner at Eight, she is constantly calling her maid names. Her pairing with Beery is good. They fight constantly. "Politics? Ha! You couldn't get into politics. You couldn't get in anywhere. You couldn't even get in the mens' room at the Astor!" I particularly like the scene where she kicks him and he returns the favor.
Although Dressler does over act, she is a bright spot in this movie. She is clearly playing to the last row, but it fits her character as she is playing a well past-her-prime stage actress. Many jokes are made about her age and her past relationships. Her reaction to Jordan's secretary telling her that she saw her act when she was only a child is priceless. Her comforting of the dipshit heiress is likewise good, "If there's one thing I know, it's men. I ought to. It's been my life's work." In many ways she and Harlow are playing the same character, only at different stages in the same life. It is a fitting ending to the movie that the two most memorable people in the film, Dressler and Harlow, share the final scene.
Although this movie is very dated, it could easily be remade today. The financial troubles that loom over Oliver Jordan could easily be related to today's economic hard times. The problem in remaking this would be who to cast. Although Hollywood is full of over-the-hill actresses and sexy blondes, I doubt they could ever top the casting of Dressler and Harlow.
Photos © Copyright MGM (1933)