Movie Review
Diary of a Wimpy Kid: Rodrick Rules
WELCOME TO THE NEXT GRADE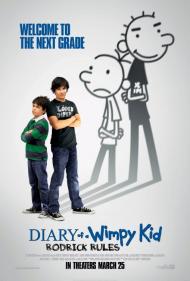 US Release Date: 03-25-2011
Directed by: David Bowers
Starring
▸
▾
Zachary Gordon

,

as

Greg Heffley
Devon Bostick

,

as

Rodrick Heffley
Rachael Harris

,

as

Susan Heffley
Robert Capron

,

as

Rowley Jefferson
Steve Zahn

,

as

Frank Heffley
Connor Fielding

,

as

Manny Heffley
Owen Fielding

,

as

Manny Heffley
Peyton List

,

as

Holly Hills
Laine MacNeil

,

as

Patty Farrell
Grayson Russell

,

as

Fregley
Terence Kelly

as

Grandpa

Reviewed on:
March 28th, 2011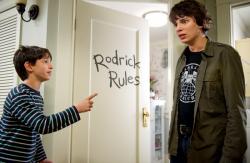 Greg and Rodrick try to decide how to
Diary of a Wimpy Kid: Rodrick Rules finds Greg now in the seventh grade, He is happy to no longer be part of the youngest group of middle schoolers. A new girl in school catches his eye as his hormones start to kick in. Most importantly, he learns to deal with his brother.
Diary of a Wimpy Kid was, for the most part, just a series of events in Greg's life as a 6th grader. Diary of a Wimpy Kid: Rodrick Rules has more of a centralized plot. After Greg and his older brother, Rodrick, get into a fight in church, of all places, mom decides neither will go with them and Manny to a water park they had plans for.
This does not upset Rodrick as he calls his friends to have a party seconds after his parents leave. Although he tries to lock Greg in the basement during the party, Greg and Rowley end up attending the party. The next morning the brothers race to clean up and end up bonding over their shared secret. Rodrick even finds himself giving Greg advice and acting like a good brother.
No secret however, stays a secret for long. Rodrick had high hopes for his band Loded Diper, to perform at an upcoming talent show. After their mom embarrassingly discovers they had a party, they both get grounded, making Rodrick unavailable for the show. Worse is that Rodrick discover's Greg told their mom they had some friends over when they were at the water park.
Sentenced to also spend a weekend at grandpa's retirement village, Rodrick gets back at Greg in the movie's funniest sequence. Wearing only his underwear, Greg ends up in a woman's bathroom accused of being a peeping Tom. Rodrick records it all from security cameras.
To add salt to the wound, Mom forces the entire family to attend to the talent show in which Loded Diper is still to perform, only with a new drummer replacing Rodrick. Rowley is also performing, doing a magic act. Will the brothers ever make up?
Diary of a Wimpy Kid: Rodrick Rules is not the funniest family film I have ever seen, but it sure has heart. I have often pointed out that traditional two parent families are rarely featured in movies. Not only is that not the case here, but they go to church as well, and religion is not the butt of some joke. Both plot devices are very rare these days.
The one Hollywood stereotype that Diary of a Wimpy Kid: Rodrick Rules still employs is that of the weak father. Like most modern television shows from Malcolm in the Middle to The Simpson to The Middle and Modern Family, fathers are too often shown taking a back seat to their wives when it comes to discipline. Why is that? Even so, Diary of a Wimpy Kid: Rodrick Rules is a very pro-family film with a light message about the love between brothers.
Photos © Copyright Twentieth Century Fox Film Corporation (2011)
Related Reviews