Movie Review
The Devil's Backbone
The Living Will Always Be More Dangerous Than The Dead.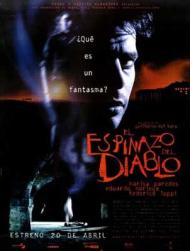 US Release Date: 11-21-2001
Directed by: Guillermo del Toro
Starring
▸
▾
Eduardo Noriega

,

as

Jacinto
Marisa Paredes

,

as

Carmen
Federico Luppi

,

as

Casares
Inigo Garces

,

as

Jaime
Fernando Tielve

,

as

Carlos
Irene Visedo

,

as

Conchita
Junio Valverde

as

Santi

Reviewed on:
November 23rd, 2001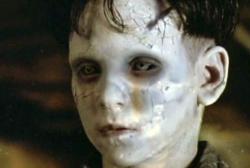 Guillermo del Toro's The Devil's Backbone.
The Devil's Backbone is an evocative and haunting movie set in an isolated mission/orphanage in Spain during the Spanish Civil War. It is beautifully shot and creates a creepy mood by potently combining real human violence with the supernatural.
The story concerns a small group of orphan boys; the three adults that take care of them, one evil man named Jacinto that threatens them, and the ghost of a dead boy that the other orphans call "The One Who Sighs". On top of this there is a bomb sitting half-buried in the middle of the mission courtyard. It was dropped from a plane and failed to detonate, but now sits ticking ominously.
The story focuses on Carlos, a newcomer to the orphanage after his war-hero father's death. At first he becomes enemies with Jaime, the leader of the orphans and the only one who knows what really happened the night Santi (whose bed Carlos now sleeps in) disappeared. Soon they bond, however, when they realize they share a common, and much more dangerous, enemy.
The movie builds to a violent climax when Jacinto learns that the one-legged headmistress, with whom he has been having a torrid affair in order to get her hidden gold, is deserting him. He seeks murderous revenge, but the ghost has plans of its own as well.
This Spanish language film is easy to get caught up in. The story and characters are interesting even if the ending is a bit predictable.

Reviewed on:
October 16th, 2010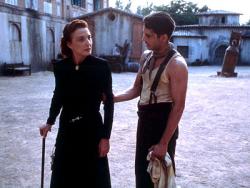 She has the key and he has the hard cock.
Your right Patrick. I was caught up in the story and characters right from the start. Although the boys are in most of the movie, It is ultimately Jacinto's story. He and the other adults have the most characterizations.
Jacinto is bitter about his life in the orphanage. He imagines a better life if only he can steal the gold. Carmen is wounded from the loss of her husband and leg. She spends all of her time dealing with the boys, and the soldiers whose gold she hides. The only joy she has is night time visits from Jacinto, who only uses sex as an excuse to get into her room to steal her keys. Cesares is in love with Carmen, but at his age he is not the lover Jacinto is. He tries to impress her with poetry, all the while knowing what goes on in her room at night. Conchita is young and naive. She imagines a life with Jacinto, until she finally sees that he is the real monster.
"The one who sighs" adds some very creepy moments. He repeats, "Many of you will die." to Carlos several times. His best scene is when he walks down the hall toward Carlos as blood floats out of his wounded head. del Toro is known for his visual imagery, and although it is not as much on display here as it was in Pan's Labyrinth, he still creates a couple of good moments.
Photos © Copyright Sony Pictures Classics (2001)