Movie Review
The Devil Wears Prada
Hell On Heels.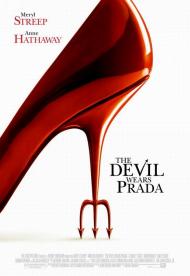 US Release Date: 06-30-2006
Directed by: David Frankel
Starring
▸
▾
Meryl Streep

,

as

Miranda Priestly
Anne Hathaway

,

as

Andy Sachs
Emily Blunt

,

as

Emily
Stanley Tucci

,

as

Nigel
Adrian Grenier

,

as

Nate
Tracie Thoms

,

as

Lilly
Rich Sommer

,

as

Doug
Simon Baker

,

as

Christian Thompson
John Rothman

as

Editor

Reviewed on:
July 4th, 2006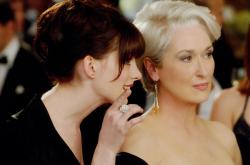 Anne Hathaway and Meryl Streep in The Devil Wears Prada.
The Devil Wears Prada is a female revenge fantasy. The film is based upon Lauren Weisberger's novel which was inspired by her time as Anna Wintour's assistant at Vogue. It tells the story of how a nice, but ugly, fat girl (who isn't fat or ugly) comes into an office full of bitchy, anorexic, pretty girls and proves that not only is she better than them morally, she can also beat them that at their own game by losing weight (She goes from a size 6 to a size 4), learning about fashion and out dressing them.
Anne Hathaway stars as Andrea, the naive young girl who gets the job as second assistant to Miranda Priestly, editor of Runway magazine, played with brilliance by Meryl Streep. Hathaway plays wide-eyed well and she looks good in the clothes. She is however, no match for Streep's Miranda, who steals the movie. It isn't that Hathaway doesn't have charm or talent, but Streep, like Miranda at Runway, dominates the film. It is Miranda who gets the funniest lines as the demanding boss whose extreme demands go so far as to request Andrea obtain a copy of the next unpublished Harry Potter book for her twins. And yet, because this is Streep we some how never lose sight of Miranda's humanity.
In smaller roles, both Stanly Tucci and Emily Blunt provide great support. Tucci plays the magazine's fashion director, the only person at Runway who seems to take a liking to Andrea, perhaps not coincidently because he's one of the few employees who's not a woman. Blunt plays Miranda's long-suffering first assistant, and she gets laughs in every scene she appears in. "I'm on this new French diet," she tells Andrea at one point. "I don't eat anything and then when I feel as though I'm going to pass out, I eat a cube of cheese. I look terrific!"
What might put people off about this movie is that a light knowledge of the fashion industry is required to fully enjoy it, and yet most of the jokes are mocking that very same industry. So people who care too much about fashion might be offended and people who can't tell a Gucci from a Gobana aren't going to get all the jokes.
I never read the book this was based upon, but my wife has. A quick question and answer with her about the differences between the two, revealed what I already expected. Like most book to movie translation, the story has been Hollywoodized. Just a brief example is how at the end of the book Andrea sells all of the free haute couture she has picked up over the course of the story and ends up with almost $40,000. In the movie, Andrea ends up giving the clothes away just to continue the "I'm a good person" theme. There are many other differences she mentioned, but suffice to say, my wife loved the book, but was disappointed in the movie.
The Devil Wears Prada is a chick-flick, but there are things about it that a heterosexual man can enjoy. The way Anne Hathaway looks, Emily Blunt's comedy, but mostly Meryl Streep's performance as Miranda, which is as terrific as you'd expect from the veteran actress.

Reviewed on:
July 12th, 2006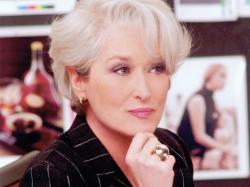 Meryl Streep in The Devil Wears Prada.
This heterosexual man did not find much to like. This chick-flick (I was the only guy in the theater of women) offers nothing for men. The men in the movie are all with-out any discernable personality trait and none of the women do nude scenes or even wear bikinis. The only action to occur was when one of Miranda's assistants gets hit by a car.
So what happens in this movie? One woman demands lots of things while the other women bitch about it. There is also some message about making your own choice but this movie, from start to finish, makes it very clear what that choice should be. Andy is just too stupid to see it. I can't wait for the next Jason Bourne movie!
Reviewed on:
February 9th, 2007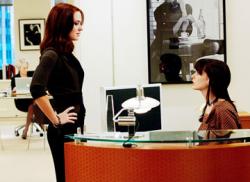 Emily Blunt and Anne Hathaway in The Devil Wears Prada.
This homosexual man really enjoyed this chick flick. What a shock. But I do agree that it is a bit too sugary sweet. The ending plays like a Garry Marshall/Walt Disney production. I disagree, however, with Eric's statement that none of the men have any discernable personality traits. Maybe that's true of the straight men in the movie but Stanley Tucci's Nigel reeks with personality. Anna Wintour has André Leon Talley and Miranda Priestly has her Nigel. They are both extravagant and fabulous gay men with impeccable taste and a great eye for line and color.
Anne Hathaway continues to charm her way across the screen. She even manages to remain visible when facing down the amazing Meryl. Who gives, by the way, another great performance in a career bursting with great performances. She is acidly funny from her first entrance where she spits rapid fire dialogue like Rosalind Russell in His Girl Friday. Then after making Miranda the most evil bitch on wheels ever to draw breath, she shows us her vulnerability. It may be only a slight chink in her glossy veneer but it is a wonderful thing to behold as acted by this woman. And I am really not the raving Meryl Streep sycophant that I sound like. Just ask my boyfriend and he'll tell you.
Anyway this movie is a pleasant enough diversion with a few radiant moments of Movie Star magic.
Photos © Copyright 20th Century Fox (2006)