Movie Review
The Devil Makes Three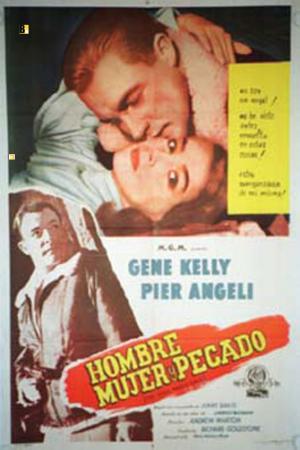 US Release Date: 09-19-1952
Directed by: Andrew Marton
Starring
▸
▾
Gene Kelly

,

as

Capt. Jeff Eliot
Pier Angeli

,

as

Wilhelmina (Willie) Lehrt
Richard Rober

,

as

Col. James Terry
Richard Egan

,

as

Lt. Parker
Claus Clausen

,

as

Heisemann
Wilfried Seyferth

,

as

Hansig
Margot Hielscher

,

as

Cabaret Singer
Annie Rosar

,

as

Mrs. Keigler
Harold Benedict

,

as

Sgt. at Airport
Otto Gebühr

,

as

Mr. Nolder
Gertrud Wolle

,

as

Mrs. Nolder
Heinrich Gretler

,

as

Keigler
Charles Gordon Howard

as

Lt. Farris

Reviewed on:
September 8th, 2016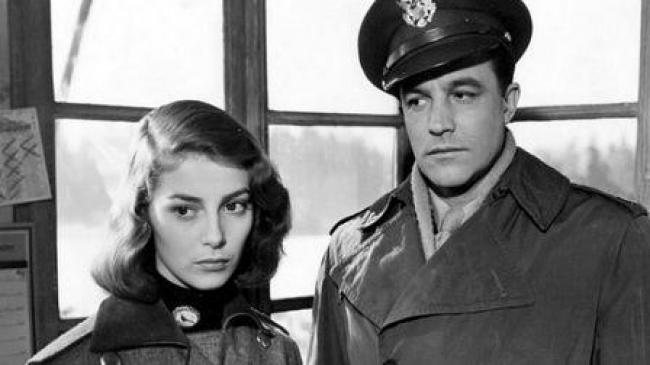 Pier Angeli and Gene Kelly in The Devil Makes Three
As a film buff, it is always a treat discovering an old film I never heard of before that features one of my favorite stars. Such is the case with The Devil Makes Three, Gene Kelly's follow up to Singing in the Rain. This is about as far from that classic as he could get. There are a couple of background songs but this is by no means a musical. The Devil Makes Three is a post World War II thriller with some action and romance, set against the back ground of a defeated country struggling to move forward.
Jeff is a former pilot who was shot down during the war and hidden from the Nazi's by a sympathetic German couple and their teenage daughter, Wilhelmina. After returning stateside he began paying them back by sending them care packages as post war Germany was in an economical disaster. In 1947, he returns to Munich to find the family but instead discovers that they are gone and a bum now lives in their bombed out home and has been signing for the packages.
In a scene that reminded me a bit of Rick reuniting with Elsa, Jeff comes across Wilhelmina in a night club working as a "hostess" who you must pay to spend time with. Jeff walks up to Wilhelmina sitting at a table and calls her by his nickname for her, "Willie." She looks up and greats him, "Hello Jeff." They talk and soon fall madly in love. Problems quickly arise when Jeff discovers that Willie works for men who deal on the black market. Things become even more complicated when Jeff discovers that the people she works for are associated with a group of men who have not given up the Nazi's plan for a thousand year Reich.
The final half hour of the film is tense and exciting with Jeff and Willie being abducted and taken to the little town of Berchtesgaden, in the Bavarian Alps. Willie ends up getting shot and everything builds to Jeff and a couple of other GIs chasing the head bad guy up the mountains and into the remains of Adolf Hitler's notorious retreat, The Eagles Nest. There, Jeff confronts the bad guy in front of the famous, empty frame of the, enormous picture window that looked out onto the Alps.

The Devil Makes Three was filmed on location in Munich, Berchtesgaden and the actual remains of Hitler's favorite compound outside of Germany. He had ten different retreats/offices around the country but this was his most often visited. Near the end of the war if was severely damaged by British bombers. Upon hearing of Hitler's suicide, the SS destroyed documents and abandoned the outer buildings. The first allied troops to enter the compound were American and French who looted and destroyed it even further. The allies were set to bull doze the site as there was concern that it would become a focal point for Nazi sympathizers and an eye sore for the people of Berchtesgaden. Luckily, they were talked into waiting until filming could be completed. The site was razed on April 30, 1952. All that remains is the foundation of a few building that have been overgrown with plants.
Being quite physically fit, Gene Kelly is fine as a war veteran and action star but Kelly's charm works better in a light musical than a serious drama. Look at the scene where he kisses Angeli and then raises his chin up with his eyes still closed as if savoring the kiss. I would buy that look after a sappy love song but not here. Angeli is likewise passable but why did they hire an Italian to play a German? Her career would never truly take off in the United States and is most remembered for having a domineering stage mother and for dating James Dean, whose relationship reportedly ended upon her mothers insistence.
The film as a whole is enjoyable, however mediocre. With all of the exterior shots of the snow covered Alps, it is a near crime that this was not filmed in color. Still, for film and World War II buffs, you could do far worse than The Devil Makes Three.

Photos © Copyright Metro-Goldwyn-Mayer (MGM) (1952)