Movie Review
Devil Dogs of the Air
Bigger Than "Here Comes The Navy" !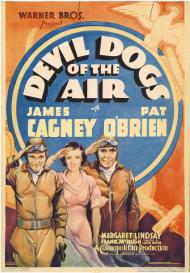 US Release Date: 02-09-1935
Directed by: Lloyd Bacon
Starring
▸
▾
James Cagney

,

as

Thomas Jefferson 'Tommy' O'Toole
Pat O'Brien

,

as

Lt. William R. 'Bill' Brannigan
Margaret Lindsay

,

as

Betty Roberts
Frank McHugh

,

as

Crash Kelly, ambulance driver
John Arledge

,

as

'Mac' MacIntosh, corpsman
Helen Lowell

,

as

Ma Roberts
Robert Barrat

,

as

Commandant
Russell Hicks

,

as

Captain
William B. Davidson

,

as

Adjutant
Ward Bond

,

as

Jimmy, senior instructor
Bill Elliott

,

as

Instructor
George Irving

as

Officer with Fleet Commander
Reviewed on:
April 11th, 2012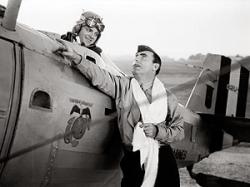 James Cagney and Pat O'Brien in Devil Dogs of the Air.
Devil Dogs of the Air reunited James Cagney with his real life pal Pat O'Brien. This was the second of nine movies they would eventually appear in together. The first, Here Comes the Navy, was released the year before this one and proved a hit at the box office. Not surprisingly Warner's quickly found a follow-up vehicle for their buddy stars. Devil Dogs of the Air is practically a sequel to Here Comes the Navy (check out the tagline).
Cagney and O'Brien play slight variations on the same characters, only this time around they're flyboys instead of sailors. The pretty but bland Margaret Lindsay has taken over the thankless duties of the gal whose affections they compete for from the pretty but bland Gloria Stuart. In both movies fellow Irish actor Frank McHugh provides comic relief and both movies allow different branches of the United States Military a chance to flex its propaganda muscle.
The story is pretty slight. O'Brien is the levelheaded, more experienced officer/pilot and Cagney plays (what else?) a cocky, hotshot stunt flier from Brooklyn that joins the U.S.M.C. Reserve Aviator training program in California. There are some decent dare-devil flying sequences with Cagney hogging most of the heroic action as usual. He and O'Brien banter good-naturedly back and forth. McHugh interjects his humorous two cents, often with his, "Ha Ha Ha" guffaw of a laugh or while singing "Merrily We Roll Along".
Most of the scenes away from the planes and landing strips take place in the diner owned by Betty's mother (Helen Lowell). Poor Pat O'Brien never stands a chance of course. Everyone else in the movie, and most certainly in the audience, wants to see Cagney wind up with the dame. His character follows his usual story arc. He learns a bit of humility during some excitingly filmed training maneuvers (Lloyd Bacon knew how to shoot an action sequence) and ends up wiser while retaining his brash American confidence.
Look for the familiar face and distinct voice of Ward Bond. He has a few brief scenes as Senior Flight Instructor Jimmy. He sure got around. Just click on his name in the cast list above to see a partial list of the many famous movies in which he appeared.
Devil Dogs of the Air provided the exuberant Jimmy Cagney with a chance to strut his machismo all over the screen. He was truly one of the all time greats even if this is not one of his more memorable pictures. It is of interest as a time capsule of 1930s American military technology at a time when WWII was just a tiny speck of a cloud way off in the distance.
Photos © Copyright Warner Bros. Pictures (1935)
Related Review