Movie Review
The Devil at 4 O'Clock
48 HOURS OF TERRIFIC SUSPENSE AS NATURE GOES ON A RELENTLESS RAMPAGE OF DESTRUCTION !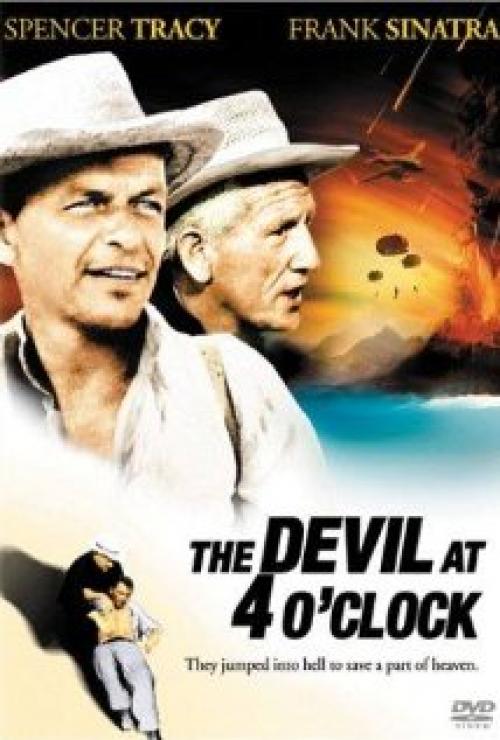 US Release Date: 10-18-1961
Directed by: Mervyn LeRoy
Starring
▸
▾
Spencer Tracy

,

as

Father Matthew Doonan
Frank Sinatra

,

as

Harry
Kerwin Mathews

,

as

Father Joseph Perreau
Jean-Pierre Aumont

,

as

Jacques
Gregoire Aslan

,

as

Marcel
Alexander Scourby

,

as

The Governor
BarBara Luna

,

as

Camille
Cathy Lewis

,

as

Matron
Bernie Hamilton

,

as

Charlie
Martin Brandt

,

as

Doctor Wexler
Louis Merrill

,

as

Aristide Giraud
Marcel Dalio

as

Gaston

Reviewed on:
October 14th, 2015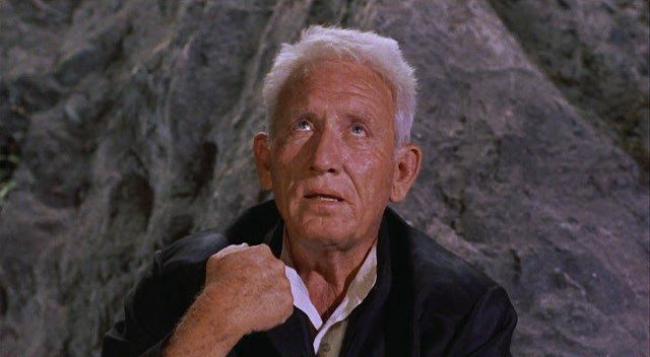 Spencer Tracy in The Devil at 4 O'Clock
The Devil at 4 O'Clock is the one and only pairing of Hollywood legends Spencer Tracy and Frank Sinatra. Whereas Tracy's career, and health, was winding down, Sinatra was at the peak of his acting and recording. Both give fine performances but their chemistry together is almost non-existent.
The first hour is the audience getting to know the players as an ominous volcano blows smoke in the background. Sinatra plays Harry, a criminal being transported with two other convicts by plane to a Tahitian prison. Also on the plane is a priest going to a remote tiny pacific island to replace a retiring catholic Father, Father Joseph, played by Tracy. Joseph, although a drunk, is the island's moral compass and the go between the small island town and a children's school/hospital in the mountains. The town's residences avoid the school as they believe it a leper colony. Joseph shows the young priest how he collects donations from the locals and takes them to the children and their caretakers in the mountains. The island governor must meanwhile deal with what to do with the three convicts until the plane takes off.
I was a bit surprised by some of the film's sexual suggestions. One of the prisoners tells a man's wife standing on a balcony that he will be back to see her, "…with a big surprise." What do you think he means? One of the plane's pilot has a girl on the island that he clearly has just had sex with in one scene. Sinatra gets turned on by and seduces a beautiful blind girl. They look to the sky, post coitus, and make vague wedding vows but it still seems seedy. The film implies that one of the women at the hospital is a lesbian. Joseph brings her movie magazines. One has Brigitte Bardot on the cover. "Ooh Brigitte." She coos. When Father Joseph calls her magazines filth, she responds with a smirk, "I need them…A little filth...a little imagination, goes a long way. It keeps me here doing your work." Is she implying what I think she is implying?
This film contains some decent humor. One of the funniest lines is provided by Joseph's sexist driver who explains how he keeps his old truck running, "I treat her like a woman, with a big stick and little affection." One scene has now become funnier than it was likely originally intended. Because of all the news in the decades since about sexual abuse in the Catholic Church, I laughed out loud when Tracy says to a smiling Sinatra, "I bet you were a sweet little altar boy."
At the half way mark, the volcano blows and the last half of the story becomes a disaster/ adventure film. Joseph needs the help of the three prisoners to go to the school and bring the children and their caretakers, the blind girl among them, down to the port. It takes them a couple of days as they climb, hike and cross a damaged bridge, avoiding flows of lava and a volcano that seems to get worse by the hour.
The special effects are decent but not great. The film crew built a volcano in California and filmed other exterior shots in Hawaii. It is all too obvious when a soundstage is substituting for reality. That is however, not the film's greatest weakness. The first hour is fairly slow and too much time is given to superfluous characters. The camera should have rarely left Tracy or Sinatra. This is a tale of redemption and it is the prisoners and the priest who are at the heart of this story. One problem with production was that Tracy was not in good health and could only film in the morning, while Sinatra was not available until the afternoons. One story was that Sinatra spent his mornings flying around the Hawaiian Islands, campaigning for Kennedy but it is a well-known fact that he preferred to work later in the day and to record in the evening. The results of their different work schedules are obvious as they only share the same frame a few times. Spencer Tracy once explained that a broomstick was used as a stand-in for an absent Sinatra, while a script girl read Sinatra's lines.
The Devil at 4 O'Clock is a decent watch but it could have been so much better with a tighter edit and more shared scenes by its two incredible leads.
Photos © Copyright Columbia Pictures Corporation (1961)