Movie Review
Destry Rides Again
They make the fighting sinful west blaze into action before your eyes!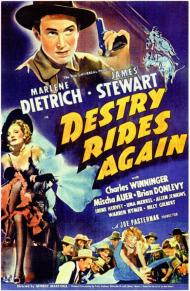 US Release Date: 12-29-1939
Directed by: George Marshall
Starring
▸
▾
Marlene Dietrich

,

as

Frenchy
James Stewart

,

as

Thomas Jefferson Destry Jr.
Mischa Auer

,

as

Boris
Charles Winninger

,

as

Washington Dimsdale
Brian Donlevy

,

as

Kent
Jack Carson

,

as

Jack Tyndall
Irene Hervey

,

as

Janice Tyndall
Billy Gilbert

,

as

Loupgerou
Warren Hymer

,

as

Bugs Watson
Allen Jenkins

,

as

Gyp Watson
Una Merkel

,

as

Lily Belle
Samuel S. Hinds

,

as

Judge Slade
Lillian Yarbo

,

as

Clara
Joe King

,

as

Sheriff Keogh
Dickie Jones

as

Claggett Boy


Reviewed on:
May 14th, 2008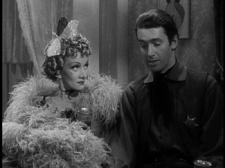 Marlene Dietrich and James Stewart in Destry Rides Again.
Destry Rides Again is one of those classic films that people may not actually remember watching in full, but will know bits and pieces of. First, there is the odd, yet very affective coupling of Jimmy Stewart and Marlene Dietrich. They engage in the best movie, male/female, bar brawl of all time. Dietrich sings one of her most memorable songs, "See What the Boys in the Backroom Will Have." Last, but not least, is that this film greatly inspired Mel Brooks's western satire, Blazing Saddles.
Bottleneck is a corrupt western town where the mayor is as crooked as anyone else. The town has gambling, drinking and shootouts in the streets. Early on, head bad guy, Kent, with the help of saloon hall singer Frenchy, cheats a man out of his property in a game of poker. "Why, the game was as crooked as a pig's tale!" The victim later explained.
The sheriff soon ends up dead after trying to intervene on behalf of the property owner. As a joke, the town drunk is then made the new sheriff. He takes the job seriously, "I'm off the liquor. A man's got to choose between the bottle and the badge." He sends for his old partner's son, Destry, to help him out. His old partner was a tough John Wayne type, but it is mild mannered Jimmy Stewart who gets off the stagecoach. He says he does not like using guns and the local riff raff think they have nothing to worry about.
Soon, Destry is at odds with Kent, and Frenchy is caught in the middle. She is Kent's woman in that she helps him cheat and he is a meal ticket for her. Destry and Frenchy soon find themselves attracted to each other, even after she throws anything and everything she can find in the bar, at him. "I'll bet you've got kind of a lovely face under all that paint, huh? Why don't you wipe it off someday and have a good look - and figure out how you can live up to it." Destry says to her at one point. Frenchy's last scene is quite poetic because of that line.
The character of Frenchy was made iconic by Madeline Kahn impersonating Dietrich in Blazing Saddles. It is not the exact same character, but enough so that you know where it originated. The fact that Dietrich had such a strong German accent yet plays a woman named Frenchy, who is from New Orleans, makes me wonder if she was the first choice for the role? Either way, it some how works. The pairing of the all American Stewart and the exotic mystique of Dietrich, come together surprising well. They make for one of the most unique, yet entertaining, movie couples of all time.
Reviewed on:
October 18th, 2013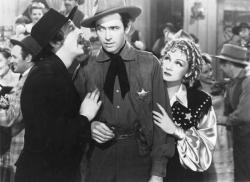 Mischa Auer, James Stewart, and Marlene Dietrich in Destry Rides Again.
I couldn't agree more. Destry Rides Again is a classic and yet another great movie to be released in 1939, the year the old Hollywood studio system reached its apex. Stewart and Dietrich make a great pair and together they create one hell of an entertaining western. Of course I would be amiss if I didn't mention the memorable supporting cast which is filled with familiar faces that any old time movie buff will recognize (see cast list at left).
This was Jimmy Stewart's very first western. He had been in Hollywood for less than five years but had already appeared onscreen with the likes of such legendary leading ladies as Myrna Loy, Jean Harlow, Janet Gaynor, Joan Crawford, Eleanor Powell, Ginger Rogers, Margaret Sullavan, Jean Arthur, Carole Lombard, Claudette Colbert and Marlene Dietrich. Not a bad start in the picture business.
Although the credits state that it was based on Max Brand's 1930 novel, the plot to this movie bears no resemblance to the book of the same name. Tom Mix made the first movie version in 1932 which was more faithful to the written page. After the success of this 1939 movie however, every subsequent adaptation would be based on the Stewart/Dietrich picture. And it has been redone many times in many different formats. First there was a 1945 radio broadcast with Stewart reprising his role, then an almost shot for shot remake called simply Destry in 1954, which starred Audie Murphy, this was followed by a 1959 Broadway musical starring Andy Griffith, and finally, there was a short-lived television series in 1964 starring John Gavin. Despite these other adaptations, this 1939 version remains by far the most famous.
As good as Stewart and Dietrich are together, the most laughs are generated by the unlikely coupling of Una Merkel and Mischa Auer. He's a hen-pecked Russian cowboy and she's his domineering wife who keeps a picture of her deceased first husband above their bed (until the hilarious final scene that is).
Eric mentioned the male/female bar brawl but this movie also features one of the all-time great female/female bar fights between Merkel and Dietrich. It just barely got by the censors as it ends with both women getting soaked with water. I apologize for the vulgarity, but the result is a clearly visible camel-toe on Merkel.
Charles Winninger nearly steals the movie as the town drunk turned noble. The always reliable Jack Carson provides some manly bravado, and it's amusing to watch Stewart share the screen with Samuel S. Hinds as the crooked Mayor/Judge. Hinds would go on to play Pop Bailey opposite Stewart in It's a Wonderful Life. Frenchy's destiny is never in doubt. The Production Code ensured her fate.
The plot might be old hat but the memorable cast makes Destry Rides Again a true comedy/western classic.
Reviewed on:
March 9th, 2015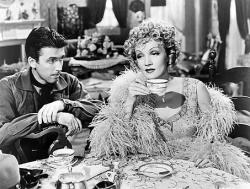 James Stewart and Marlene Dietrich in Destry Rides Again.
By the late 1930s Marlene Dietrich's career had hit rock bottom. A string of box office bombs, for which she was one of the highest paid actresses in Hollywood, lead her to be labeled "box office poison". Although it should be noted that she was in pretty good company since around the same time both Fred Astaire and Katharine Hepburn shared the same shameful label. She was offered this part, and a large pay cut, after a 2 year hiatus from acting during which she took an extended family vacation across Europe.
Dietrich was able make playing against type a success and subsequently revived her career on the back of this picture and would play similar parts in 1940's Seven Sinners and 1942's The Spoilers, both of which starred John Wayne. Her Frenchy is an iconic character, made even more iconic by the spoof/tribute performance of Madeline Khan in Blazing Saddles. And she still manages to make those saloon girl outfits look sexy despite being nearly 40 year's old and 7 years Stewart's senior
As Patrick noted, Stewart's career was just beginning to blossom. Stewart once said, "I have my own rules and adhere to them. The rule is simple but inflexible. A James Stewart picture must have two vital ingredients: it will be clean and it will involve the triumph of the underdog over the bully." The role of Destry suits his persona and that motto perfectly. He enters the picture and the town of Bottleneck in less than manly circumstances, emerging from the stagecoach carrying a parasol and a birdcage. But underneath his soft exterior there lies a core of steel and a strong moral code as the bad guys learn to their dismay. Stewart never made the most effective action hero, but he always seems to have right on his side. Despite their seeming differences, Hollywood rumor has it that the film's leads began a shortlived romance during filming.
Patrick mentioned the supporting cast and they do bring color to the background. I agree with him that Charles Winninger is great as the former drunk turned Sherriff. Likewise Una Merkel and Mischa Auer provide some real laughs as the husband and wife team. It's always pleasing to see Jack Carson turn up in a supporting role, but he plays it disappointingly straight here.
Given the situation in Europe when this movie was released, it's easy to read a deeper message into the story of a pacifist who resists taking up arms against a bully who's busy taking over other people's land, until finally he's pushed too far and the hero must pick up his guns to take the fight to his enemies. However to read too deeply into this classic lighthearted movie would do it a disservice. It's main concern is to entertain you, something it more than accomplishes.
Photos © Copyright Universal Pictures (1939)
Related Review