Movie Review
Despicable Me 2
When the world needed a hero, they called a villain.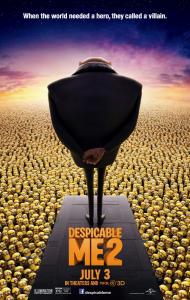 US Release Date: 07-03-2013
Directed by: Pierre Coffin and Chris Renaud
Starring
▸
▾
Steve Carell

,

as

Gru
Kristen Wiig

,

as

Lucy
Benjamin Bratt

,

as

Eduardo
Miranda Cosgrove

,

as

Margo
Russell Brand

,

as

Dr. Nefario
Ken Jeong

,

as

Floyd
Steve Coogan

,

as

Silas
Elsie Kate Fisher

,

as

Agnes
Dana Gaier

,

as

Edith
Moises Arias

,

as

Antonio
Nasim Pedrad

,

as

Jillian
Kristen Schaal

,

as

Shannon
Pierre Coffin

,

as

Kevin the Minion/Bob the Minion/Stuart the Minion
Chris Renaud

,

as

Minions
Nickolai Stoilov

as

Arctic Lab Guard

Reviewed on:
July 4th, 2013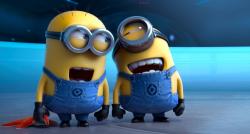 The minions steal the show in Despicable Me 2
This sequel to 2010's Despicable Me is nearly as entertaining as the original. It may not be quite as fresh, but it still produces laughs and once again it is the little yellow minions who steal the show.
Although the plot revolves around Gru, the former super-villain, voiced by Steve Carell, saving the world, the film's best bits are the smaller moments. I was more entertained by trying to see him fit into normal suburban life as the father of three daughters than I was watching him foil the deeds of El Macho.
The film opens with Gru and his many minions putting on a birthday party for scene stealing Agnes, the youngest of Gru's daughters. He has to put up with hordes of children and a neighbor anxious to set him up on a date. Shortly after the party he is recruited by the Anti-Villain League who decide that the best way to catch a Super-Villain is to hire a Super-Villain. They send Gru undercover at a mall where they believe a Super-Villain is hiding. Assisting him, along with his minions of course, is AVL Agent Lucy (Wiig), for whom Gru begins to develop romantic feelings.
In between helping to save the world, Gru must deal with his oldest daughter's first crush and his own blossoming feelings for Lucy. It's often in the smaller moments rather than the big ones that the movie most succeeds.
It is those little yellow minions, with their odd little language and bumbling antics, who once again produce the most laughs. From doing household chores to singing their version of YMCA, they never fail to put a smile on your face. They were the highlight of the original and they are the highlight here. It's not surprising that they are getting their very own prequel, origin story in 2014's Minions.
Visually the film is a treat. It's a stylized form of animation and it's quite enjoyable in an almost old fashioned way. Pixar and other animation studios have advanced the art form to a very realistic degree, but sometimes it's nice to see animation that is more concerned with fun than realism. As with most movies that are offered in 2-D and 3-D, I opted for the sans glasses option and don't feel as though I missed a thing.
Despicable Me is exactly what a cartoon should be. A lot of fun, with jokes that both kids and grown-ups can enjoy.

Reviewed on:
February 6th, 2014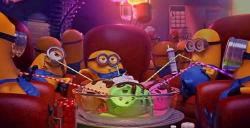 Gru's flaccid and sated minions.
Despicable Me 2 has some entertaining moments but I do not now, nor have I ever, found those little phallic yellow guys humorous. I enjoyed some sight gags but none provided by them. I liked how Lucy collects Gru, shooting and running him over. I smiled at the old scientist leaving, very slowly, while the little yellow guys shoot off loads of yellow dust.
I likewise did not care for the dialogue. "Just because everyone hates it doesn't mean it's not good." is a throw away. The little girls innocently making fun of Gru are cute at best. Agnes commenting on Gru's bald head, "Sometimes I stare at it and imagine a chick popping out, peep peep peep." Okay, I liked one line. After Agnes, who I agree is a scene stealer, states she does not want to do the Mother's day play because she does not have a mom, Gru comforts her with, "Well, you don't need one to do the show. I mean, you did the Veteran's Day pageant and you haven't been in combat."
The first film was about the evil Gru being tamed by three innocent little girls. This time we have romance. One of the little yellow guys falls for Lucy. He stares at her and imagines they are on a date that ends with them both shooting off explosive fireworks as they kiss. When they rescue her and Gru from the mall with her car, one little guy smiles at her while the other revs the car's engine.
There are a lot of not so subliminal sexual messages here. Is it just a coincidence that the large ice cream cone that opens up and sucks all the little yellow guys in is pink? How wrong is the scene where the Mexican restaurant owner dances with a lady he grabs, against her will, to dance with and leaves her, and several female on-lookers, breathlessly excited? Then his son grabs Margo and starts to dance with her. Hello!
The Despicable Me films are illustrated with crisp animation that are in constant motion. My 20 year old laughed at the scene where Gru and Lucy take Gru's date, who Lucy drugged, home. You have to give credit to animated slapstick that can generate a laugh. There is some fun to be had here but I still find it all a little creepy.
Reviewed on:
February 24th, 2014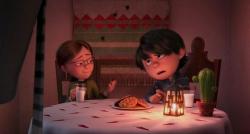 Margo and Antonio in Despicable Me 2.
Wow Eric, you took an innocent kid's cartoon and made it sound dirty. What you label "not so subliminal sexual messages" are mostly all in your head. And it seems like you spent the entire movie looking for them. Your review reads like it was written by a nut-job conspiracy theorist. Oh and Doctor Freud called to say his diagnosis of your obsession with seeing those little yellow guys as penises led him to conclude you are suffering from a chronic case of Minion-Envy.
But seriously, I have to admit I enjoyed DM2 more than I enjoyed the first one. It is funnier, less sappy, and aimed at a slightly older audience. I also think the characters have grown on me a bit. Like my nephew I laughed out loud at Gru's and Lucy's slapstick antics as they not-so-gently took Gru's unconscious date home. The sight of her tied to the roof of the car with her butt in the air (OK maybe that was not so subliminally sexual) was quite silly and it made me chuckle.
The voice work is nicely done, once again Steve Carell is good as Gru. He is the best thing about these movies. I also enjoyed Kristen Wiig as Lucy, "Lipstick taser!" and Benjamin Bratt as Eduardo/El Macho, "I'm not afraid of your jelly guns." The puppy love between Gru's oldest daughter Margo, and Eduardo's son Antonio, is nicely handled (see photo). In a suave voice he tells her, "And my dream is to one day play video games for a living." She practically swoons while responding, "Wow, You're so complicated."
The character development from the first Despicable Me is refreshing. I found that movie far too emotionally gooey and not nearly funny enough. Despicable Me 2, while hardly a masterpiece, is definitely an improvement. Hopefully they will keep this up for all future entries in the franchise. Scott mentioned the upcoming prequel called Minions and a third Despicable Me is also in the works, slated for a 2017 release.
Photos © Copyright Illumination Entertainment (2013)
Related Reviews