Movie Review
Desperately Seeking Susan
A life so outrageous it takes two women to live it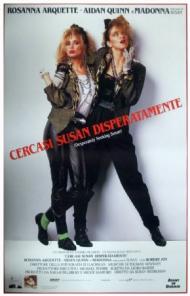 US Release Date: 03-29-1985
Directed by: Susan Seidelman
Starring
▸
▾
Rosanna Arquette

,

as

Roberta Glass / 'Susan'
Madonna

,

as

Susan
Aidan Quinn

,

as

Dez
Mark Blum

,

as

Gary Glass
Robert Joy

,

as

Jim
Laurie Metcalf

,

as

Leslie Glass
Anna Levine

,

as

Crystal
Will Patton

,

as

Wayne Nolan
Peter Maloney

,

as

Ian
Steven Wright

,

as

Larry Stillman D.D.S
John Turturro

,

as

Ray
Giancarlo Esposito

as

Street Vendor

Reviewed on:
May 30th, 2012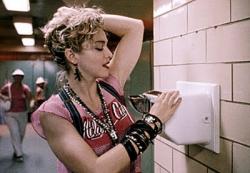 Madonna could do no wrong in 1985.
Madonna has always struggled as an actress to find a suitable film role. The one exception was that of Susan in Desperately Seeking... She is the best thing about this silly little comedy. Although her music videos had already introduced her style to the world, this film cemented her image. When it was released in March of 1985, her second album was burning up the charts, solidified by the number one smash "Like a Virgin." In April she started her debut Virgin tour. With a hit album, tour and movie, 1985 was the year Madonna established herself as an entertainment power house.
Although the only thing worth remembering about this film is Madonna, it stars Rosanna Arquette as Roberta, a neglected New Jersey house wife. She watches romantic old films, reads gossip rags and follows a woman she has never met in the personals. Susan and Jim are two very much in love young people who do not have much time for each other. She is too much of a free sprit while he is in a band. They communicate by posting personal messages in the newspaper. Wasn't life quaint before cell phones?
One day, Roberta reads in the paper that Susan and Jim are going to meet in Battery Park and decides to spy on them to see who they are. She ends up following Susan around town and even buys her coat after Susan trades it for some boots. Before you know it, Roberta suffers from amnesia and is believed to be Susan.
Not only does Roberta not remember who she really is, she now has a killer after her. In Susan's first scene we see that she has just spent the night with some guy she does not know very well. She steals some money from him and a pair of ear rings. Unknown to her, the man was a criminal and the ear rings are priceless ancient Egyptian artifacts. Susan ends up at Roberta's house with Roberta's husband Gary.
The plot is all hokum, but it has some funny moments. The line I still remembered was when Gary finds out his wife is missing and starts eating, "We're nervous, what do you want..." He says to his sister, who responds, "Then take a Valium like a normal person." Madonna's best line is when she reads Roberta's diary to Gary, ""Couldn't sleep. Went into kitchen. Gary came in, turned on light. Gary left. Finished birthday cake." Pages of it. It's got to be a cover, nobody's life could be this boring!"
Madonna's best scene is when she first meets Gary at a club. Her song "Get into the Groove" plays the entire scene. They talk and dance. This is the Madonna I remember from my youth. This was to her what A Hard Day's Night was for The Beatles. "Get into the Groove" was a dance club hit but never made the top 40 as it was on the B-side of her song "Angel". Desperately Seeking Susan helped make "Get into the Groove" a classic Madonna song and ended up having a much longer shelf life than "Angel."
This was not Madonna's film debut. She played a lounge singer in Vision Quest, released a month earlier, but this is the best role she ever had. The reason is that as Susan, Madonna was just playing herself, or at least her public persona. She wore her trade mark type outfits, fish net tops and long necklaces. Like her image, Susan is promiscuous and flirty. She goes to clubs and uses those around her for her own gain. She is the film's best asset. The film's most telling line is when she says, "Yeah, well, fortunately for everyone, I'm here and I'm thinking."
Photos © Copyright Orion Pictures Corporation (1985)