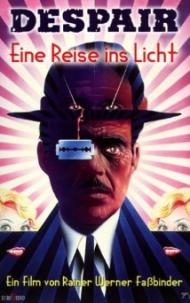 US Release Date: 09-20-1978
Directed by: Rainer Werner Fassbinder
Starring
▸
▾
Dirk Bogarde

,

as

Hermann Hermann
Andrea Ferreol

,

as

Lydia
Klaus Lowitsch

,

as

Felix
Volker Spengler

,

as

Ardalion
Armin Meier

,

as

Silverman / Sergeant Brown / Foreman
Peter Kern

,

as

Muller
Adrian Hoven

,

as

Inspector Schelling
Alexander Allerson

,

as

Mayer
Hark Bohm

,

as

Doctor
Roger Fritz

,

as

Inspector Braun
Gottfried John

,

as

Perebrodov
Y Sa Lo

,

as

Elsie
Lilo Pempeit

,

as

Secretary Schmidt
Ingrid Caven

,

as

Hotel Manager
Voli Geiler

as

1st Landlady
Reviewed on:
December 10th, 2013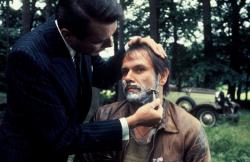 Dirk Bogarde shaves Klaus Lowitsch in Despair.
Despair was based on Vladimir Nabokov's novel of the same name. It was written as a parody of Dostoevsky's Crime and Punishment. It was German auteur Rainer Werner Fassbinder's first English language movie and by far his most expensive film up till that time. In fact it has been reported that Despair cost more than his previous fifteen movies combined. It was gorgeously shot by the legendary Michael Ballhaus, and adapted for the screen by Tom Stoppard. The result is a mesmerizing character study of one man's descent into madness.
Hermann Hermann is a Russian immigrant and chocolate magnet living in Berlin in the early 1930s. He has a stupid wife to whom he blithely states, "Intelligence would take the bloom off your carnality." He is having issues with reality. Hermann begins seeing himself as a sort of out of body experience. This happens while he is making love to his wife. He looks up and sees himself sitting in a chair watching them. Another time he is the one in the chair watching his double have kinky sex with his wife. Hermann is clearly cracking up.
His wife's fat, lazy cousin -a wannabe artist- lives with them and is also having sexual relations with Hermann's wife. On a trip to Vienna things become even more strange. Hermann has a chance encounter with a vagabond named Felix. Hermann becomes instantly obsessed with the man. In Hermann's mind Felix is his identical twin, "As alike as two drops of blood." Although to the rest of the world there is very little resemblance between them. This leads Hermann to hatch an insane plot that he thinks will earn him total freedom and the ability to begin his life anew.
Dirk Bogarde gives a complex yet understated performance. He is outwardly buttoned up and conservative but secretly he yearns for freedom and rebirth. As the story progresses his grasp on reality becomes more and more tenuous. By the final scene, which borrows liberally from Billy Wilder's Sunset Boulevard, Hermann, after a complete mental breakdown, makes like Norma Desmond.
The illusion of twins is a theme that runs throughout the movie. Several times Hermann sees himself as a twin, and his fascination with Felix, whom he sees as his doppelganger, pushes him over the edge. Even his name -Hermann Hermann- has a double. From Nabokov's words Fassbinder weaves a haunting cinematic spell. Watch the way he sprinkles the color lavender throughout the scenes at the chocolate factory. And the way he shoots Hermann's office, with a small glass room within the larger outer room filmed almost as a cage. Despair lives up to its title. It isn't exactly what you'd call a light watch but it is a fascinating one.
Photos © Copyright Bavaria AtelierBavaria FilmFilmverlag der Autoren (1978)