Movie Review
The Descendants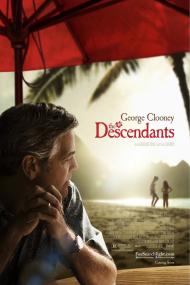 US Release Date: 11-16-2011
Directed by: Alexander Payne
Starring
▸
▾
George Clooney

,

as

Matt King
Shailene Woodley

,

as

Alexandra King
Amara Miller

,

as

Scottie King
Nick Krause

,

as

Sid
Patricia Hastie

,

as

Elizabeth King
Robert Forster

,

as

Scott Thorson
Matthew Lillard

,

as

Brian Speer
Judy Greer

,

as

Julie Speer
Barbara L. Southern

,

as

Alice 'Tutu' Thorson
Beau Bridges

,

as

Cousin Hugh
Michael Ontkean

as

Cousin Milo

Reviewed on:
November 20th, 2011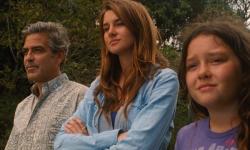 George Clooney, Shailene Woodley and Amara Miller in The Descendants.
The Descendants is writer/director Alexander Payne's long awaited follow-up to 2004's critically acclaimed Sideways. It contains his trademark mix of off-beat humor and sadness. The acting is superb. George Clooney gives a performance that is sure to garner accolades come awards season. Shailene Woodley gives a star making turn as Clooney's eldest daughter and Robert Forster deserves a Supporting Actor nod as Clooney's bitter father-in-law.
Clooney, as Matt King, narrates the story. He's the trustee over a large piece of virgin beachfront property in Hawaii that has been in his family since the 1800's. His wife is lying comatose in a hospital bed after suffering a head injury in a boating accident and Matt must help his daughters deal with this family tragedy while coming to terms with the fact that he has just been told (by his own daughter (in a scene given away in the trailer)) that his wife was having an affair before the accident.
Matt decides to confront the other guy (Matthew Lillard) and also to tell him that his wife is being taken off life support and will soon die. He thinks he's being altruistic in giving his wife's former lover a chance to say goodbye to her but his real motivation is more selfish. He wants (needs?) to know if the guy loved her. He sets off on this unusual mission with his two daughters and his eldest daughter's boyfriend in tow.
A subplot involving the sale of the family land adds little to the story but thankfully doesn't detract from it either. We briefly meet a bunch of cousins and get a sense of the family history; a missionary ancestor married a descendant of King Kamehameha. The background scenery is breathtaking and will make you long for a vacation in this tropical paradise.
The real joy of the movie is watching these talented actors ply their craft with a deftly written script that moves effortlessly between comedy and tragedy. The characters are all vividly drawn. Matt was a distant husband and father who now has regrets for his past. Alexander is 17. She is a lot like her mom, a free spirited adventuress. Younger sister Scottie is 10 and in that sensitive, inquisitive stage of childhood. Sid is Alex's surfer boyfriend who turns out to be smarter and more intuitive than he appears. He also provides much of the comic relief. "How often does an old person just haul off and cold cock you?" he asks after getting punched in the eye by Robert Forster for making fun of his Alzheimer's afflicted wife.
Clooney is aging gracefully. As an actor he is at the top of his game. He imbues Matt King with an everyday charm and evokes his somewhat hapless parenting skills and cluelessness about his wife's infidelity with ease. He is alternately angry, befuddled and sad at the cards he's been dealt. He gets two great scenes; both of which take place in his wife's hospital room. In the first scene he angrily confronts his comatose spouse about her affair, demanding answers to all the questions one asks in such a situation, in vain of course. In the second great scene Matt – no longer angry – says his heartbreaking final goodbye to the mother of his children that won't leave a dry eye in the house.
Alexander Payne is a talented filmmaker. He makes movies for adults that are comfortingly old-fashioned and yet very of the moment. He brilliantly intertwines the comic with the tragic and gets good performances from his casts. The Descendants is a touching and funny movie about family. Well worth seeing.

Reviewed on:
November 24th, 2011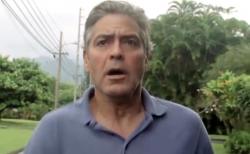 George Clooney stars in The Descendants.
This slice of life melodrama is elevated beyond its mere tearjerker premise by a wonderful cast and some gentle humor. Clooney delivers a subtle and ultimately heartwarming performance in the lead role and is ably assisted by young Shailene Woodley, playing his oldest daughter. Both of them should expect to hear their names during awards season.
While I enjoyed this movie as much as you seem to have Patrick, I disagree with a few things you wrote.
The subplot involving the land sale is an important part of the movie and Matt's character arc. When the movie begins Matt takes no real interest in the sale. The decision regarding the land is completely up to him but he is content to simply do whatever the rest of his family wants with it. By the conclusion Matt has come to learn the importance of family and his legacy and he makes a decision on his own about the land.
I see little of the sensitive nature in Scottie that you mention and likewise, I don't see Sid as that much smarter than his first impression. He is revealed to be a deeper, more well rounded figure than at first glance, but I wouldn't call him smart.
Clooney is certainly aging well, I must agree with you there Patrick. His acting has matured as he has. When the movie starts he's a disinterested parent who apparently has been absent from much of his wife and children's lives. His daughters are wild and out of his control, mainly through his own disinterest. It takes the death of his wife for him to become an active parent.
Set in a less exotic locale and with a lesser cast and this might very easily have ended up as a Lifetime movie of the week. As it is though, this is a very touching and well acted film.

Reviewed on:
January 8th, 2012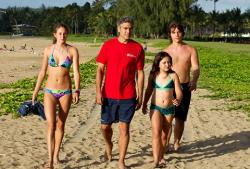 The cast of The Descendants suffering through another day in paradise.
I am not a George Clooney fan. This is as much to do with his politics as it does his acting. It also seems that he too often chooses roles that are merely convenient. The Ides of March gave him a chance to disguise his leftist politics as a plot. The American was filmed near his home in Italy. etc.....
In The Descendants we actually find George Clooney the actor. I agree with both of my brothers that it would not be surprising to hear his name announced for some acting awards. Patrick mentioned two showy scenes where he yells and cries. There is plenty of crying in this film, but the more subtle scenes are the most telling.
The film starts with a shot of a woman, Elizabeth, we know nothing about. We then hear the narration by her husband Matt, who admits to having been a distant husband and father. What follows is Matt uncovering one secret after another until it all comes full circle. With the truth comes the burden of what to do with it. As Matt's friend Mark states at one point, "This is a unique and dramatic situation!"
The Descendants is all about the truth as we know it. It is a theme repeated in the story over and over again. Patrick mentioned Sid, who at first just seems to be along for the ride. Later we discover that Alex had a reason for insisting he come with them. One of the best scenes of this is when Elizabeth's father is looking down at her body in the hospital saying George should have treated her better, and that Elizabeth was a good and loyal wife. You can see on Clooney's face that his first thought is to tell his father-in-law the truth, but then decides to let the old guy keep his version of reality intact.
I agree with Scott that the subplot with the land sale is important. Just as Matt took a hands off approach to his wife's emotional needs and his daughters rearing, he is likewise wanting to take the easiest way out on the sale of the property. After all that happens, Matt learns that the truth is a responsibility, and once you know the truth you can never undo it. Matt cannot throw away the land like he threw away his family. He is the executor of the trust, just as he is the head of his household. Matt just had to be reminded of this.
Speaking of the land, Hawaii does look like paradise. Maybe Clooney did choose this role for convenience. Except for the crowds, the cities as well as the many beaches all make Hawaii look like the kind of place you could relax in and forget the rest of the world even exists. This is of course why it was chosen for this story's setting. On the surface we see it's beauty, while in truth it has all the same problems as the rest of the world.
Photos © Copyright Fox Searchlight Pictures (2011)