Movie Review
Delta Farce
G.I. Joke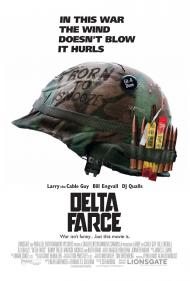 US Release Date: 05-11-2007
Directed by: C.B. Harding
Starring
▸
▾
Larry The Cable Guy

,

as

Larry
Bill Engvall

,

as

Bill
DJ Qualls

,

as

Everett
Keith David

,

as

Sgt. Kilgore
Marisol Nichols

,

as

Maria
Danny Trejo

,

as

Carlos Santana
Jeff Dunham

as

Amazing Ken

Reviewed on:
August 9th, 2008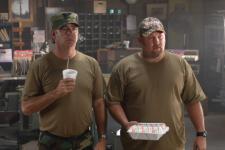 Delta Farce
At the end of Delta Farce, their is a written statement that says this film is dedicated to the real men and women of the American Armed Forces. If I was still in the service I would take that more as an insult than a compliment.
Three redneck army reservists find themselves called up to active duty. They fall asleep in a jeep on the transport plane to Iraq, and find themselves in Mexico after the jeep gets dumped out of the plane. Larry has recently broken up with his hot girlfriend. Why do fat guys always get hot chicks in movies, but fat girls only get hot guys in Hairspray? Bill is a unhappily married man. Everette is as giddy about going to war as Michael Jackson would be to go to boy scout camp.
After finding themselves in Mexico and thinking they are about to enter Fallujah, Larry tells the guys, "We are in the most dangerous city in the world, except maybe for Detroit." The three get into a skirmish with some Mexican gang members who are harassing the locals. They end up making like The Magnificent Seven and defend the town from a gang lead by Carlos Santanna, not the singer.
Each actor has a scene where they act stupid. Larry is the leader and attracts the attention of the local hottie. Score another point for fat guys. Whenever the movie runs out of jokes, which seems to happen more often than not, they throw in a gay joke. Sgt Kilgore gets kidnaped by no more than two different gay Mexicans who wish to have his intimate company.
One nice surprise is a brief appearance by Jeff Dunham. You may recognize him from his ventriloquist act, seen on Comedy Central. However, his role is small and Larry is left to carry the movie. Larry is certainly worth a few jokes, but the guy, by no means, can carry an entire film. He should have played a supporting role while someone else, and by someone else I mean almost anyone else, should have had the lead role.
Delta Farce has a few jokes that you may find yourself chuckling at, but you will enjoy yourself far more by Larry's stand up routine. "You think I've been drinking officer? Is their a naked fat chick in the back seat?"
Photos © Copyright Lionsgate (2007)