Movie Review
De-Lovely
A love that would never die and music that would live forever.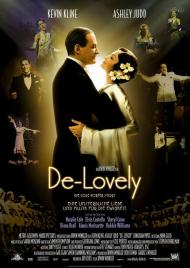 US Release Date: 07-02-2004
Directed by: Irwin Winkler
Starring
▸
▾
Kevin Kline

,

as

Cole Porter
Ashley Judd

,

as

Linda Porter
Jonathan Pryce

,

as

Gabe
Kevin McNally

,

as

Gerald Murphy
Sandra Nelson

,

as

Sara Murphy
Allan Corduner

,

as

Monty Woolley
Peter Polycarpou

,

as

Louis B. Mayer
Keith Allen

,

as

Irving Berlin
Lemar Obika

,

as

Musical Performer - "What Is This Thing Called Love?" (as Lemar)
John Barrowman

,

as

Jack/Musical Performer - "Night and Day"
Sheryl Crow

,

as

Musical Performer -"Begin the Beguine"
Mick Hucknall

,

as

Musical Performer - "I Love You"
Diana Krall

as

Musical Performer - "Just One of Those Things"

Reviewed on:
November 27th, 2004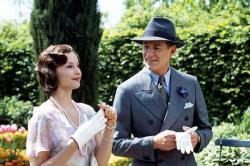 Ashley Judd and Kevin Kline in De-lovely.
I wasn't even aware of how many Cole Porter songs I knew until I watched De-Lovely. Thanks to movies like High Society and years of listening to Frank Sinatra CDs, I'd actually built up quite a large familiarity with many of his songs. However, I knew absolutely nothing about his life until I saw this movie.
Unlike so many successful artists, Cole Porter's life was not a rags to riches story. Before becoming famous, he lived quite nicely in Paris and Venice, hobnobbing with luminous American expatriates during the 1920s. It was in Paris that he met his future wife, Linda. The movie is really their story and it's not a traditional one mainly because Cole Porter was bi-sexual and Linda knew it going into their marriage and yet they remained married for their entire lives.
After Venice, Linda and Cole move to New York, where, thanks to their friendship with Irving Berlin, Cole is soon churning out Broadway shows. From New York, the Porters move to Hollywood, finding just as much success there as they have everywhere else. However, their marriage is very one sided. Linda, who never openly opposes Cole's male trysts, is jealous of the time Cole spends away from her and the lies he tells her to get that time. It is usually at her urging that they keep moving, always hoping that in the next spot Cole will be more discreet and spend more time with her.
A very old Cole Porter and a mysterious stranger who comes to him in the night tell the entire story in flashbacks. Cole's life is played out like a play in front him, with direction and corrections from him. The movie isn't done on a stage, but some scenes begin there in front of the aged Cole, before segueing into a scene in Paris or New York or Hollywood. It's a clever way of telling the story and the exact way that you'd imagine an old song and dance man would see his own life flash before his eyes.
Kline gives a brilliant performance as Porter, taking him from a young man in his prime to a composer in the final days of his life unable to write another note. He also did his own singing and piano playing and although he doesn't have the best singing voice, neither did Cole Porter. Judd is also good as Linda, but this is clearly Kline's movie and it is always her that is reacting to him rather than the other way around.
My only problem with this otherwise great movie is that it seems to carry with it a constant air of sadness, even during the happy scenes. Porter was clearly a man who loved life and he wrote some of the catchiest tunes of all time, and yet too often the mood of the film is grim. A lighter tone for the lighter moments would have suited the movie better.
If nothing else, the movie has a brilliant soundtrack. With new arrangements performed by modern singers (Alanis Morissette, Sheryl Crow, Robbie Williams, Elvis Cosettello, Mick Hucknall, Diana Krall, etc.), all of whom appear in the film, the soundtrack is the best to come out in years. And through his music, the tone is perfect. It's happy and light when it should be, and sad and sweet at other times.
With a great performance by Kline, a sweet and tragically doomed romance, beautifully filmed scenes covering all the glamour spots of the first half of the last century, and all underscored by songs from one of the greatest composers of pop songs ever, De-Lovely is a movie that hopefully won't be overlooked come Oscar time.

Reviewed on:
January 23rd, 2005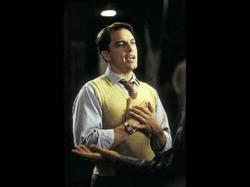 John Barrowman in De-lovely.
I watched this with a different view of Cole and Linda's relationship than Scott. To me, Cole was not bisexual, but homosexual. Sure, he was occasionally intimate with Linda, but the movie makes it very clear that his lust is not for women by any means.
Cole and Linda had a marriage of love and respect, but little to no sex. That sounds more like a friendship to me. The movie implies that Linda quite often wanted more from Cole but she fully understood that a friendship, even a loving one, was all that he could give her.
Why did Linda marry Cole in the first place, let alone stay married to him her whole life, when she knew that he was not sexually attracted to her? The movie simply says that it was for love. Apparently, a near platonic marriage was enough for her. Near the end, she even fixes her husband up with a male companion. Is this a love story or a story of friendship?
The dynamics of their marriage is the center of this movie. The frame of it all is Porter's songs sung by contemporary singers. My favorite is Robbie Williams singing the title song. He manages to put a little of his sense of humor into his performance. Sheryl Crowe does a great version of "Begin the Beguine", and Alannis Morrisette breaths new life into "Lets Fall in Love". Cole Porter certainly knew melody!
Reviewed on:
January 23rd, 2005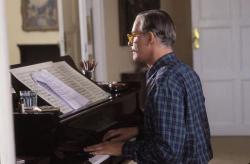 Kevin Kline as Cole Porter in De-lovely.
De-Lovely starts out quite strong. I agree that the story is cleverly told and the use of Porter's songs to advance the plot or enhance a mood works well. But as Scott mentioned it's just too glum, especially for a musical with some of the wittiest, most sophisticated lyrics and bounciest melodies ever to be found in popular music.
The opening production number of 'Anything Goes' is great and I found myself pleasantly enthralled. Unfortunately shortly after Linda leaves Cole (temporarily) the movie turns unexpectedly melancholy and stays that way until the end.
Kevin Kline is quite good, and a very youthful looking 50-something. I was not as enthralled by Ashley Judd. She captures the complexities of Linda's love for Cole but she's too modern in her speech patterns and lacks the neccessary worldliness the part requires.
It was fun seeing the 21st Century singers interpreting many of Cole Porter's - and therefore the 20th Century's - most celebrated songs. Most of the arrangements are a bit contemporary for my tastes but overall they are well done.
Several luminaries from the period (all of whom played important roles in Porter's life and/or career) show up in the movie. Monty Woolley, Irving Berlin, Ethel Merman and Louis B. Mayer are all impersonated. We also get Porter's reaction to the Cary Grant version of his life Night and Day.
Of course when that movie was released they couldn't mention Porter's sexual preference for men, instead focusing more on the professional side of his life. De-Lovely on the other hand is a love story about Cole and Linda, and while it is certainly true that their's was an interesting, not to mention, way-ahead-of-it's-time marriage, I think the movie would have been better served if they had focused more on his career. It would have been happier at any rate.
As for the bisexual vs. homosexual argument I have to side with Scott. Clearly Cole preferred sex with men but he also enjoyed a level of physical and emotional intimacy with Linda that went far beyond mere friendship. Romantic love does not require lust, it is only enhanced by it.
Photos © Copyright MGM (2004)