Movie Review
Deep Blue Sea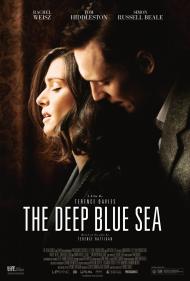 US Release Date: 03-23-2012
Directed by: Terence Davies
Starring
▸
▾
Rachel Weisz

,

as

Hester Collyer
Tom Hiddleston

,

as

Freddie Page
Simon Russell Beale

,

as

Sir William Collyer
Ann Mitchell

,

as

Mrs. Elton
Nicolas Amer

,

as

Mr. Elton
Harry Hadden-Paton

,

as

Jackie Jackson
Sarah Kants

,

as

Liz Jackson
Karl Johnson

,

as

Mr. Miller
Jolyon Coy

as

Philip Welch
Reviewed on:
December 30th, 2012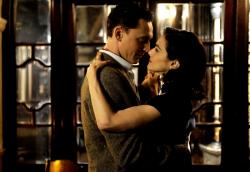 Tom Hiddleston and Rachel Weisz in Deep Blue Sea.
No one does repressed emotion like the British. In Deep Blue Sea, based on the Terence Rattigan play, Rachel Weisz plays Hester Collyer, a woman who leaves her rich, older husband for a younger man who brings passion into her life, and yet she spends almost the entire movie keeping her emotions under wraps. It's beautifully filmed, at times almost hypnotically so, and yet permeated by sadness and melencholy.
The story is set on one day around 1950 in London. Hester Collyer attempts to commit suicide by inhaling gas. This opening scene, that lasts around 7 minutes, is without dialogue, but sets up all of the background to her character through flashbacks as she hallucinates while she slowly sinks into oblivion. By the time she is slapped awake and revived by her landlady, we already know the major points of her history. Further flashbacks over the course of the day fill in the details of how she sank so low.
Hester's lover is played by Tom Hiddleston, last seen as Loki in The Avengers. He proves here that he can do more than just wear gaudy outfits and try to take over the universe. He plays Freddie Page, a former RAF pilot who flew in the Battle of Britain and whose life ever since can never live up to the glorious year of 1940. While he stirs up passion inside Hester, he never feels as deeply for her as she does for him.
As good as the supporting cast is though, this movie belongs to Rachel Weisz. The New York Film Critics Circle and Toronto Film Critics Association both named her the Best Actress of the Year, and New York Magazine called her performance, "the film performance of 2012". She also received a Golden Globe nomination for Best Actress in a Drama. That's pretty good for a movie that had only a limited release way back in March. And she's worthy of all the praise.
How much pity you feel for Hester, will depend on the individual. You may feel that she brought everything on herself when she cheated on her husband. It's true that she made that choice, but what's also true is that Hester knows it herself. She seems to know exactly how pitiful she is and goes to great pains not to be a bother about it, only breaking down and revealing the full extent of her emotion when she is alone. Weisz is luminescent in the part, showing more emotion in her eyes than some actresses manage with their whole face and body.
Director Terence Davies gives the movie a stream of consciousness feel as it flits between today and the past, often in scenes without dialogue, but accompanied by lush melodies and songs of the period. As Hester contemplates stepping in front of a Tube train, for instance, she is transported back to a time during the war when she and her husband took shelter from the Blitz and shared a moment together. There's an almost dream like quality to some of the visuals. He also plays with cigarette smoke so much that to this ex-smoker it almost became pornographic in its beauty.
Sadness is soaked into every frame of this film and it's not one that everyone will enjoy. It is worth watching at least once though, just to see Rachel Weisz's performance, which may just be the highpoint of her career. It's a quintessentially British performance, and yet it's stirring up award's buzz in America, while it was almost completely ignored in Britain when it was released there in 2011.
Photos © Copyright Music Box Films (2012)