Movie Review
The Decoy Bride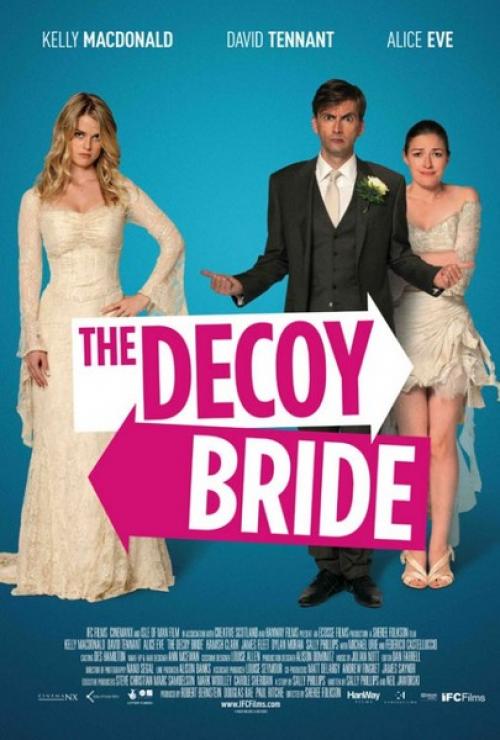 United Kingdom Release Date: 03-08-2012
Directed by: Sheree Folkson
Starring
▸
▾
Kelly Macdonald

,

as

Katie NicAoidh
David Tennant

,

as

James Arber
Alice Eve

,

as

Lara Tyler
Michael Urie

,

as

Steve Korbitz
Sally Phillips

,

as

Emma
Federico Castelluccio

,

as

Marco Ballani
Maureen Beattie

,

as

Iseabail NicAoidh
James Fleet

,

as

William
Dylan Moran

as

Charley


Reviewed on:
July 25th, 2012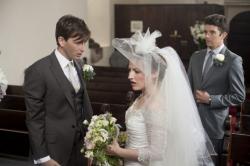 David Tennant, Kelly Macdonald and Michael Urie in The Decoy Bride
The Decoy Bride is a delightful enough little romantic comedy. Filmed on location in the Scottish country side, it has a quaint feel and look. It is as predictable as any romantic comedy but all is kept light and it will leave you feeling good although not completely satisfied.
Lara Tyler is an American movie star being hounded by the press. In order to have a private wedding to her writer fiance, James, they plan to get married on a Scottish island that James wrote about. Lara's stalker/photographer shows up and she goes into hiding. Her manager hires local girl Katie to stand in and throw off the paparazzi. Things become a bit frantic for everyone as the wedding throws the entire island populace into a frenzy.
The plot shoves Katie and James together where they argue constantly. In romantic comedy terms, that means they fall in love. I understand why James would fall for Katie. Played by Macdonald, she is sweetly down to earth and extremely likable. Tennant on the other hand is fairly lifeless. He lacks his Doctor Who screen presence. He just seems very bland here and uninterested in the proceeding. Why Katie likes him is never understood.
Angus, an old flame of Katies shows up in a few scenes. They share more chemistry together than Macdonald and Tennant. At one point Angus wants to fight James for Katie and I was hoping Angus would kick James's dull ass all the way back to England.
All is very sweet and there are a few laughs to be found. Early on we have a bit of the British wit. The island seems to contain many bitter old women. At a church one elderly woman suggests Katie marry someone because, "He's keen to marry on account of his leg." What few jokes there are though, dry up fairly quickly. What we are left with is merely a sweet little sitcom romp, set in an ideal summer locale.
Kelly Macdonald was born in Scotland and is thus a natural for the role. She can also be heard as the voice of Mirada in Disney/Pixars Brave. David Tennant is likewise Scottish but uses an English accent. Perhaps if they had made his character Scottish he would have put more enthusiasm into his role.
The Decoy Bride is as unoffensive as it is forgettable. At its best it is nice and at its worst it is redundant. You may not completely regret watching it but you will likely never want to watch it again.
Reviewed on:
November 18th, 2015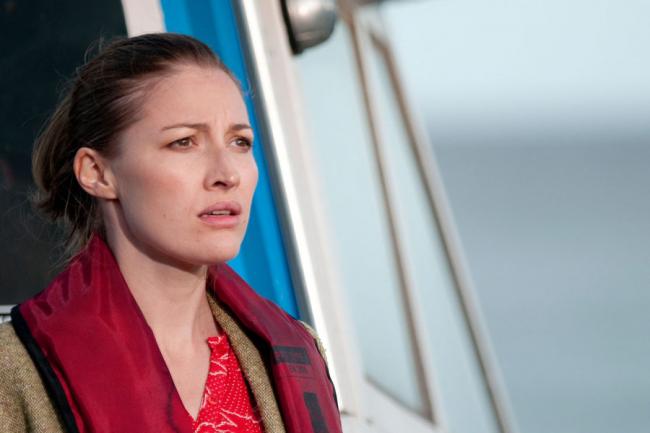 Kelly Macdonald in The Decoy Bride.
Eric called this a "sitcom romp" and I agree that's the type of humor and situation involved. The plot is generically pleasurable, helped by the likable charm of its female lead, Kelly Macdonald.
The script was written by Sally Phillips, who also has a small supporting part. Perhaps the sitcomish nature of the story can be explained by the fact that Phillips has frequently appeared in sitcoms. Although relatively unknown in America, she has appeared in several popular television shows in Britain, including the Steve Coogan starring I'm Alan Partridge, the hugely popular Miranda, and the all-female sketch show, Smack the Pony, which she helped write, among several others. In America, she is perhaps best known for playing one of Bridget's best friends in the Bridget Jones's films. Although she's proven herself adept as a comic actress, she takes too few risks as the writer of this movie. It's impossible to tell if it would have made a difference, but originally the film was budgeted at $7 million before it was reportedly slashed in half and the script had to be hastily rewritten to accommodate the reduction.
Macdonald's Scottishness isn't the only thing that makes her a natural for the role. She's funny, charming, and beautiful in that approachable way, which is so essential to romantic comedies. She's attractive enough for the male viewers, while not being so overtly sexual as to threaten the female ones. Nearly all of the film's limited success is down to Macdonald's charm. Interestingly, Alice Eve has the supporting role, but in the few years since the film's release, has become the bigger name thanks to a high profile appearance in Star Trek: Into Darkness. Apart from her beauty, she brings little to this underwritten part.
When I saw the film's location, I naturally assumed that David Tennant would finally get to use his natural accent, but as Eric said, he's still doing an English one. I doubt this is what affected his enthusiasm though, as it's the same accent he used during his years in Doctor Who, where he never seemed to lack energy. His character is so flat and uninteresting here though, that it becomes, as Eric said, difficult to see what Macdonald's character sees in him. He's certainly lacking the charisma that made him the most popular Doctor to take up residence in the resurrected TARDIS.
The scenery does offer the occasional distraction. Much of the film was shot on the Isle of Man, which is located in the Irish Sea between Great Britain and Ireland. There are some nice shots of the coastline and it's easy to believe that such a place would become a tourist attraction as it does in the story.
There's nothing particularly awful about this film. As Eric said, it's completely unoffensive. There's just very little to overtly recommend about it either, apart from the charm of Macdonald. It's just a pity she wasn't in a movie that could match that charm.
Photos © Copyright CinemaNX (2012)