Movie Review
Deconstructing Harry
Harry Block wrote a bestseller about his best friends. Now, his best friends are about to become his worst enemies.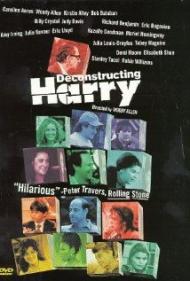 US Release Date: 12-12-1997
Directed by: Woody Allen
Starring
▸
▾
Woody Allen

,

as

Harry Block
Bob Balaban

,

as

Richard
Elisabeth Shue

,

as

Fay
Judy Davis

,

as

Lucy
Kirstie Alley

,

as

Joan
Billy Crystal

,

as

Larry / The Devil
Hazelle Goodman

,

as

Cookie
Stephanie Roth Haberle

,

as

Janet
Mariel Hemingway

,

as

Beth Kramer
Demi Moore

,

as

Helen
Jane Hoffman

,

as

Grandma
Stanley Tucci

,

as

Paul Epstein
Robin Williams

,

as

Mel
Julia Louis-Dreyfus

,

as

Leslie
Tobey Maguire

,

as

Harvey Stern
Richard Benjamin

,

as

Ken
Julie Kavner

,

as

Grace
Amy Irving

,

as

Jane
Tony Sirico

,

as

Policeman at Jail
Paul Giamatti

,

as

Professor Abbott
Jennifer Garner

as

Woman in Elevator

Reviewed on:
November 19th, 2013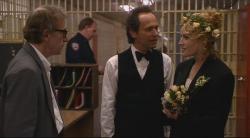 Woody Allen, Billy Crystal and Elizabeth Shue in Deconstructing Harry.
Although he seems to have moved past it now, there was a long period where Woody Allen tended to cast himself in the lead of his own films despite clearly being too old. Deconstructing Harry is one of those films. Reportedly he first offered the title role to Elliot Gould, and then considered both Dustin Hoffman and Dennis Hopper for the part, all of whom are close to Allen's age, before taking it himself. All of them are fine actors, but the only person who could really do it justice is Woody Allen, but a Woody Allen about 20 years younger than the one in the film. It doesn't ruin the story by any means but it is a distraction, especially in his romantic scenes with Elizabeth Shue, who is almost 30 years his junior. The age difference is accentuated by the fact that Allen hasn't exactly aged as gracefully as someone like Cary Grant.
The theme of the movie is a familiar one of Allen's. He plays Harry Block, an artist being honored late in his career, who takes the occasion to look back at his life, loves and work. It's an area he had explored in Stardust Memories. The plot is also similar to Wild Strawberries, and 8 1/2, by two of Allen's favorite directors, Bergman and Fellini, respectively.
Instead of a filmmaker, Harry is an author, as successful in his work as he is unsuccessful in his love life. He's been married several times including once to his former therapist with whom he has a young son. He once cheated on another ex-wife with her sister and then proceeded to cheat on them both with a much younger woman. The only women he seems to be able to get along with are the hookers he hires. When his former college decides to honor him, he is unable to find anyone to accompany him and so ends up going with an acquaintance, the hooker he hired from the night before-still in her working clothes-and his son, whom he has to kidnap since his mother has forbidden him from going.
During the journey, scenes from Harry's work and life are shown, with the two often intersecting as he bases his novels loosely on his own life with different actors playing the same characters based upon whether or not the memory is real or part of one of Harry's stories. For instance, Demi Moore plays the therapist he marries in the fictional version of his story, while Kirstie Alley is her in Harry's real life. Jennifer Garner, in her first film, makes a cameo appearance as the young woman he meets in an elevator, while Shue is the real woman in Harry's past. Billy Crystal does double duty as both Harry's friend in real life and the Devil in one of his stories, but in both versions he steals the affections of one of Harry's women.
It is in the fictional stories within the story that the movie finds most of its humor. Robin Williams has a small part as an actor whose career and life are out of focus, which manifests itself in a very literal and humorous form. Tobey Maguire acts as a young surrogate of Allen's as a young man hiring his first prostitute who ends up in the wrong place at the wrong time. And Julia Louis-Dreyfus and Richard Benjamin get caught in flagrante delicto by a blind grandmother. Although Allen does save some funny lines for himself such as when his ex-wife accuses him of having no values, saying, "With you it's all nihilism, cynicism, sarcasm, and orgasm." He replies, "Hey, in France I could run for office with that slogan, and win!"
Although most of Allen's films are safely PG, there's a harder edge to this one with brief nudity and some foul language. From anyone else these scenes would be easy to accept, but they seem jarring in a Woody Allen film. Hearing Allen say "fuck" amongst other things seems out of character some how. Although it's not nearly as jarring as the odd jump-cuts he employs throughout many scenes for no discernable reason.
Despite its flaws, Deconstructing Harry is an entertaining film. It's not Allen's best, but his trademark wit manages to compensate for most of the film's weaknesses. Like Harry, Allen has had a messy personal life, but has found plenty of success and happiness within his work.
Reviewed on:
December 6th, 2013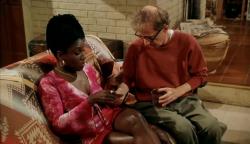 Hazelle Goodman and Woody Allen in Deconstructing Harry.
To put it mildly the 1990s was a messy period in Woody Allen's personal life. Deconstructing Harry reflects this. It is one of Allen's darkest films featuring, as Scott pointed out, more foul language and explicit sexuality than most of his work. The term "blow job" is used at least half a dozen times and several times the act is simulated. He has a conversation with his young son about naming his penis, and he and the Devil compare notes on which type of women they've had sex with. The Devil: "You ever fuck a blind girl? Oh they're so grateful."
Woody Allen has often been criticized for the lack of roles for people of color in his films. This movie is an exception as the hooker that accompanies him on his trip is a black woman. As far as I can tell it is the largest speaking role by a black character in any of his movies. Unfortunately, being such a stereotype, this did very little to placate his critics. When she tells him being a prostitute beats waitressing Harry observes, "Every hooker I ever speak to tells me that it beats the hell out of waitressing. Waitressing's gotta be the worst fucking job in the world."
Allen has often made fun of religion in his work but here he seems particularly mean-spirited about it. Especially in his treatment of his sister and brother-in-law. He tells them they are just like born again Christians, only they're Jewish. One of my favorite jokes dealing in religion is a bit more lighthearted. When Harry asks a Damned Man in Hell what he's there for the man replies, "I invented aluminum siding."
This is one of Allen's biggest ensemble casts. Famous faces pop up right and left. Kirstie Alley has one of the best scenes where she and Harry argue while she's seeing a patient (she's his ex-wife shrink). She keeps interrupting her patient to yell at Harry. She tells him he has to move out. Her final scream of, "And I mean tonight motherfucker!" is hilarious.
Deconstructing Harry features some classic Woody Allen philosophy couched in humor, such as, "Tradition is the illusion of permanence." and "All people know the same truth. Our lives consist of how we choose to distort it." And any movie that has a Star Wars' themed bar mitzvah scene is alright in my book.
Allen, as Harry Block, takes a long hard look at himself. We watch as he examines the fragments of his life through his relationships and his work. He freely admits to his selfish, sex-obsessed ways, and to the fact that he's also a pill popping drunk. In conclusion Harry's deconstruction teaches him what both he and the audience already knew. Namely that he prefers his imagination to reality. As Harry puts it, "I'm a guy who can't function well in life but can in art." Indeed.
Photos © Copyright Fine Line Features (1997)