Movie Review
Deception
When you're in this world, no one is who they seem, and everyone is playing the game.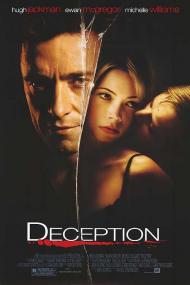 US Release Date: 04-25-2008
Directed by: Marcel Langenegger
Starring
▸
▾
Ewan McGregor

,

as

Jonathan McQuarry
Hugh Jackman

,

as

Wyatt Bose
Michelle Williams

,

as

S
Natasha Henstridge

,

as

Simone Wilkinson
Charlotte Rampling

,

as

Wall Street Belle
Lisa Gay Hamilton

as

Detective Russo


Reviewed on:
April 30th, 2009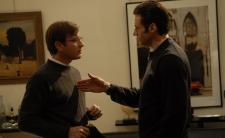 Wyatt gives Jonathan some advice.
Ewan McGregor and Hugh Jackman have been two of the most prolific actors since the new century began. Together they have made more than forty movies since 2000. Deception is their first film together, and it proves that perhaps they should have slowed down a bit and took their time on picking better projects.
McGregor plays a shy accountant, Jonathan, who keeps to himself. While auditing the books at a law firm, he meets a well dressed lawyer, Wyatt, who introduces him to a mysterious sex club known as The List. It is a group of successful wall street business types, men and women, who call each other at odd hours for sex and simply ask, "Are you free tonight?" No one asks or tells names. They just get together for the booty call and then get back to their jobs.
Jonathan is soon hooked as the free, uncomplicated sex is too good to pass up. One night he beds an older woman, Charlotte Rampling. He asks her why she does it. She responds, "It's intimacy without intricacy." One girl he meets up with, he ends up falling for. She however, comes up missing and he is the prime suspect.
Deception starts out well enough as it is supposed to surprise you with it's plot twists and turns. It is called Deception after all. However, once the girl disappears you can tell where everything is heading. Even before that happens, you know that everything is not as it seems. With the suspense removed from the picture, there is nothing left to hold onto, and thus the movie has no where satisfying to go.
Jackman and McGregor work well enough together. Each character switches their appearance in the movie and they are both convincing. It is unfortunate that they are far better than the material they are dealing with. Jackman was a co-producer on this film. Perhaps he should stick to being in front of the camera.
Reviewed on:
April 22nd, 2010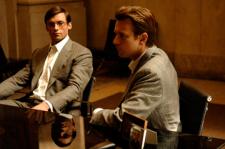 Hugh Jackman and Ewan McGregor in Deception.
Eric, I think you were overly distracted by the fact that McGregor and Jackman were in this movie. If it had starred two unknowns or at least less known actors, I wonder if you would have enjoyed it more.
Even though it is obvious from the minute Jackman approaches McGregor in an overly friendly manner that all is not as it seems, the beginning of the film is definitely the best part. I was trying to second guess the plot and figure out where it was going. It builds suspense and keeps you wondering what will happen. I do agree though Eric, that once events really start happening it's not that hard to see which way the story will go. The ending also goes to great pains to reveal the explanation to an earlier plot twist, but to anyone paying attention to the plot, it's not even a twist so the explanation seems redundant.
Jackman plays the suave, smarmy guy surprisingly well. I wouldn't normally picture him as a villain but he manages to play against type with success. Perhaps my biggest complaint is that he disappears near the beginning and doesn't return until the third act. Some of the best moments are when Jackman and McGregor are playing off of each other and there needed to be more scenes with them together.
This certainly isn't a perfect film; it should have been darker and more twisted, but I can honestly say that I was never bored by it and the cast is all very good. With low enough expectations, it's actually pretty enjoyable.
Photos © Copyright Twentieth Century-Fox Film Corporation (2008)