Movie Review
Deception
SEE IT NOW! See Her Greatest!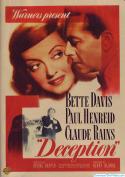 US Release Date: 10-18-1946
Directed by: Irving Rapper
Starring
▸
▾
Bette Davis

,

as

Christine Radcliffe
Paul Henreid

,

as

Karel Novak
Claude Rains

,

as

Alexander Hollenius
John Abbott

,

as

Bertram Gribble
Benson Fong

as

Jimmy
Reviewed on:
August 19th, 2010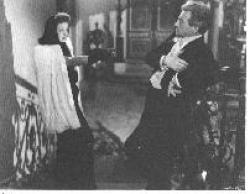 Spoiler Alert.
Deception was the last of the great Bette Davis/Warner Bros. melodramas. She, along with the studio, had been on one hell of a run since winning the Oscar for Jezebel in 1938. The list of classic movies she made during this period is truly astounding, Dark Victory, The Old Maid, Now, Voyager, The Letter, The Little Foxes, The Great Lie, Mr. Skeffington and The Corn is Green among numerous others. Yes, Deception truly marked the end of her Golden Age. Four years after this movie she would make the first of her celebrated "Comebacks" with All About Eve.
Bette Davis reconnects with her old flame (Henreid) from when she lived in Europe before WWII and whom she thought had been killed. The war is now over and he has arrived in New York. He is an aspiring and very gifted cellist. He is surprised by her fabulous penthouse apartment furnished with all kinds of expensive things and her wardrobe of furs and gowns. She tells him she got it by teaching the piano to rich students. Thus begins her deception.
Enter the scene-stealing Claude Rains as a celebrated and very wealthy conductor/composer. Of course they were lovers but Davis quickly gets married to Henreid to allay his suspicions. Rains offers his new cello concerto, and possible stardom, to Henreid; but what are his true motives? The drama builds to a thrilling conclusion. The scene where Rains takes Davis and Henreid to dinner before Henreid's audition is brilliant and is my absolute favorite Claude Rains scene from any movie I have seen. He is the definition of a pompous ham but one that's been perfectly prepared and seasoned.
Bette Davis had a thing for staircases. The climax takes place on a staircase and Davis is simply stunning in a white fur coat, black dress, black scarf and black gloves. Oh yeah, and there's that gun in her hand.
Deception is highly stylized drama on the level of opera. It features three passionate characters caught in a love triangle. It is gorgeously shot in glorious black and white. The sets are flawless and the camera angles and shadows are very much in the noir style. Its high-brow and haunting score of classical music plays an integral part in the plot. The dialogue crackles with wit. All of the necessary ingredients and in just the right amounts. Yes I love this movie.

Photos © Copyright Warner Bros. Pictures (1946)
Related Reviews