Movie Review
Dear White People
A satire about being a black face in a white place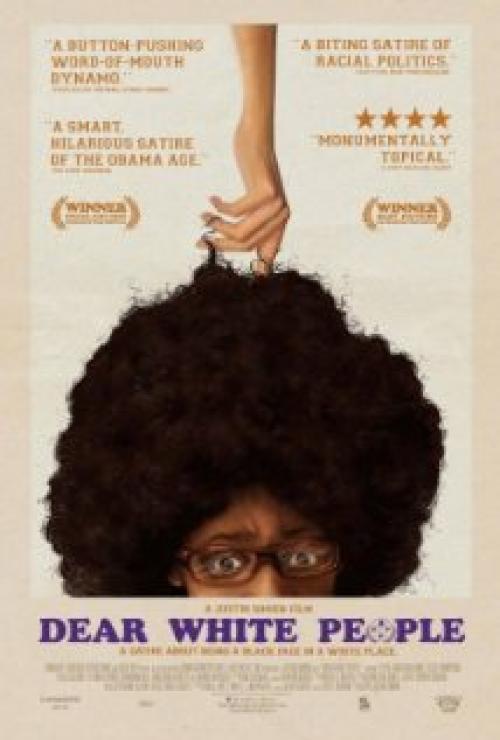 US Release Date: 10-17-2014
Directed by: Justin Simien
Starring
▸
▾
Tyler James Williams

,

as

Lionel Higgins
Tessa Thompson

,

as

Samantha "Sam" White
Kyle Gallner

,

as

Kurt Fletcher
Teyonah Parris

,

as

Colandrea "Coco" Conners
Brandon Bell

,

as

Troy
Malcolm Barrett

,

as

Helmut West
Dennis Haysbert

,

as

the Dean
Brittany Curran

,

as

Sophie Fletcher
Marque Richardson

,

as

Reggie
Peter Syvertsen

,

as

President Hutchinson
Justin Dobies

,

as

Gabe
Brandon Alter

,

as

George
Keith Myers

,

as

Black Mitch
Naomi Ko

,

as

Sungmi
Kate Gaulke

,

as

Annie
Brian Curtis James

as

Martin

Reviewed on:
September 22nd, 2015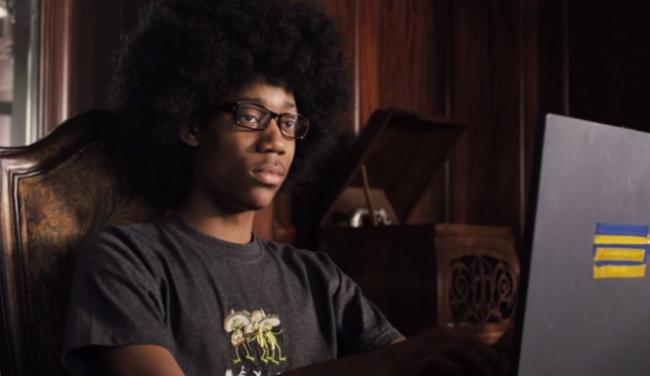 Tyler James Williams in Dear White People.
Dear White People follows in the footsteps of Spike Lee's School Daze (1988) and John Singleton's Higher Learning (1995). Set at a fictional Ivy League college, it's a satire on modern day race relations through the experiences of four black students at a majority white school. Dear White People was written and directed by the openly gay, African-American filmmaker Justin Simien. He also counts Woody Allen among his influences. This is his first feature film.
The title of the movie comes from the name of a radio program hosted by the bi-racial, militant-spirited Sam White. She makes statements such as, "Dear white people, this just in: Dating a black person to piss off your parents is a form of racism." and "Dear white people, the minimum requirement of black friends needed to not seem racist has just been raised to two." Then pithily adding, "Sorry, but your weed man, Tyrone, does not count."
The subject matter may be closer to Spike Lee but Justin Simien writes witty dialogue more along the lines of Woody Allen. Check out this exchange between Sam and one of her white professors.
Professor Bodkin: ...Might I also remind you that I read your entire fifteen-page unsolicited treatise on why the Gremlins is actually about suburban white fear of black culture.
Sam White: The Gremlins are loud, talk in slang, are addicted to fried chicken and freak out when you get their hair wet.
To be fair, the script also pokes fun of such black cutural icons as Tyler Perry, about whom Sam says, "Can we have movies with, you know, characters in them instead of stereotypes wrapped in Christian dogma?" And when the new Madea movie comes up a character quips, "Where's she going this time? Dialysis?"
Coco Conners is from the south side of Chicago. She is attracted to white men and is a social climber with a video blog. Her real name is Colandrea but she changed it because she thought it sounded "too ghetto". Her decision to host a frat party with a hip hop theme provides the catalyst for the movie's central plot device. For the party (given on Halloween) white students don "blackface" and act as "hood" as possible. This party provides the climax of the movie. For anyone doubting the authenticity of this plot angle, the director shows actual photos from similar parties given at colleges across the country in recent years, during the end credits.
What keeps the movie from being preachy is that Sam is revealed to be a fraud. She finally comes to terms with her bi-racial identity and begins to openly date a white guy. In one humorous scene he points out that he knows she secretly listens to Taylor Swift songs and she sheepishly responds, "But I was so careful."
The other two main characters are males. One is the good-looking, popular son of the Dean of Students (Dennis Haysbert plays the Dean). He's outwardly perfect but has his own inner demons and daddy issues. The other character is a nerdy gay kid played by Tyler James Williams of Everybody Hates Chris fame. He's an outsider amongst outsiders who finally finds his social conscience.
All of these characters' stories intertwine over the course of the first five weeks of the semester, culminating on Halloween night.
The mostly unknown cast is filled with solid performances. Tessa Thompson and Teyonah Parris being the two standouts as Sam and Coco, respectively. Although both Brandon Bell and Tyler James Williams are quite good as well. As for Justin Simien, if Dear White People is any indication, I think he has a very bright future ahead of him as a filmmaker. I look forward to seeing what he does next.

Reviewed on:
September 23rd, 2015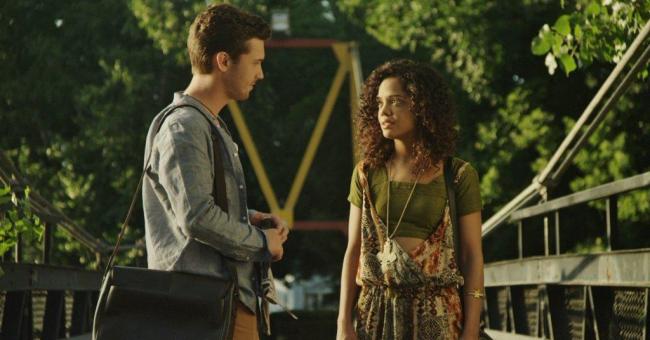 Justin Dobies and Tessa Thompson in Dear White People
From the title of this film to the dialogue, Dear White People is intended to incite a reaction and it does get a bit preachy. Movies are supposed to cause an emotional reaction but this subject is nearly as much outdated as it is topical. A white guy says to a black, "You're in the black student union, you must know Sam." Later, a bunch of black people complain that white people think they all look alike. Do whites really still have a problem telling blacks apart and assume they all know each other?
Sam likes to make statements that piss white people off and makes her seem socially progressive. "Obama could cure cancer and somewhere white people would be embroiled in protest." No Sam, white people would be thrilled that he finally did something that didn't just benefit his wealthy backers or involve escalating/prolonging an undeclared war.
"Black people can't be racist. Prejudice, yes, but not racist. Racism describes a system of disadvantage based on race. Black people can't be racist since we don't stand to benefit from such a system." Yes, they can be racist. As he had zero professional experience, anyone who voted for Obama was racist, whether they were black or white. Sam even supports my argument when she states, "Dear white people, this just in: Dating a black person to piss off your parents is a form of racism." Voting for Obama was a form of racism. You see, anyone can make incendiary remarks that contain some truth.
For me, the most brutally pointed line in the entire film is when President Fletcher tells Sam, "I think you long for days when blacks were hanging from trees and denied actual rights that way you'd have something to actually fight against." Being a victim does provide endless amounts of excuses.
Although there are many lines that are intended, and succeeded, in getting a reaction from white viewers like me, it likewise calls out black people that act in a perceived less than sincere manner. Yeah, Dear White People is a form of satire, but not really. Look at Blazing Saddles, where the word "nigger" is used continuously by buffoons, idiots and criminals. Sam is portrayed as an intellectual, giving a sense of legitimacy to her offensive statements. The fact that she is fake does not add to the satire but the drama.
Yes, there is humor here but it is in the more dramatic scenes that this film works best. There is the story of the two black students who Sam thinks are having an identity crisis. Sam and Gabe's secret love affair is the film's most heartfelt plot. The scene, which Patrick wrote about, where Gabe cuts through the bull about his love for Sam and his complete understanding of her, "I am tired of your tragic mulato bull." is indeed sweetly romantic and humorous.
I went into this movie with a negative view but it won me over. It is a solid film from most perspectives. There is some true honesty here but just as Sam would complain about black characters in white written movies, the white characters here come across a bit stereotypical. I was put out by how some of the black and white characters acted. Even though it is in reaction to Sam's radio show, the party is ignorantly offensive and why did Lionel have to announce that he was a Negro when he entered a room with white people in it?
The biggest problem this film has is the title and the trailer. The title implies that this is a film that intends to set white audiences straight. Not a good marketing idea if you intend to sell this to a wide demographic. The trailer supported that theme when it should have focused less on Sam and more on the different characters and their coming of age. There is a good entertaining story here that deserved a better marketing strategy and reception.
Photos © Copyright Lionsgate (2014)
Related Review