Movie Review
Dear John
Love brought them together will fate tear them apart.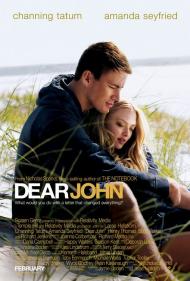 US Release Date: 02-05-2010
Directed by: Lasse Hallstrom
Starring
▸
▾
Channing Tatum

,

as

John Tyree
Amanda Seyfried

,

as

Savannah Curtis
Richard Jenkins

,

as

Mr. Tyree
Henry Thomas

,

as

Tim Wheddon
D.J. Cotrona

as

Noodles


Reviewed on:
June 10th, 2010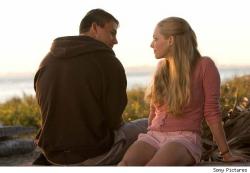 Channing Tatum and Amanda Seyfried
"Two weeks together, that's all it took, two weeks for me to fall for you." John Tyree says to Savannah Curtis after dating during spring break. She is a college student, while he is on leave from the U.S. Army. Based on the Nicholas Sparks novel, their is more sentiment than sex. The two week romance is celibate but sincere. It ends with a promise to see each other when his enlistment is up in six months.
They write each other love letters in the mean time. It strengthens their relationship as they reveal stuff about themselves. John has father issues and they get explained in his letters. Their life seems planned out, when suddenly the world changes on September 11, 2001.
John's division decides to reenlist as a group. They are all first given a weekend pass. John goes to see Savannah with the news that it will now be two years before they can be together. They finally make love and John goes off to war.
Dear John plays out like expected. It is called "Dear John" for a reason. Why and how it plays out that way is a bit dull. The ending is likewise unsatisfying. Perhaps because it is based on a novel written by a man, Savannah gets less explanation than John. I did not understand her motives as much as John's. This left her a weaker character.
What surprised me most was that Channing Tatum does some decent acting. I would have at one time dismissed him as a pretty face with abs, but now he is showing that he can actually act. He has often played the rough neck, but here he has to act vulnerable and cry a couple of times. His best moment being when he begs Savannah to tell him what to do.
Dear John did not engage me as well as The Notebook in which the audience felt a connection with the characters. Hallstrom misses an opportunity to connect emotionally with the audience, when he skips quickly over 9/11, and barely mentions it again. It is the catalyst that changed these lovers destiny, as well as so many Americans. We all remember where we were when we heard the news. It was an emotional moment that so many of us could relate to. It was a mistake to gloss over it. It should have been the lump in your throat scene, but Hallstrom chose to move along quickly.
Reviewed on:
March 10th, 2011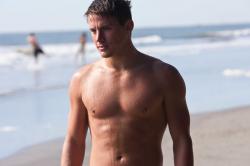 Channing Tatum shows off his talent in Dear John.
This movie is a triple threat. It features bland actors playing dull characters in a boring story. Eric, I disagree about Channing Tatum's acting ability, which is almost nonexistent. He is merely beefcake with a handsome face. My advice to him is, "Get it while you're young!" Amanda Seyfried matches him blank facial expression for blank facial expression.
The script is schizophrenic. It doesn't know if it is a love story, a father/son relationship drama or a war movie. It tries to be all three but fails to be any of them.
The most interesting character is John's father, played by the familiar faced Richard Jenkins. He's socially retarded, collects coins and obsessively cooks the same meal every weekend (meatloaf on Saturdays and lasagna on Sundays). He's sad and quirky but endearing.
John and Savannah are two of the dullest lovers ever to grace the silver screen. Their initial meeting on the beach is the highlight of the movie thanks to a shirtless Tatum. After the first 15 minutes it is all downhill. I would question some of the weak motivations for their actions if they were interesting enough to pique my curiosity.
Dear Reader, do yourself a favor and skip this cinematic love letter.

Photos © Copyright Relativity Media (2010)