Movie Review
Dear Frankie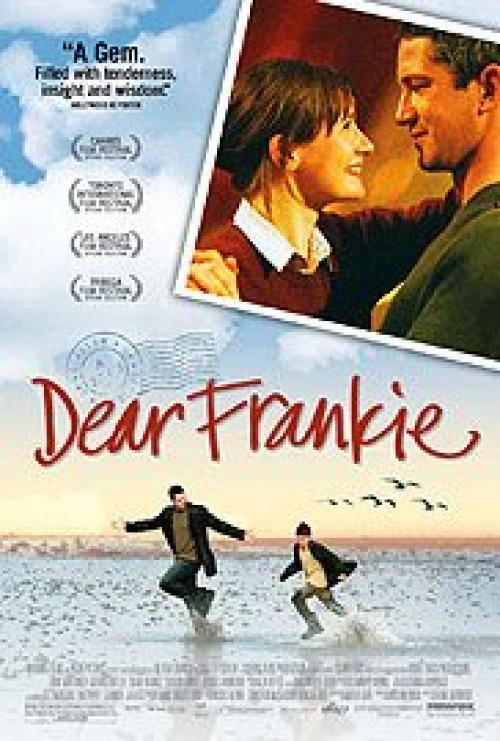 Ireland Release Date: 01-14-2005
Directed by: Shona Auerbach
Starring
▸
▾
Emily Mortimer

,

as

Lizzie
Jack McElhone

,

as

Frankie
Mary Riggans

,

as

Nell
Sharon Small

,

as

Marie
Katy Murphy

,

as

Miss MacKenzie
Sean Brown

,

as

Ricky Monroe
Jayd Johnson

,

as

Catriona
John Kazek

,

as

Ally
Gerard Butler

as

The Stranger

Reviewed on:
August 23rd, 2015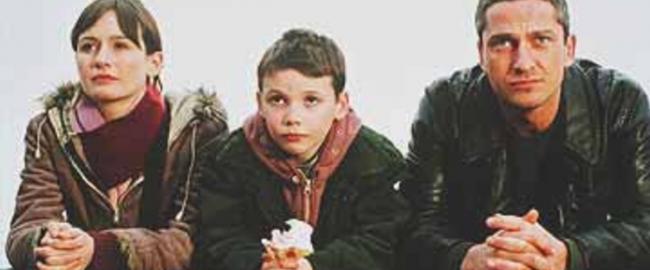 Emily Mortimer, Jack McElhone and Gerard Butler in Dear Frankie
Dear Frankie is a heartwarming family drama that could easily be compared to a Hallmark channel film if not for the setting and presence of an international movie star. Filmed on location in Glasgow, Scotland, it tells the story of how far a mother will go to protect her son and what lengths she will go to try to make him happy. You may disagree with some of her actions but her heart is always in the right place.
Lizzie, a single mother, has moved around often with her hearing impaired, mute nine-year-old son Frankie. As the film begins, they are living in a seaside Scottish town near Glasgow. Frankie writes letters to his absent father who works on a ship, the HMS Accra, which continuously travels the world. "Dear Da, did you know something? We're moving again. Ma says it's time. She says it's definitely the last time but she says that every single time. Nana Gourley says, if there is a next time, they'll have to carry her out in a box and ma says don't tempt her!" Frankie has no recollection of him, knowing only what his mother has told him and what he receives in the mail from his father. One day, a new friend at school informs Frankie that he saw in a newspaper that the HMS Accra will be arriving in Glasgow in a few days and Frankie can finally meet his father.
The problem is that Lizzie, wanting to protect her son from the truth has been intercepting the letters and responding to them as if she were his father. She made the entire story up, thinking it was best for Frankie. Lizzie must now decide whether or not to tell Frankie the truth. She instead decides to hire a stranger to pretend to be Frankie's father for a day and then get things back to her version of normal. Of course things do not go as planned.
Emily Mortimer gives a great performance as a desperate mother who does not always think things through. Not only does she not expect her son and the stranger to bond, she does not see the budding feelings she and the stranger develop. One of her best moments is when she goes to a bar to find a temporary father. The men at the bar look at her for entirely different reasons and she quickly realizes that she will not find what she is looking for there.
Gerard Butler was still an up and coming star and is definitely in the supporting role, but at least his Scottish accent is in its proper setting. One of the best scenes is when he first meets Frankie. The child pauses briefly and then runs to give the stranger a hug, who at first does not know how to react but then slowly hugs the child back. Meanwhile, Lizzie looks on wondering if she made the right decision.
The one day turns into two. Lizzie argues, "We had an arrangement. You broke it." The Stranger responds, "My ship sails on Monday. There is only one more day." Lizzie gets angry,"Who the hell do you think you are? Who gave you the right to come in here and behave like this?" The Stranger explains, "You did." Of course Lizzie softens as she knows the stranger is making Frankie happy. It also does not hurt that he gets her as well. After the stranger tells Lizzie that Frankie is a, "…very lucky boy." She asks, "How'd you figure that one out? I'm his mother and I lie to him every single day." The stranger then punches her in the heart with, "No. No, you protect him every single day."
The movie gets a bit more dramatic when Frankie's real father and Lizzie confront each other. Truths are revealed and emotions spilled on the ground. Tears are shed and everyone takes a hard step forward. You may find it a tad slow at times and the love story is not completely satisfying but all in all this is a family drama well worth the watch.
Photos © Copyright Scottish Screen (2005)