Movie Review
The Dead Zone
He can see the future. But can he escape it?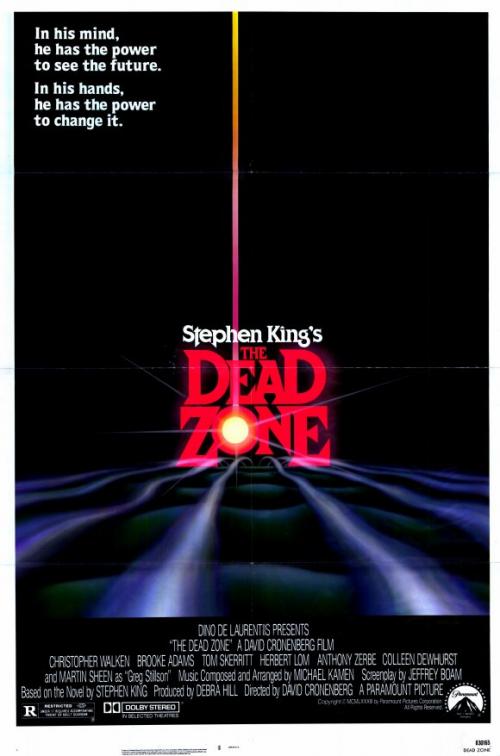 US Release Date: 10-21-1983
Directed by: David Cronenberg
Starring
▸
▾
Christopher Walken

,

as

Johnny Smith
Brooke Adams

,

as

Sarah Bracknell
Tom Skerritt

,

as

Sheriff Bannerman
Herbert Lom

,

as

Dr. Sam Weizak
Anthony Zerbe

,

as

Roger Stuart
Colleen Dewhurst

,

as

Henrietta Dodd
Martin Sheen

,

as

Greg Stillson
Nicholas Campbell

,

as

Deputy Frank Dodd
Simon Craig

,

as

Chris Stuart
Sean Sullivan

,

as

Herb Smith
Jackie Burroughs

,

as

Vera Smith
Roberta Weiss

,

as

Alma Frechette
Barry Flatman

,

as

Walt
Cindy Hinds

,

as

Natalie
Ramon Estevez

as

Teenage Boy with Camera
Reviewed on:
May 20th, 2015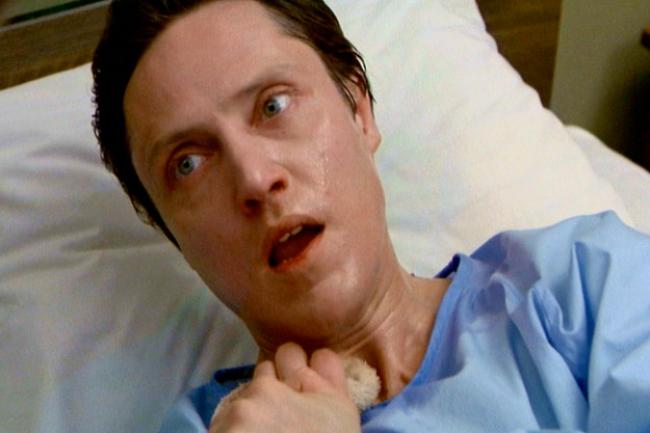 Christopher Walken has a vision in The Dead Zone.
The Dead Zone was directed by David Cronenberg from the Stephen King bestseller and stars Christopher Walken as Johnny Smith, a small town school teacher in a bad car accident who awakens from a five year coma with psychic abilities. He can touch a person and see their future. Now you'd expect a movie directed by David Cronenberg from a novel by Stephen King to be a gruesome gore-fest. But that's not the case - the gore is kept to a minimum. Instead what you get is an intelligent and suspenseful thriller.
Johnny first realizes his newly acquired skill when he touches a nurse's hand and has a vision of her child in a burning building. He later informs his doctor that the man's mother, thought to have died during WWII, is in fact still living. The first act is great. The premise is intriguing as hell and Christopher Walken is superb as Johnny.
The story turns darker when Johnny reluctantly agrees to help a sheriff catch a local serial killer. The second act is more of a conventional thriller. With Johnny's remarkable gift it isn't long before the identity of the killer is discovered. The situation doesn't exactly end well for Johnny and he is left seeking isolation from the world, becoming a virtual recluse. At this point his ex -who married another man and had a baby while Johnny was in a coma- reenters his life. At her suggestion he begins tutoring a young boy.
Johnny has a change of heart after his physic ability saves a person's life. Suddenly what he saw as a curse is now a gift. The third act becomes a bit Manchurian Candidate like, as Johnny's fate becomes intertwined with that of an ambitious politician played with relish by Martin Sheen. "Let's send Greg Stillson to the United States Senate - and mediocrity to hell!"
The haunting and disturbing score is by Michael Kamen. This is one of his few films where Cronenberg didn't use Howard Shore to compose the music. At any rate Kamen's score really adds to the atmosphere of the piece and beautifully underscores Walken's intensity. He has to convincingly act the terror and shock of the visions he sees in his mental "dead zone" (see photo). Few actors could do it better. Brooke Adams costars as Johnny's love interest but she's the least interesting part of the movie and their relationship is the most convoluted aspect of the script.
The supporting cast includes Tom Skerritt as the sheriff that seeks Johnny's help catching the serial killer. Herbert Lom plays the doctor. The great Colleen Dewhurst has one memorable scene as the serial killer's equally psychotic mother. Anthony Zerbe plays the wealthy father of the boy whose life Johnny saves. Look for Martin Sheen's middle son, Ramon Estevez, playing a Teenage Boy with Camera. He was born between his more famous brothers Emilio Estevez and Charlie Sheen.
Of the more than 50 movie adaptations based on the work of the prolific Stephen King, The Dead Zone certainly ranks among the top dozen.
Photos © Copyright Paramount Pictures (1983)