Movie Review
Dazed and Confused
It was the last day of school in 1976, a time they'd never forget... if only they could remember.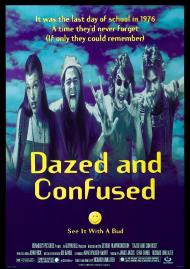 US Release Date: 09-24-1993
Directed by: Richard Linklater
Starring
▸
▾
Jason London

,

as

Randall 'Pink' Floyd
Joey Lauren Adams

,

as

Simone Kerr
Milla Jovovich

,

as

Michelle Burroughs
Shawn Andrews

,

as

Kevin Pickford
Rory Cochrane

,

as

Ron Slater
Adam Goldberg

,

as

Mike Newhouse
Anthony Rapp

,

as

Tony Olson
Sasha Jenson

,

as

Don Dawson
Marissa Ribisi

,

as

Cynthia Dunn
Cole Hauser

,

as

Benny O'Donnell
Wiley Wiggins

,

as

Mitch Kramer
Ben Affleck

,

as

Fred O'Bannion
Christin Hinojosa

,

as

Sabrina Davis
Parker Posey

,

as

Darla Marks
Matthew McConaughey

,

as

David Wooderson
Renee Zellweger

as

Girl in blue pickup truck

Reviewed on:
March 1st, 2012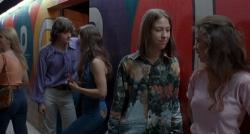 Remember the 70s?
Released twenty years after 1973's American Graffiti waxed nostalgic for the 1950s, Dazed and Confused did the same thing for the 1970s. Also like Graffiti, Dazed takes place over one summer night, incorporates plenty of hit songs from the era, and features a cast of young unknowns, many of whom would go on to later stardom.
It's the last day of school in 1976 in a small Texas town where an annual tradition is being carried out. The new high school seniors torment the incoming freshman class. The male seniors catch and paddle the behinds of the ninth grade boys, while the female seniors use humiliation to haze the new ninth grade girls. The story follows several disparate groups of students from the end of their school day, through the afternoon, into the evening and late night, before concluding in the early morning hours of the following day.
The different groups of students include the popular jock crew, the intellectual social pariahs, and a freshman brother with an upper class, big sister. This freshman experiences his first night of partying. He hangs out with the seniors, drinks beer, gets high, and makes out with an older girl. All of the main characters wind up at a beer blast together out in some nearby woods. A fight takes place between two boys, amid some teen angst and vague talk about the future.
Every generation looks back on their school days as a more innocent and simple time. Like George Lucas did with American Graffiti, Richard Linklater presents an idealized version of those youthful memories. Both movies present their time eras not so much as they really were but as they are remembered. A carefree, halcyon time spent in the pursuit of innocent pleasures.
This movie has obvious appeal for anyone that was of school age in the 70s. The bell bottoms, bib overalls, tie-dyed t-shirts, the ubiquitous long hair, the American made cars and the classic rock all add to the nostalgic fun. There are references to 70s pop culture icons such as Gilligan's Island and The Waltons. Here's a sampling of the tunes heard during the movie: "Sweet Emotion" by Aerosmith, "School's Out" by Alice Cooper, "Why Can't We Be Friends" by War, Foghat's "Slow Ride", "Show Me The Way" by Peter Frampton, "Rock & Roll All Nite" by KISS and Seals & Crofts' "Summer Breeze" among many others.
The cast includes future stars Ben Affleck, Matthew McConaughey, Milla Jovovich, Parker Posey and an uncredited Renée Zellweger in a bit part. It's interesting seeing them all so early in their careers. Affleck had a pudgy face while McConaughey sports a cheesy 70s mustache and bad haircut. Jovovich and Posey look pretty much the same, only a bit younger. Zellweger has a blink and you miss her part without a single line of dialogue.
I keep going back to American Graffiti but only because Dazed and Confused is such a fitting companion piece to that earlier classic. Neither movie is heavy on plot or character development. They both simply transport us back to one memorable occasion, when the night seemed magical and we felt immortal and our futures looked impossibly bright spreading off forever into the distance.

Reviewed on:
March 27th, 2012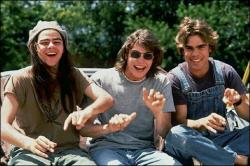 Rory Cochrane, Jason London and Shawn Andrews in Dazed and Confused
The key line in Patrick's review is when he wrote of this film, as well as American Graffiti, that they, "present their time eras not so much as they really were but as they are remembered." In both films parents as well as most adults are absent. Even the ones who figure out their son is having a party are clueless about his drug use in his bedroom. These kids drink beer in public while skipping school. They publicly abuse freshmen in what is essentially assault and battery.
What this movie represents is freedom. These kids do anything they want with no consequences. They drive around town, smoking, drinking, vandalizing and doing whatever they want. They drink beer like it's soda pop. Their lives are in their hands. They are of course living by the good graces of their parents but they act as if they are indebted to no one. We all know this is not completely how it was but it is how we like to remember our youth.
As Patrick wrote, there is little plot. However, it does contain some good lines. The Gilligan's Island question discussed by the girls, "Think about it! You're basically alone on a deserted island with 2 readily available women. One, a seductive sex goddess type. The other... a healthy girl-next-door-type with a nice butt. So the men have it all, the Madonna and the whore. Women get nothing! We get a geek, an overweight middle-age guy, and a nerdy scientific type."
I enjoyed the conversations between the three pseudo political intellectuals, "I didn't think drugs and alcohol were such a big deal they had to resort to Neo-McCarthyism to get rid of it." " You know, I'd like to quit thinking of the present, like right now, as some minor insignificant preamble to something else." "It's what everybody in this car needs is some good ol' worthwhile visceral experience."
My eighteen year old son's favorite character was the perpetually stoned Slater. I did enjoy his George Washington/hemp speech. It includes such ramblings as, "George Washington was in a cult, and the cult was into aliens, man." and, "Didja ever look at a dollar bill, man? There's some spooky shit goin' on there. And it's green too."
Dazed and Confused works as a nostalgia trip to a place and time where you got away with petty crimes and had an endless supply of friends. The teens are aware of their limited time as youth. They discuss it on the football field in the wee small hours of the morning. As one says, "The older you get, the more rules they are going to try and get you to follow. You just gotta keep on livin', man. L-I-V-I-N." Oh, to be young again.
Reviewed on:
May 11th, 2015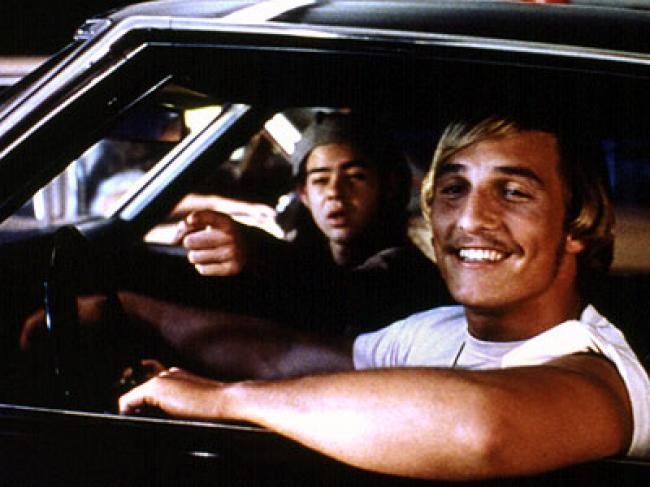 Matthew McConaughey in Dazed and Confused.
There are many similarities between this movie and American Graffiti. One of the biggest differences is that American Graffiti took place on the night of graduation for its two main characters. Ron Howard and Richard Dreyfuss are faced with the imminent choice of what to do about their future. In Dazed and Confused, this is just another night, where the biggest decision made is whether or not to play football the following fall.
This lack of life changing decisions was deliberate by writer/director Richard Linklater. As he explained in a speech at an event commemorating the film's 20th anniversary, he was trying to make the inverse of a John Hughes movie, adding "I don't remember teenage being that dramatic. I remember just trying to go with the flow, socialize, fit in and be cool. The stakes were really low. To get Aerosmith tickets or not? That's a big thing. It was really rare when the star-crossed lovers from the opposite side of the tracks and the girl gets pregnant and there's a car crash and somebody dies. That didn't really happen much. But riding around and trying to look for something to do with the music cranked up, now that happened a lot!"
The other difference between this film and American Graffiti is that the characters here aren't nearly as likable. Ben Affleck is the worst of the bunch, enjoying the paddling of the freshman boys way too much. Even the friendlier characters spend quite a lot of their time engaged in anti-social behavior such as drinking and driving, smashing mailboxes and just generally behaving like teenagers, which, let's be honest, isn't always the easiest age to like unless you are one. I think the level of your enjoyment of this film will be based on how fondly you remember your own high school years and how many drugs you did while you were there. Since I hated mine and barely did any, you'd be right in guessing that I didn't love this movie the way some do.
What's interesting about the cast is that although it's filled with recognizable faces, as Patrick mentioned, none of the main characters became big stars, but several of the supporting ones did. Milla Jovovich and Parker Posey have very minor parts with just a handful of lines between them, while Renee Zellwegger is just an extra, and yet all three of them have far surpassed any of the other female castmembers with much bigger parts. And while Jason London and Cole Hauser managed B-celebrity status, Matthew McConaughey and Affleck are now both Oscar winners. A couple of notable things about Matthew McConaughey is that it was here, in his very first film, that he spoke his trademark line, "Alright, alright, alright." and that he named his production company "JKL" after the line Eric quoted.
Although I was about 10 years younger than the characters are in 1976, it did still generate some nostalgia in me for the time period. The soundtrack, fashions, and the long hair are all very evocative of the era.
I've never been a fan of Linklater's and I didn't really expect to like this movie, despite hearing from several people how much they loved it. Perhaps because of that, it took a little while for me to warm up to it. However, thanks to some funny and quotable dialogue, it did eventually win me around somewhat. I don't consider it the classic that so many do, and I'll always consider American Graffiti far superior, but it has its moments and even without much of a plot, it manages to create an emotional arc that provides a sense of satisfaction by the time the credits roll.
Photos © Copyright Universal Studios (1993)
Related Review