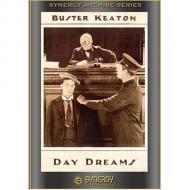 US Release Date: 11-15-1922
Directed by: Edward F. Cline, Buster Keaton
Starring
▸
▾
Buster Keaton

,

as

The Young Man
Renee Adoree

,

as

The Girl
Edward F. Cline

,

as

The Theater Director
Joe Keaton

,

as

The Girls Father
Joe Roberts

as

The Mayor


Reviewed on:
April 14th, 2013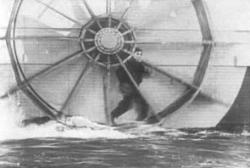 Buster Keaton making like a hamster on a wheel.
Although there is no known surviving complete print of Day Dreams, you can still follow the simple plot and enjoy its often laugh out loud humor. Even damaged, this short is better than many complete films.
The great Buster Keaton plays a young man in love with a girl whose father does not like him. His girlfriend tries to help him make a good impression. Note Buster's bouquet of flowers when he arrives at her home to ask her father's permission to marry her. Her father tells Buster that he must prove that he can support his daughter. Buster tells her dad that he will go to the city and perform great deeds and if he is not successful, will come back and shoot himself.
What follows is a series of events and stunts of Keaton trying very hard to find a job. From working at an animal hospital to being a street sweeper, he gives it his all. He narrates his employment adventures to his intended, through letters he writes to her.
When trying his hand at acting, Buster gets booted from the theater wearing a costume of a Roman soldier. Here is a scene or two that may have been damaged. Once outside the theater, a policeman takes note of Keaton in his costume, who responds by trying to pull his costume/skirt lower down his legs. Then suddenly the policeman gives chase. Either the joke is that the policeman thinks he is a cross dresser, and that was illegal, or several frames are missing from the film.
A bit later, wearing different clothes, he is suddenly being chased by a passel of policemen for reasons unclear. His escape attempt by trolley car is classic Keaton. It ends with the film's most notable stunt, that of Keaton on, and in, a paddle boat wheel. My favorite moment is shortly thereafter when an old fisherman catches Buster.
Not only has this become one of my favorite Buster Keaton shorts, it also partially answered the question of what was Keaton's response to the accusation that his friend Roscoe "Fatty" Arbuckle had raped a girl at a party? Day Dreams was filmed in San Francisco, where Arbuckle's trial was taking place. Arbuckle is given shared writing credit for this film, alongside Keaton and long time collaborator Eddie Cline. Also note that the dog featured in the animal hospital scene looks exactly like Arbuckle's dog Luke, with whom Keaton often worked. Clearly Keaton was being supportive of Arbuckle.
Day Dreams is a must see gem for silent film fans!
Reviewed on:
April 14th, 2013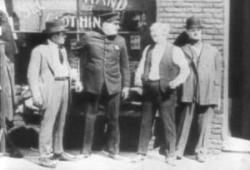 Buster Keaton's Day Dreams.
Apart from the paddle boat scene where Keaton makes like a hamster in a wheel, this short is fairly run of the mill stuff. Perhaps Keaton and Arbuckle knocked the plot together to take Arbuckle's mind off his legal troubles, but there's nothing particularly innovative about it, beyond the paddle boat bit. I'm a bit baffled as to why Eric would deem it one of his favorite Keaton shorts.
The title is almost a misnomer. I suppose it's referring to the fact that Keaton's girlfriend daydreams what she thinks is happening to him when he writers her the letters, but even that's a stretch. The most amusing of her imaginings is when we get to see Keaton doing his Hamlet. It's not that he does something particularly amusing, it's just odd to see the Great Stone Face done up as Shakespeare's most famous character.
As usual for a Keaton film, the female lead is given a thankless job. The only thing of note about Renee Adoree, who was a fairly popular actress of her day, appearing in such films as The Big Parade, is that the she died at the age of just 35 from tuberculosis.
Eric may call this a gem, but it seems to me to be one that needed more polish.
Reviewed on:
April 19th, 2013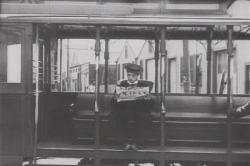 Buster Keaton Day Dreams.
It doesn't surprise me that Buster Keaton would have remained supportive of his old friend and costar Roscoe Arbuckle during his dark days. After all this was the man that gave Keaton his first big break. And besides there was never evidence of any wrongdoing on Arbuckle's part, even if audiences deserted him.
Scott, I was with you for the first 8 minutes. Day Dreams starts off unremarkable and so similar to many other silent shorts. The boy, the girl and her disapproving father yet again. The boy heads off to the city to make good yet again. I also agree the title doesn't really suit the story. But here's where my opinion differs. The final 10 minutes is pure movie magic beginning with the chase that starts right after the Hamlet scene.
The bit where Keaton -and the policeman chasing him- are stopped by a traffic cop to allow a car to speed by, before politely continuing on their mad dash way, was something Bugs Bunny and Elmer Fudd would copy more than once. This is followed by a brief interlude at an outdoor clothing stand (see photo in Scott's review). Keaton tosses off a few quick sight gags while changing into stolen street clothes, which he then pays for with money from a huge wad of stolen cash he finds in the pants pocket. It is such a simple set-up but Keaton's masterful timing is on full display.
After this the chase escalates exponentially until he gets to that paddle wheel. A gag that surely ranks among his 10 best. The final joke is Keaton's bedraggled appearance when he is, quite literally, dropped-off back at his girl's house, officially a failure. The great stone face just stands there, hat and suit in ruins, his hair an unkempt mess and sporting a black eye. He then picks up the revolver and points it at his head. His face the picture of despair. Fortunately he misses but the ending is far from happy (although it is funny and original) as Keaton is kicked out on his forlorn butt by his prospective father-in-law. Ouch.
Photos © Copyright First National Pictures (1922)