Movie Review
Dark Victory
It was a dark victory
US Release Date: 04-22-1939
Directed by: Edmund Goulding
Starring
▸
▾
Bette Davis

,

as

Judith Traherne
George Brent

,

as

Dr. Frederick Steele
Humphrey Bogart

,

as

Michael O'Leary
Geraldine Fitzgerald

,

as

Ann King
Ronald Reagan

,

as

Alec
Henry Travers

,

as

Dr. Parsons
Cora Witherspoon

,

as

Carrie
Dorothy Peterson

as

Miss Wainwright
Reviewed on:
April 18th, 2003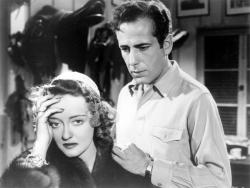 Bette Davis and Humphrey Bogart in Dark Victory.
Long before Susan Sarandon, Julia Roberts, Debra Winger and Ali MacGraw all died tragically young from an incurable disease in Stepmom, Steel Magnolias, Terms of Endearment and Love Story (respectively), Bette Davis did it in the 1939 three hanky weeper Dark Victory. Gloria Swanson had tried in vain to get the movie made a few years earlier and even a big box office star like Davis had to fight to bring this story to the screen. As Jack Warner asked, "Who wants to watch some dame go blind?" The answer: apparently millions of people. This was Bette Davis' biggest moneymaker up to that point in her career.
The story is simple. Society darling Judith Traherne (Davis) is diagnosed with a brain tumor. After surgery she falls in love with and eventually marries the handsome Doctor Steele (George Brent). She soon discovers that the tumor will return and eventually kill her. Her faithful horse trainer Michael O'Leary (Humphrey Bogart with a thick Irish brogue) convinces her to make the most of the time she has left. Doctor Steele tells his wife that the only warning she will get, several hours before she dies, will be a dimming of her eyesight.
As fate would have it, on the very day that her husband is set to attend a medical conference in New York and hopefully learn about an experimental cure, Judith's eyesight begins to fail as she plants flowers in her garden. This has to be one of the greatest scenes in the history of tragic movies. Davis is so superb in it that if you aren't moved emotionally, I'd call a doctor quick because you must be emotionally paralyzed.
Sure the story is dated, corny, and way over-the-top. Who cares? This movie is designed for one purpose, to evoke a strong emotional reaction in the audience, and with Edmund Goulding directing, Max Steiner writing the score, and Bette Davis giving her all as the tragic young woman facing death, they succeed brilliantly.
Geraldine Fitzgerald is memorable as best friend Ann and Ronald Reagan gives a funny performance as one of Judith's constantly soused companions.
Dark Victory is, along with Now Voyager, All About Eve and Whatever Happened to Baby Jane one of Bette Davis' signature movies. She goes from carefree debutante to stoic victim without missing a trick. And could anyone smoke a cigarette, hold a cocktail, or march across a room like she did? Still, for all her exaggerated mannerisms, it is the final twenty minutes of the movie that are the most astonishing, her quiet fortitude in the face of death, enabling her, at last, to achieve her dark victory.
Photos © Copyright Warner Bros. (1939)
Related Review