Movie Review
The Darjeeling Limited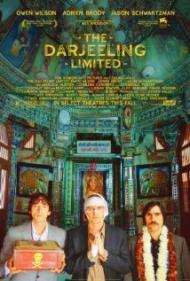 US Release Date: 10-26-2007
Directed by: Wes Anderson
Starring
▸
▾
Owen Wilson

,

as

Francis
Adrien Brody

,

as

Peter
Jason Schwartzman

,

as

Jack
Amara Karan

,

as

Rita
Wallace Wolodarsky

,

as

Brendan
Waris Ahluwalia

,

as

The Chief Steward
Irrfan Khan

,

as

The Father
Barbet Schroeder

,

as

The Mechanic
Camilla Rutherford

,

as

Alice
Bill Murray

,

as

The Businessman
Anjelica Huston

,

as

Patricia
A.P. Singh

,

as

Taxi Driver
Kumar Pallana

as

Old Man

Reviewed on:
April 29th, 2015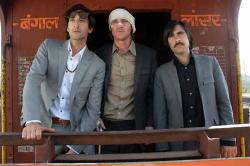 Adrien Brody, Owen Wilson and Jason Schwartzman in The Darjeeling Limited
After hearing a friend refer to The Darjeeling Limited as his favorite film, I had to give it a watch. I enjoy Wes Anderson's films but I am not his biggest fan. He creates fascinating characters and puts them in interesting situations but I do not always like his narration. He seems to pose his actors more than direct them. Still, I like his sense of humor and his unique eye for color and details.
Three grown brothers gather for a trip across India, aboard the titular Darjeeling Limited train. Their father passed away a year ago and the brothers have not seen each other since the funeral. Each brother is dealing with a personal issue and all seem rather depressed. Francis is the eldest and a bit of a control freak. He organized the trip and informs his siblings that he has the entire trip planned to the tiniest detail. He is worse than Clark Griswold.
The middle brother, Peter, is an expectant father. His wife is due in a couple of months. The youngest, Jack, recently broke up with his girlfriend. The brothers argue, talk behind each other's back. Francis keeps resentfully noticing that Peter has things that once belonged to their father. Francis tells his brothers that this is to be a spiritual journey. Peter meanwhile buys a venomous snake while Jack has a fling with a stewardess.
Shortly into the trip, Francis informs his brothers that their real destination is a hilltop retreat where their mother has become a nun. The brothers have some adventures as they help some boys in a river. They stay briefly at a village and eventually meet their mother whom they cannot wait to ask why she did not attend their father's funeral. Through the events of their journey, the three brother's individual problems all come into perspective.
The Darjeeling Limited moves along well enough but I never felt too invested in the three main characters. All have issues but they also seem self-centered and somewhat pampered. The fact that they can just up and take a vacation in a foreign country clearly marks these guys as financially well off and with plenty of time on their hands. Not that I cannot feel sympathy for a successful person but their problems are more of their own doing than anyone else's. Sure, their parents had issues but these guys are middle aged. They should have had it figured out by now.
The tone is sometimes uneven, moving from quirky to somber. There is however, some interesting symbolism. The three brothers travel with a bunch of luggage that used to be their fathers. Jack is a published author whose work the other two brothers recognize as being about the three of them, even though Jack tries to deny it.
My friend who likes this film has brothers, as do I, and in that this film may connect more with us and anyone who does. In one scene Francis and Peter are fighting each other and Francois yells, "You don't love me!" Peter yells back, "Yes I do!" While Jack attempts to break them up, "I love you too, but I'm gonna mace you in the face!" My absolute favorite line is when Jack asks his brothers, "I wonder if the three of us would've been friends in real life. Not as brothers, but as people." Hmmm.
Photos © Copyright Fox Searchlight (2007)