Movie Review
Dance Flick
The funniest dance movie of all time.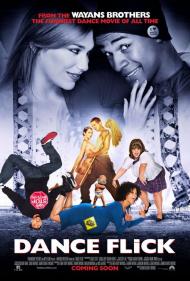 US Release Date: 02-06-2009
Directed by: Damien Dante Wayans
Starring
▸
▾
Shoshana Bush

,

as

Megan
Damon Wayans Jr.

,

as

Thomas
Essence Atkins

,

as

Charity
Affion Crockett

,

as

A-Con
Chelsea Makela

,

as

Tracy Transfat
Brennan Hillard

,

as

Jack
David Alan Grier

,

as

Sugar Bear
Amy Sedaris

,

as

Ms. Cameltoe
Lochlyn Munro

,

as

Coach Effron
Kim Wayans

,

as

Ms.Dontwannabebothered
Shawn Wayans

,

as

Baby Daddy
Marlon Wayans

,

as

Mr. Moody
Craig Wayans

,

as

Truck
Keenen Ivory Wayans

,

as

Mr. Stache
Chaunte Wayans

,

as

Free Gas Pedestrian
Michael Wayans

,

as

Confessing Crew Member
Cara Mia Wayans

,

as

Club Girl
Gregory Wayans Benson Jr.

as

Mr. Moodys Favorite Student

Reviewed on:
September 25th, 2009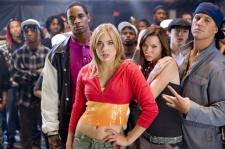 Not the funniest movie ever made, but not the worst either.
The very first joke in Dance Flick involves someone peeing on someone else. That should pretty much tell you right there whether or not you will enjoy this movie. If you can laugh at urine jokes then you might find some laughs here (not a ton of them, but some) in yet another Wayans' brother spoof movie. It's not as strong as some of their earlier work, but is far superior to other recent, similar movies such as Disaster Movie.
There's a vague plot, but it's hardly important. Megan is a middle-class white girl whose mother is killed in a car accident that involves (among other things) Britney Spears and Halle Berry. She is forced to live with her father in a slum where she ends up a musical high-school where she finds love and friendship through the medium of dance.
Of course the real point of the movie is to spoof other movies and this one does that often. Obvious movies such as Save the Last Dance, Step Up, You Got Served, Fame and Hairspray are all mentioned, but so are Little Miss Sunshine, Crash, Black Snake Moan and Twilight. Some of them get the full on spoof treatment, but others are victim of the "if we mention it they will laugh" syndrome, wherein the audience is expected to laugh just because they recognize the movie reference. This is a gimmick that makers of this type of movie often rely too heavily upon and this one is no exception.
Although the Wayans brothers are featured in this movie as well as helping to write and produce, this is really a multi-generational Wayans film. Damien Wayans, the nephew of Damon, Shawn, Marlon, and Keenen directs and Damon Wayans Jr. has the largest male part. Marlon only really has one scene and Shawn, while recurring throughout the movie, is likewise limited, although he does provide one of the jokes that I laughed the hardest at when he comes over to "pick-up" his son for the weekend. Sister Kim Wayans also makes a small appearance. In Living Color alum David Alan Grier is also around and gets some laughs as the very large Sugar Bear.
Of the musical numbers, Flame (sung to the tune of Fame) is perhaps the funniest, but that's not saying that much. The real problem with the jokes is that too often they settle for humor based on bodily functions; not entirely, but far too often.
I'm definitely glad that I didn't pay to see this in the movie theater, but watching it at home, I'm not embarrassed to say that I actually laughed a couple of times. I'm not proud of it, but I'll admit it.

Reviewed on:
September 26th, 2009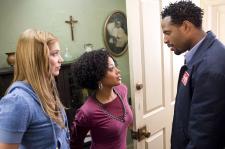 Bush, Atkins and Wayans (Shawn)
My favorite jokes are the ones that have nothing to do with a parody of another film. Shawn as the absent father and Atkins as the horrible mother provide the best jokes. Scott mentioned the pick up scene but there is also the part when Shawn expresses his unhappiness with his son not being able to see him all the time. The baby catching crabs is a bit over the top, but hey it is a Wayans movie.
They should have focused less on packing the movie with references to better films and just thought more about the dialogue. I laughed out loud when Thomas found out Megan was not pregnant, "OK, 'cause with your big head and my ears, God only knows." The play he takes her too is also worth a laugh, although it gets dragged out. Whenever the Wayans ran out of movies to spoof and original dialogue, they resorted to racial jokes. In one scene Thomas pretends to not know Megan as black girls walk by. In another scene Megan pretends Thomas is a parking attendant because two white guys walk by.
My fifteen year old liked this movie more than I did, and that makes complete sense as that is about the age that this movie would appeal to. The slapstick did not work for me. A dancer skidding down the street on his head is not at all funny, nor is a dancer spinning around so fast that they drill into the floor.
The Wayans have some great comic ideas and the balls to film them. One day they will make a very funny movie. To do that they will need to work much harder on the script and worry less about hiring every single family member they can find.
Photos © Copyright Paramount Pictures (2009)