Movie Review
Damn Yankees
It's a picture in a million! Starring that girl in a million, the red-headed darling of the Broadway show, Gwen Verdon!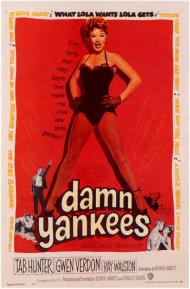 US Release Date: 09-26-1958
Directed by: George Abbott and Stanley Donen
Starring
▸
▾
Tab Hunter

,

as

Joe Hardy
Gwen Verdon

,

as

Lola
Ray Walston

,

as

Mr. Applegate
Russ Brown

,

as

Benny Van Buren
Shannon Bolin

,

as

Mrs. Meg Boyd
Nathaniel Frey

,

as

Smokey
James Komack

,

as

Rocky
Rae Allen

,

as

Gloria Thorpe
Robert Shafer

,

as

Joe Boyd
Jean Stapleton

as

Sister Miller


Reviewed on:
November 8th, 2006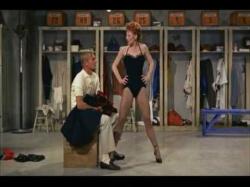 Tab Hunter and Gwen Verdon in Damn Yankees.
I have often written that the worst crime a comedy can make is to not be funny. So with that thought, the worst sin a musical can make is to have lousy musical performances. Other than one song, Damn Yankees has nothing in song or dance to offer.
Aging Washington Senators fan, Joe Boyd, makes a deal with the devil. He sells his soul if he gets to play for his favorite baseball team and lead them to a pennant, and of course beat the Yankees along the way. The devil turns Joe young and together they get him on the Senators.
As the seasons goes on the Senators start winning and Joe starts missing his wife. Or as the Devil says, "Wives! They cause me more trouble than the Methodist church." To distract Joe, the Devil has Gwen Verdon show up and try to seduce Joe by singing and dancing to Whatever Lola Wants, Lola Gets. Although it is probably the most famous song from this movie, it left me shaking my head. First and foremost, Verdon is not attractive. She is far too skinny and her face belongs on a worn out hooker. She dances ridiculously around Hunter in a pathetic attempt to get him hot. I am surprised he just didn't laugh and walk out. Verdon has always gotten attention for her performance here, but I don't get it. She originated the role on Broadway where there are no closeups. A movie can't mask her looks. She's only 33 but looks 53. Sure, Marilyn Monroe was to big of a star to get, but was Mitzi Gaynor that busy?
The only song I enjoyed at all was when Verdon and Hunter got drunk and sang Two Lost Souls. It is the liveliest and most enjoyable number in the movie. Early on, some baseball players warble, in horrible voices, You Gotta Have Heart. They barely dance and I wondered who the hell choreographed this? Then to my surprise I found it was Bob Fosse. I guess no one hits a home run every time at the plate.
Reviewed on:
November 9th, 2006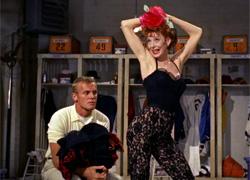 Tab Hunter and Gwen Verdon in Damn Yankees.
The real problem here is in the translation from stage to screen. Damn Yankees was a big hit on the Great White Way. Unfortunately what plays well on a Broadway stage doesn't automatically work on the big screen. Not enough was done to open the musical up for the movies. The scenes on the baseball field seem especially fake.
Eric is also right about Gwen Verdon. She is no movie star. She is, however, a very talented stage performer. The raves about her performance of "Whatever Lola Wants" are deserved. It is certainly the highlight of the movie. The entire Broadway cast, with the exception of the then-at-the-peak-of-his-popularity Tab Hunter, recreated their roles for the movie version. Probably not a great idea.
The sexual innuendo in the humor hasn't aged well either. Damn Yankees strikes-out.
Reviewed on:
May 10th, 2010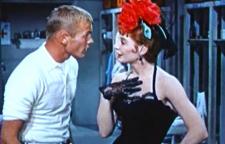 Maybe the devil thought Lola would be attractive to Tab Hunter because she looks like a man.
Patrick, I really feel that only a gay man could say that Gwen Verdon's "What Lola Wants" performance is the highlight of the movie. I saw Damn Yankees on Broadway with Jane Krakowski in the Lola role and she made it look sexy. Gwen Verdon is so damned ugly that suddenly the song becomes ironic rather than sensual. It would have been unintentionally funny if it wasn't so repulsive.
Why did and does Hollywood continue to put non-singers in musicals? No one in this movie has a good voice. Ray Walston is one of the comedic highlights as the devil, but his singing is deplorable and he ends up talk-singing. "You gotta have heart" is a catchy song, but none of the baseball players can sing. And Tab Hunter, as director Stanley Donen said about him, "He couldn't sing, he couldn't dance, he couldn't act. He was a triple threat." And he's playing the lead!
I'm surprised that neither of you mentioned the absolute worst, most pointless number in the movie, which is "Bring on the Pain" which is sung near the very end of the movie at the Joe Hardy Pep Rally. It's a ridiculous song whose only purpose seems to be to provide Bob Fosse some screentime as he dances to it with Gwen Verdon.
As a Yankees fan I found the jokes aimed at the Yankees to be humorous. It only proves what every Yankee fan has always known, the devil is against the Yankees, therefore God must be a Yankee fan.
There have been rumors of a Damn Yankees remake recently. Surely this time around Hollywood would cast singers in the lead role, right? Nope, the latest talk is of Jake Gyllenhaal and Jim Carrey playing the two male leads.
Photos © Copyright Warner Bros. Pictures (1958)