Movie Review
Dad's Army
The British Empire strikes back.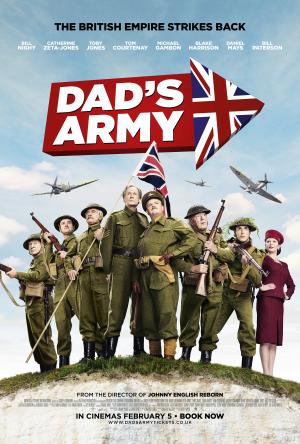 US Release Date: 02-05-2016
Directed by: Oliver Parker
Starring
▸
▾
Toby Jones

,

as

George Mainwaring
Bill Nighy

,

as

Arthur Wilson
Catherine Zeta-Jones

,

as

Rose Winters
Tom Courtenay

,

as

Jones
Blake Harrison

,

as

Frank Pike
Michael Gambon

,

as

Godfrey
Bill Paterson

,

as

Frazer
Daniel Mays

,

as

Walker
Sarah Lancashire

,

as

Mavis Pike
Frank Williams

,

as

Vicar
Mark Gatiss

,

as

Colonel Theakes
Mark Tandy

,

as

Major Cunningham
Alison Steadman

,

as

Mrs Fox
Emily Atack

,

as

Daphne
Holli Dempsey

,

as

Vera
Annette Crosbie

,

as

Cissy
Felicity Montagu

as

Elizabeth Mainwaring
Reviewed on:
July 29th, 2016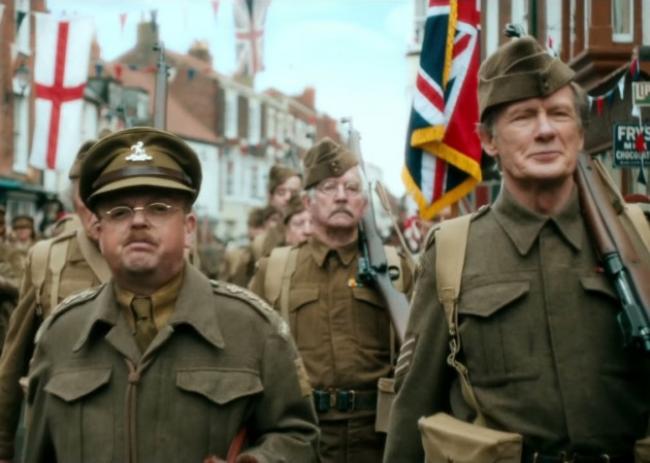 Toby Jones and Bill Nighy in Dad's Army.
Dad's Army, the much loved, and often repeated, British sitcom, seems like an odd choice to get the big screen remake treatment. Its silly humor, reliance on catchphrases, and innocent humor now seems helplessly outdated by today's standards. The old fashioned humor is much more suited, and far easier to forgive, on the small screen in 30 minute increments than in a full length feature film. That isn't to say this movie version is entirely without its charms, but it's most likely to appeal to those with fond memories of the original series, although I suspect the diehard fans will be disappointed by the update and recasting of their favorite characters.
For those unfamiliar, the film tells of the humorous antics of a group of the British Home Guard during World War II. Being comprised mostly of men too old for active service, they were affectionately nicknamed "Dad's Army" and were to be the last line of defense in case of a Nazi invasion. While the original series was set at the beginning of the war, when invasion was most likely, this updated movie version takes place near the end of it, just prior to the invasion of Normandy. It's the invasion plan that gets the story rolling when it's learned that a spy is operating in the village of Walmington-on-Sea and the Home Guard unit is put on alert since the last thing they want is a German spy to reveal where the invasion will take place.

When I reviewed the 1971 movie version, featuring the original television cast, I pondered how they would be able to update the humor and storylines for a modern audience. Well the answer is, they don't even really try. The jokes are all quaintly old fashioned with slapstick and double entendre playing a big part of most of them. One of the few concessions to a modern audience is the more prominent inclusion of a few female parts. While Mrs. Mainwaring was an oft mentioned, but never seen character, in the original series, here she gets actual screentime. However, the biggest role (bigger even than most of the Home Guard regulars) goes to Catherine Zeta-Jones, who plays a reporter writing a story about the unit, but who might be more than she seems.
The cast is mostly comprised of famous British character actors, but they fall surprisingly flat. Toby Jones does a nice turn as Captain Mainwaring, the leader of the group, but Bill Nighy, who is normally a treat in anything he does, seems peculiarly unable to make much of Wilson, Mainwaring's right-hand man. And Tom Courtenay, a talented actor, is very disappointing as Cpl. Jones, one of the funniest characters in all of the original series. It is Michael Gambon, in a very small role as Godfrey, who steals all of his scenes as the dimwitted member of the unit.
For all of its faults, I do feel as though the filmmakers had their hearts in the right place. They remained true to the source material and seem to be paying homage to it (they even include 2 of the original castmembers in cameo appearances) rather than trying to rip it off. It's simply that as with so many beloved old television shows, part of the appeal is that they are old. Updating them just emphasizes the changes in style and comedy. Perhaps it would have just been kinder to leave this story on the small screen where it belongs.

Photos © Copyright DJ Films (2016)
Related Review